Trump Pittsburgh Speech Live Stream: How to Watch the President's Shale Insight Keynote Address
President Donald Trump's keynote address at the Shale Insight Conference in Pittsburgh will be live streamed for those who can't be there in person.
On Wednesday, Trump is scheduled to speak at the conference, an annual event dedicated to shale energy, jobs and issues impacting the industry. This is the second time Trump will address the gathering, the first being in 2016, when he was a candidate for president.
The president's remarks are expected to close out the second day of the three-day conference. Beginning at 3:25 p.m. EDT, according to the conference schedule, Chairman and CEO of Continental Resources Harold Hamm will introduce Trump. The introduction and Trump's remarks are scheduled to last until 4:10 p.m.
Ahead of Trump's arrival, the White House has set up a live stream on its official YouTube page. The stream was scheduled to begin at 3:40 p.m., and it gave YouTube users the option to set a reminder for the start time.
If, for some reason, the White House's feed wasn't accessible, ABC affiliate KMIZ also had a live stream set up for the start of the event. C-Span streamed the conference in 2016, but this year's event was not listed on the outlet's schedule for Wednesday.
People could gain access to the event in one of two ways: Full and paid conference attendees and invited guests were able to take advantage of the preferred seating that was available. Those who wanted to see Trump speak but weren't attending the conference were also able to watch the speech, although it was standing-room-only.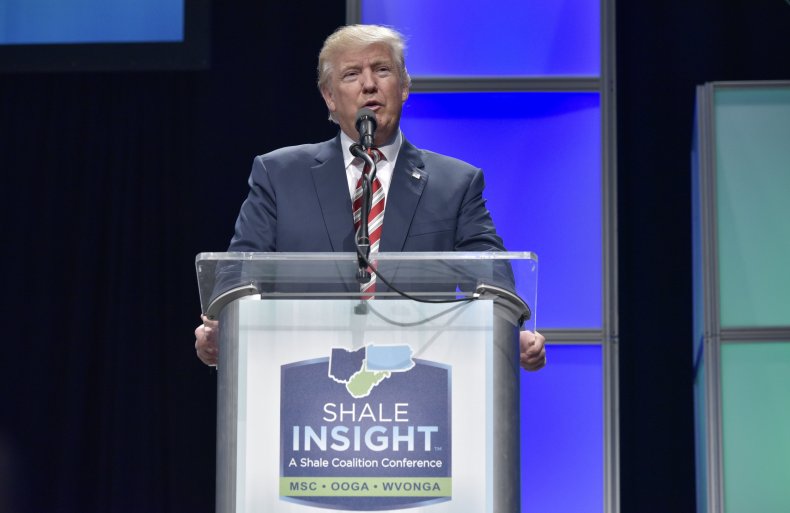 General admission was granted on a first-come, first-served basis, and it was free, but people were required to register in advance. Attendees had to be at least 18 years old and arrive between 10:30 a.m. and 1:30 p.m.
In 2016, Trump told attendees that they would like him as president because he would help increase their business and alleviate some of the difficulties they faced, including rolling back some environmental regulations.
"We are going to bring back our steel jobs and we're going to rebuild this nation," Trump said at the time.
Candidate Trump went on to compare his poll numbers to those of then–Democratic candidate Hillary Clinton's and encouraged those who thought a Republican couldn't win Pennsylvania to "wait until you see what happens here." About two months after Trump made the comment at the Shale Insight event, Trump won Pennsylvania, a historically blue state.
A Trump administration official, speaking under the condition of anonymity, told the Pittsburgh Post-Gazette that Trump's speech this year will focus on similar messages as his 2016 speech. The official said he would discuss how rolling back the methane rule on oil and gas producers and pulling out of the Paris agreement helped "end the war on American energy."