Donald Trump Shares Fox Business' Edited Video of Nancy Pelosi Stammering During Press Conference: 'What's Going On?'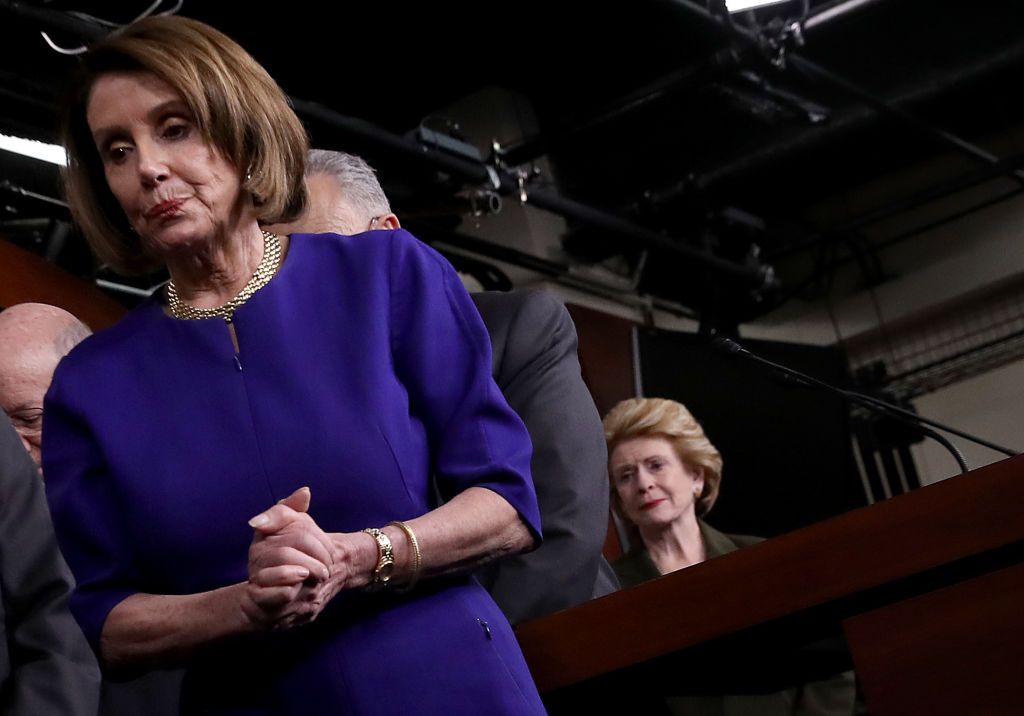 President Donald Trump and Speaker of the House Nancy Pelosi don't appear to be ending their disagreement anytime soon.
The public spat has played out since Wednesday when the president canceled a meeting between himself and several top Democrats, including Pelosi, saying that he would not work with them until the investigations related to him have ended.
Pelosi later told the press that Trump had a "temper tantrum" and the president responded by railing against the House Speaker and Democrats in two different press conferences on Wednesday and Thursday.
"They're a do-nothing group of people. The Democrats have done nothing other than to obstruct. They're obstructing this country. The Democrats have done nothing in the House, they've done absolutely nothing -- I mean other than investigate. They want to investigate," Trump said Thursday.
During her weekly press conference, also held on Thursday, Pelosi said she prays for Trump but wished "that his family or his administration or staff would have an intervention for the good of the country," she said.
Appearing on Thursday's Lou Dobbs Tonight, Fox Business Network analyst Ed Rollins called Pelosi's comments of an "intervention" derogatory.
"When you think of an intervention you think of alcoholism, you think of mental illness or what have you," Rollins said. "And certainly this president has none of that. He's not a drinker and he's not mentally ill. The bottom line is he's trying to do his job, he's been under scrutiny for two years without finding anything."
"I think the name calling has to stop. There are a lot of things that the country basically needs to get done," Rollins continued. "Nancy represents, the Speaker represents, one phase of the Congress but not the whole Congress and I think to a certain extent the president shouldn't be sitting down with them anymore."
Fox News host Gregg Jarrett, who was filling in for Dobbs, then played clips of Pelosi speaking at Thursday's press conference, stuttering her words, misspeaking, taking lengthy pauses and, at one point, holding up two fingers while speaking about "three things."
After the clip ended, Jarrett held up three fingers. "The last time I checked, this is three," he said before lowering one finger. "Not this." Jarrett added that the show had played another clip of Pelosi on Wednesday where the House Speak was unable to complete a sentence.
"It was worse yesterday. We played another clip, she could not put a subject with a predicate in the same sentence, what is going on?," Jarret asked Rollins.
"We all age a little differently. My sense is she is a very big job I think is getting worn down. She was always very neat and proper, I think she's very inarticulate which she's never been in the past. I think in a certain extent she needs to kind of step in the background and not be in front as much. She shouldn't be the point person leading the Democrats," Rollins said.
"Is she speaker in name only now? Being actually controlled and whipped by her own sort of radical branch of the Democratic Party?" Jarrett asked.
"It's a split party," Rollins replied. "Certainly the young, dynamic Democrats who want to impeach this president don't go along with her. She's sort of the old guard."
Shortly after the segment aired, Trump shared it on social media, including a quote made by Rollins and the video of Pelosi at the press conference.
The video of Pelosi is currently pinned to the top of the president's Twitter page.
The video Trump shared, however, is not the same video that has been making the rounds on social media where the Democrat appears to be drunk. That video, according to an investigation by the Washington Post, has been altered so that Pelosi's speech cadence has been slowed and then adjusted so that her voice's pitch appears to match her natural tone.
The video, which was edited from footage of Pelosi speaking at an event for the Center for American Progress, was making the rounds on conservative blogs, YouTube channels and social media accounts. One conservative Facebook group had garned over 1.5 million views of the footage since it was posted on Wednesday.
The footage brodcast by the Fox Business Network, while edited, had not been altered to slow Pelosi's speech, the network said in a statement.
"The Fox Business segment featuring clips from Speaker Pelosi's speech today did not slow down any aspect of her address," the network told Mediaite.
However, Trump's personal lawyer, Rudy Guiliani, shared the altered video of Pelosi to his Twitter account on Thursday night, saying, "What is wrong with Nancy Pelosi? Her speech pattern is bizarre."
He later deleted the tweet.