Donald Trump Should Tweet About Tiger Woods More Because People (For Once) Don't Really Mind
Typically, there's a group of folks who love everything President Donald Trump tweets as well as a group that doesn't like whatever he posts.
But, a new poll released this week showed, the president's recent post about Tiger Woods had significantly fewer people who hated it.
Polling firm YouGov regularly surveys Trump's tweets, including a recent post from the president that read: "Tiger is playing great. Looks like a big win could happen. Very exciting! @TigerWoods."
The tweet from the former reality TV star—whose eponymous business owns and operates numerous high-end golf courses—came as Woods on Sunday won his first tournament in five years, completing a stunning comeback from injury and poor form.
According to YouGov, 16 percent of respondents thought the tweet about Tiger was great, while 18 percent thought it was good. About half of respondents—49 percent—were fine with the tweet, rating it as OK. Just 6 percent said it was bad while 11 percent said it was terrible.
For context's sake, there are very few Trump tweets that just 17 percent overall give a bad rating. Going back to late last week the Tiger tweet had the lowest such figure. For instance, a Trump tweet last week reading, "GOD BLESS THE U.S.A.!" along with a video of scenes at one of his rallies was called "bad" by 8 percent of respondents and "terrible" by 14 percent, according to YouGov.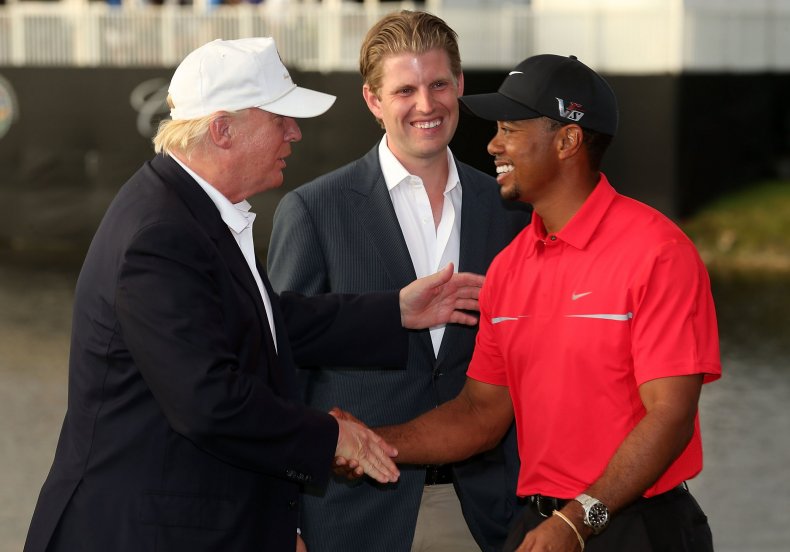 So, if Trump wants his Twitter account to be more popular with the American people, it seems tweeting about Woods's comeback could help. The two have long had a friendly relationship and have even golfed together. The golf legend was asked last month about what folks might think of his relationship with Trump.
"He's the president of the United States," Woods said in response. "You have to respect the office. No matter who is in the office, you may like, dislike personality or the politics, but we all must respect the office."
Trump later followed up with a tweet that was sort of about Woods, but probably more about the media. "The Fake News Media worked hard to get Tiger Woods to say something that he didn't want to say," Trump posted. "Tiger wouldn't play the game - he is very smart. More importantly, he is playing great golf again!"
According to YouGov, 28 percent of respondents thought this tweet was terrible, while another 15 percent thought it was bad. So, perhaps Trump should just stick to tweets about Tiger and golf.