Donald Trump Showed No 'Decency' by Slamming France on Anniversary of Paris Attacks, Says French Government Spokesperson
A day after President Donald Trump slammed France's leadership in a series of Tuesday morning tweets while French officials commemorated a brutal terrorist attack on their soil, French officials criticized the U.S. president for lacking "common decency."
"Yesterday was Nov 13, we were commemorating the murder of 130 of our people," French government spokesman Benjamin Griveaux told reporters. "So I'll reply in English: 'common decency' would have been appropriate."
Trump criticized French President Emmanuel Macron for his suggestion that the EU should form a common army that would not rely on the U.S. for defense support. He also slammed the French leader's low approval ratings and the country's high level of unemployment.
"Emmanuel Macron suggests building its own army to protect Europe against the U.S., China and Russia. But it was Germany in World Wars One & Two - How did that work out for France? They were starting to learn German in Paris before the U.S. came along. Pay for NATO or not!" Trump tweeted on Tuesday, several days after attending a celebration in France to mark the 100 year anniversary of the end of World War I.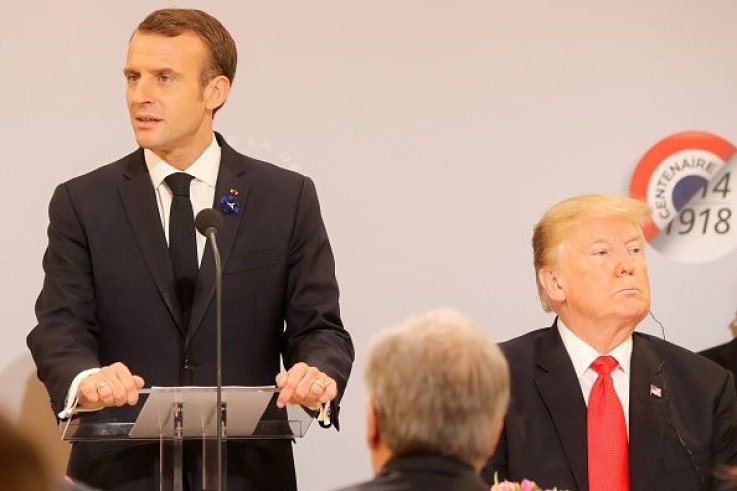 "The problem is that Emmanuel suffers from a very low Approval Rating in France, 26%, and an unemployment rate of almost 10%. He was just trying to get onto another subject. By the way, there is no country more Nationalist than France, very proud people-and rightfully so!" he continued in a second tweet.
As the president released his Twitter tirade, French officials were attending a commemoration ceremony to honor the 130 people who died when people affiliated with the Islamic State militant group launched a series of terrorist attacks in Paris in 2015.
Trump's claim that Macron wants to defend Europe "against the U.S." was based on a faulty translation. The French president later clarified that he had referred to cyberthreats and hackers when he mentioned the U.S. in an interview.
Trump's previously friendly relationship with Macron appears to be deteriorating, however, as the French leader decries the rise of nationalism the U.S. president has embraced.
"Patriotism is the exact opposite of nationalism," Macron said during Sunday's Armistice celebration. "Nationalism is a betrayal of patriotism by saying: 'Our interest first. Who cares about the others?'" The speech was seen as a rebuke of Trump's America First slogan and of his decision to call himself a nationalist. Macron's promotion of a "true European army" that would include members of the European Union is also meant to be a rebuke of nationalism, although many experts say the idea is not operational.
Donald Trump Showed No 'Decency' by Slamming France on Anniversary of Paris Attacks, Says French Government Spokesperson | World