'Unopened' Bible Signed by Trump Sells on eBay for $325, Joins Dozens of Autographed 'Trump Collectibles'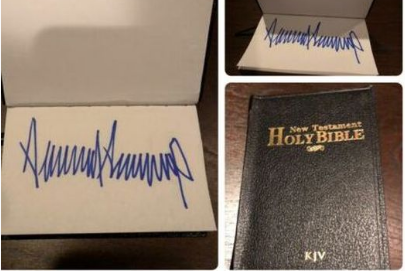 A copy of the Bible purportedly signed by President Donald Trump sold on eBay for $325 Monday, marked down from $525.
The president, first lady Melania Trump and Alabama Governor Kay Ivey visited Lee County and other portions of the state last week after 23 people were killed by devastating tornadoes. As Trump spoke with locals in the storm-ravaged areas, he signed copies of the Bible and several "Make America Great Again" hats for some of his Southern supporters, drawing both ridicule and praise from Christians and critics alike.
On Monday, a King James Version Bible showing what appears to be Trump's famous signature sold for hundreds of dollars online.
The eBay listing for "Donald Trump- President Autographed Bible- RARE-in Person COA" listing sold for $325 on Monday. But the description claimed Trump signed it during a 2016 presidential campaign rally. The Holy Bible was initially listed for sale at $525 and included a certificate of authenticity for the president's signature as well as claimed it was "unopened." The president's signature is inside the front cover. Shipping was not included.

The GraphwizardCollectibles eBay listing is just one of hundreds of so-called Trump collectibles floating around online marketplaces. A Washington Nationals baseball purportedly signed by the president is available for $295; other autographed memorabilia was posted for between $10 and $50.
Despite the relatively high price tags for some of the Trump collectibles, it is unknown whether any of the autographs are truly the president's.
Trump is not the first president to have signed Bibles for supporters. Former Republican presidents Ronald Reagan and George W. Bush have also placed their autographs on the Christian holy text, the Washington Post reported.
An autographed copy of Trump's lesser known 2015 nonfiction book, Crippled America: How to Make America Great Again, was for sale on eBay on Tuesday for an asking price of $550. Additionally, there are several purportedly autographed copies of the March 1990 Playboy magazine in which the billionaire New York real estate mogul appeared on the cover alongside a posing model.
Although the Holy Bible that sold Monday was likely not affiliated with Trump's Alabama visit last week, several of his supporters on Fox News praised his man-of-the-people move. Fox & Friends host Pete Hegseth proclaimed Sunday it was his "life goal" to receive a Bible signed by Trump.
At a 2015 campaign event, Trump famously told supporters he gives the Bible a big "thumbs-up," and that he only keeps his two favorite books— the Bible and The Art of the Deal—on his nightstand.
Former Arkansas governor and Trump fanatic Mike Huckabee attacked those who criticized the president for signing Bibles in Alabama last week, tweeting Sunday, "Most of the ppl outraged about @realDonaldTrump 'SIGNING A BIBLE!' don't read one or believe in it so why do they care other than it's @POTUS who did it. I've been asked to sign thousands of Bibles over the yrs-because person asked. I never claimed to be the author! Get a grip!"