Donald Trump's Popularity in Florida Has Sunk Since 2016. So Can He Win in 2020?
Donald Trump will officially kick off his 2020 re-election campaign on Tuesday night with a rally in Orlando, Florida amid the president's sinking popularity and poll numbers in the battleground state.
"The Fake News doesn't report it, but Republican enthusiasm is at an all time. Look at what is going on in Orlando, Florida, right now! People have never seen anything like it (unless you play a guitar). Going to be wild - See you later!" Trump tweeted on Tuesday morning.
But Trump's support in Florida, a state that helped him win the presidency in 2016, has dropped off since he took office. According to Morning Consult, Trump's net approval rating in the state has decreased by 22 percentage points since he was sworn in on January 20, 2017.
Trump narrowly flipped Florida red for the first time since President George W. Bush won the state during his re-election campaign in 2004. It's possible he may be able to hold the state in 2020, particularly after Democratic losses during the 2018 midterm elections only strengthened the Republican Party's hold over the state.
But Trump's path to the state's 29 electoral votes is in no way guaranteed as his approval ratings continue to plunge.
Several early 2020 polls show Trump to be in serious danger of losing the state to a Democratic challenger. The latest Quinnipiac University poll released on Tuesday showed former Vice President Joe Biden leading Trump in Florida by 9 percentage points.
The poll also showed Senator Bernie Sanders defeating Trump by 6 percentage points if the election were being held today. Potential general election matchups between the president and other 2020 Democrats were too close to call, with Elizabeth Warren, Kamala Harris, Beto O'Rourke and Pete Buttigieg within the survey's margin of error for beating Trump at the ballot box.
"Florida Republicans have won the last five major statewide elections, all by very close margins, but Sunshine State Democrats see these very early numbers as a sign that their losing streak might be coming to an end," Peter Brown, assistant director of the Quinnipiac University Poll, said in a statement.
The poll surveyed 1,279 Florida voters from June 12 to June 17 and has a margin of error of 5.8 percentage points.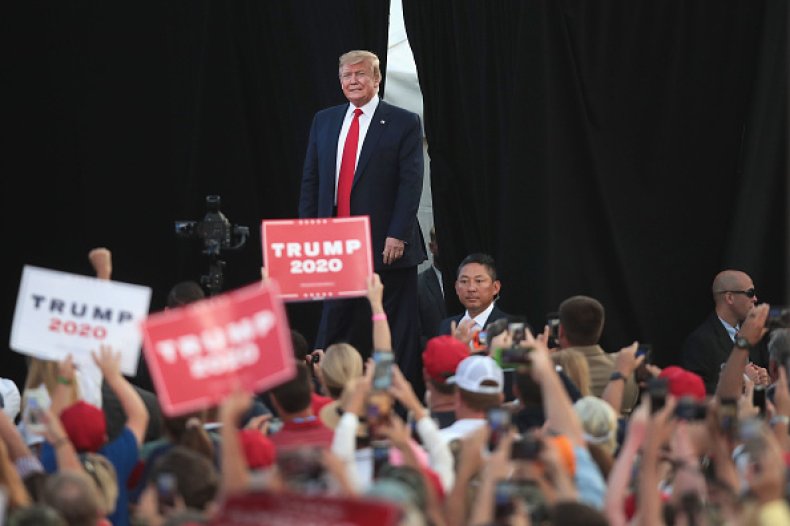 While a majority of voters (54 percent) say they are doing better financially today than they were in 2016, Floridians still gave President Trump a negative job approval rating. Only 44 percent of respondents said Trump was doing a good job, while 51 percent disapproved of the way he's handled the presidency.
Even internal polling by Trump's 2020 campaign, which was leaked to ABC News over the weekend, showed the president to be behind Democrats in Florida and other key battleground states like Pennsylvania and Wisconsin. According to ABC, the campaign's March survey showed Trump to be trailing Biden in Florida by 7 percentage points.
But Trump pushed back against his own internal polling in a series of tweets, alleging that news outlets had "reported Fake numbers" that do not exist. But after the survey numbers leaked, the Trump team reportedly parted ways with several of its pollsters.
In an interview with ABC's George Stephanopoulos, which aired on Sunday, Trump even alleged that his 2020 team had "great" polling.
"We are winning in every single state that we've polled. We're winning in Texas very big. We're winning in Ohio very big. We're winning in Florida very big," Trump said. The president added that polls showing otherwise do not bother him because he likes the truth: "I'm actually a very honest guy. If I thought they were correct, I wouldn't be complaining at all."