Donald Trump Slammed for Fawning Over 'Brutal Dictator' Kim Jong Un: 'Did They Send Each Other a Valentine's Card?'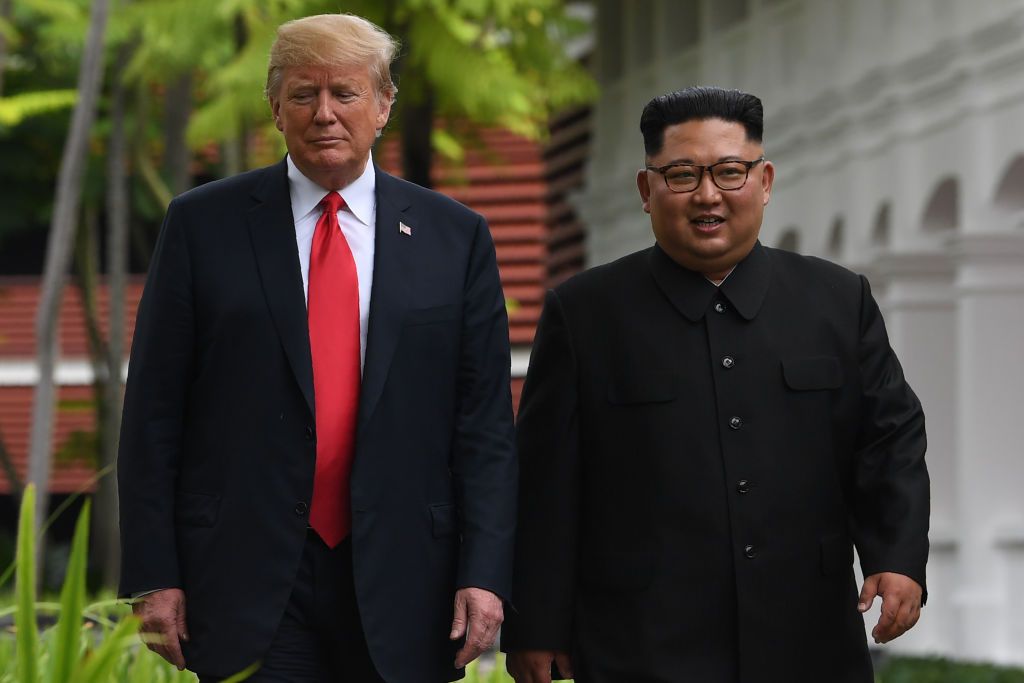 President Donald Trump was panned on MSNBC's Morning Joe Monday, as the show's presenters wondered out loud whether he had send a Valentine's card to Kim Jong Un. They then described the North Korean leader as "one of the most brutal dictators on the face of the earth."
MSNBC presenter Joe Scarborough made the comments alongside Mika Brzezinski as they discussed the president's upcoming summit with the North Korean leader in Hanoi this week.
"Did the president say he loved Kim Jong Un again this weekend, love and kisses?" Scarborough asked. "Did they send each other Valentine's cards?" Brzezinski described the situation as "so disturbing."
The MSNBC presenters were referring to comments Trump made in September 2018 following an earlier summit with Kim. "He wrote me beautiful letters and we fell in love," Trump said of Kim while speaking in West Virginia.
Tweeting on Sunday, Trump did not refer to any amorous feelings towards the North Korean leader but continued to praise Kim ahead of the new talks, which begin Wednesday.
"Chairman Kim realizes, perhaps better than anyone else, that without nuclear weapons, his country could fast become one of the great economic powers anywhere in the world. Because of its location and people (and him), it has more potential for rapid growth than any other nation!" Trump wrote over the weekend.
"With complete Denuclearization, North Korea will rapidly become an Economic Powerhouse. Without it, just more of the same. Chairman Kim will make a wise decision!" the president wrote in another tweet.
The upcoming summit in Hanoi, Vietnam, will be the second round of historic talks ultimately aimed at Pyongyang giving up its nuclear weapons program in exchange for the lifting of economic sanctions. Trump has indicated the talks would simply a be continuation of the mediation that began in Singapore—the first time a sitting U.S. president met face-to-face with a North Korean leader. Citing South Korean local media, the Associated Press reported that the talks may not go as far as hoped for and will not deliver a road map to denuclearization.
Despite the lofty ambitions of the talks in Hanoi, human rights groups criticized the current administration over its failure to bring North Korea's abuses to the fore. Amnesty International spokesman Francisco Bencosme told Newsweek over the phone that the president's stance on North Korea was "just a slap in the face to activists and those who have been fighting for human rights in North Korea."
"There has been no action on North Korean rights, and coming into this summit, where [Trump] has been lauding Kim Jong Un, saying what a great leader he is and praising him in several instances, this has been a complete reversal of any commitment to addressing human rights," Bencosme continued.
Beatrice Fihn, executive director of the Nobel Peace Prize–winning International Campaign to Abolish Nuclear Weapons, called on the international community to get involved in the denuclearization of the Korean Peninsula.
"When it comes to nuclear weapons, I wouldn't say Kim is good for North Korea any more than I'd say Trump is good for the U.S. We can't rely on the men who created a dangerous nuclear standoff to resolve it alone. The international community and treaties must be involved for any serious shot of denuclearising the Korean Peninsula and forging a lasting peace," Fihn said.