Donald Trump Slammed by Fox News Analyst Over 'Evil,' 'Hoax' Comments about Brett Kavanaugh Accusations
President Donald Trump was wrong to label Democrats as "evil" and for claiming Christine Blasey Ford's accusations against Brett Kavanaugh were part of a "hoax" against Supreme Court's newest member, according to Fox News legal analyst Andrew Napolitano on Tuesday.
Napolitano made his assessment of the president's comments during Kavanaugh's swearing-in ceremony Monday evening at the White House. Trump issued an apology to Kavanaugh about the confirmation process, which included attacks from both sides of the aisle and accusations of sexual assault or misconduct by Ford and two other women.
"The things they said about him, I don't even think he ever heard of the words. It was all made up. It was fabricated and it's a disgrace, and I think it's gonna really show you something come November 6th," Trump said.
But Napolitano said he hoped Trump and his team would move on from the ugly process. Otherwise, he would risk constant questions about whether Kavanaugh would side solely with conservatives while on the bench, the legal analyst said.
"I think the best thing that was said last night was the clip you just ran. A team of nine. I do not think the best thing that was said was evil or hoax," he said. "I honestly wish that the president and his people would get past that."
Napolitano continued: "The Supreme Court does not have an army to enforce its rulings. Its rulings depend upon the intellectual legitimacy of the manner in which the rulings are given, from whom they are given. So they really have some work to do to patch up the divisions that exist in the public mind. These divisions don't exist in reality in the court. Justice Kavanaugh is right. It's not conservatives on one side, liberals on another, Republicans on one side, Democrats on another."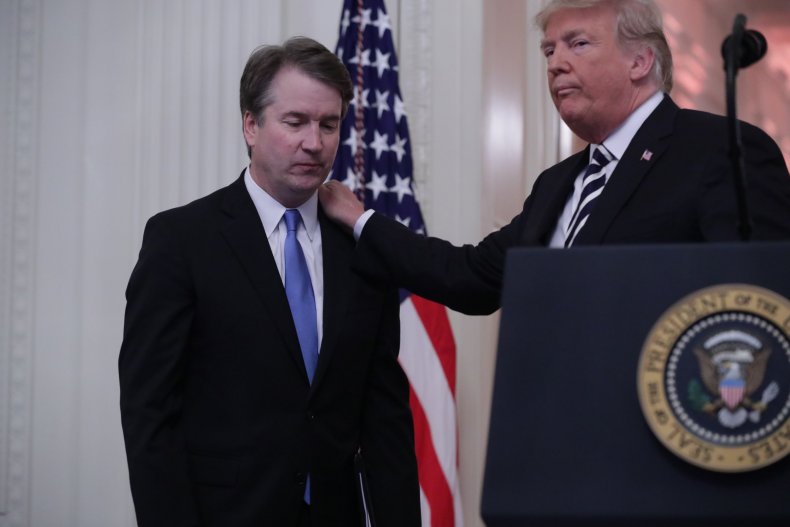 Co-host Steve Doocy responded by saying the political process was how a justice must "get the job," but Napolitano insisted on the importance of a judge maintaining impartiality.
"I went through the political process myself. A much lower court. It was a state trial court of general jurisdiction," Napolitano said. "Once you put that robe on, you must be divorced from the politics that got you there and the people who got you there. Your loyalty is to the Constitution and the laws, not to the humans that helped you get your job."
Kavanaugh's official confirmation on Saturday, by a vote of 50-48-1, marked the end of an often vicious partisan battle that divided the country yet further and reportedly led to more Republican enthusiasm ahead of the midterm elections next month.
Kavanaugh had fully denied the allegations of assault, but he also faced criticism for claiming the accusations were an act of revenge by Democrats for his role in independent counsel Kenneth Star's investigations of Bill and Hillary Clinton in the '90s, as well as Trump's victory in 2016.