Donald Trump Slams Arizona GOP AG Mark Brnovich, Says He's 'Always On TV Promoting Himself'
Former President Donald Trump on Saturday warned Republican Arizona Attorney General Mark Brnovich that "no Arizona Republican will vote" for him if he doesn't publicly support 2020 election fraud claims.
In April, Brnovich rejected a state election official's call for a probe into potential irregularities in an audit of 2020 presidential election results from Maricopa County, Arizona's most populous county. Brnovich and Arizona's Republican Governor Doug Ducey have both denied widespread election fraud in the state's election.
In a statement emailed to Newsweek, Trump urged "the lackluster Attorney General of Arizona, Mark Brnovich, to get on the ball and catch up with the great Republican Patriots in the Arizona State Senate."
The ex-president condemned Brnovich for failing to mention the "Rigged and Stolen" election in his television appearance.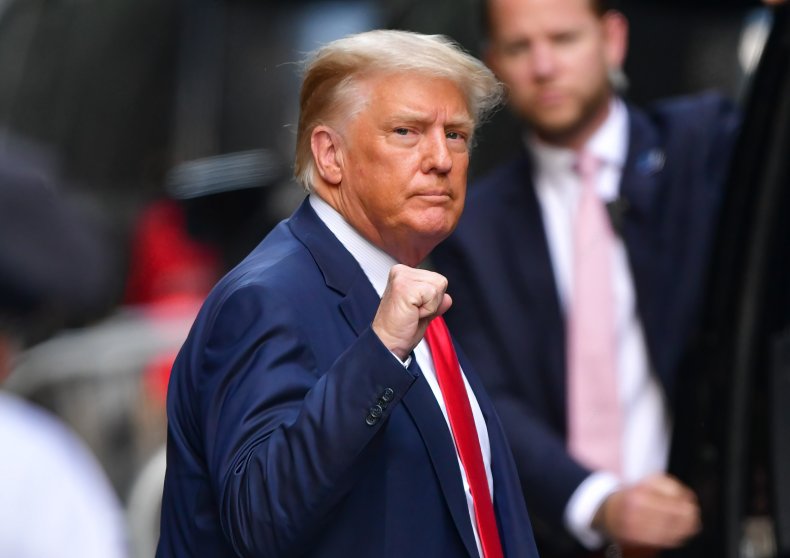 "As massive crime in the 2020 Election is becoming more and more evident and obvious, Brnovich is nowhere to be found," Trump said. "He is always on television promoting himself, but never mentions the Crime of the Century, that took place during the 2020 Presidential Election, which was Rigged and Stolen."
He added: "Arizona was a big part and Brnovich must put himself in gear, or no Arizona Republican will vote for him in the upcoming elections. They will never forget, and neither will the great Patriots of our Nation!"
Newsweek reached out to Arizona Attorney General Mark Brnovich's office for comment. This story will be updated with any response.
Trump's continued voter fraud claims have sparked a rift in the Republican Party in recent months, with numerous members across the country insisting without evidence that the election was illegitimate. Following ongoing court battles, the Republican-controlled Arizona Senate instructed officials to launch an audit of the election results in Maricopa County last month.
On Monday, top Republicans in the state pushed back against Trump by defending their handling of the 2020 presidential election and called for others to denounce the partisan audit.
In a letter to state Senate President Karen Fann, the Board of Supervisors in Maricopa County—consisting of four Republican and one Democrat—called the recount a "sham" and demanded an end to the "spectacle that is harming us."
Trump claimed that the "entire Database of Maricopa County in Arizona has been DELETED!" and "seals were broken on the boxes that hold the votes, ballots were missing, and worse," in a statement shared to his website.
The audit is being conducted by Florida consulting company Cyber Ninjas, whose CEO has supported Trump's voter fraud conspiracy theories.
"Our state has become a laughingstock," the Maricopa County Board of Supervisors' letter read. "Worse, this 'audit' is encouraging our citizens to distrust elections, which weakens our democratic republic."