Donald Trump Slams House Dems' Coronavirus Economic Policy, Says Virus 'Doesn't Care What Party You Are In'
Senate Minority Leader Chuck Schumer announced an economic relief proposal Wednesday designed to help Americans affected by the coronavirus outbreak.
"The Trump administration seems to believe that the answer to any problem is a tax cut," Schumer tweeted Tuesday. "This is a HEALTH CARE crisis. It demands a HEALTH CARE solution. The best way to ensure economic security for the American people is to deal with the coronavirus itself."
Schumer's home state of New York has been hit hard by the coronavirus with 212 confirmed cases of the infection reported Wednesday. A one-mile containment area in the city of New Rochelle has been set up, with the National Guard expected to arrive Thursday to spearhead the cleaning of schools and delivering food to residents under quarantine.
"We are just appalled that the [Trump] administration has really had no plan," Schumer said at a Wednesday press conference. "Here we are, it's close to two months since we first knew about coronavirus. They have all kinds of problems obviously with testing, but they also have not come up with a plan to help people who need help."
"We propose payment forbearance for six months on federally insured or guaranteed mortgages, and federal student loans," the proposal read, adding that any forbearance should not incur "additional fees, corresponding interest or negative incidents reflected on their credit scores."
Democrats also proposed "the first-ever direct grants for eligible small business recipients to help cover the cost of lost business, providing paid sick leave, and more."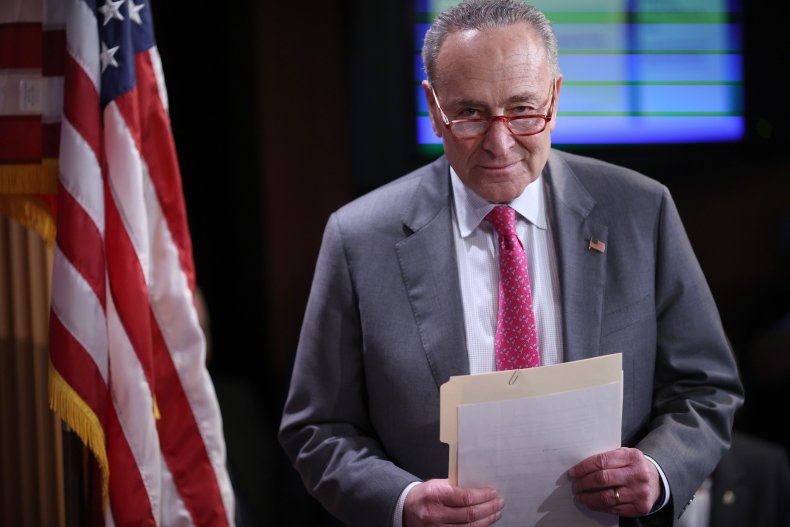 Schools and colleges would receive federal funding for preventative measures under the proposal, which would cover the cost of training of personnel and any expenses involved in purchasing cleaning supplies. Students would also be able to keep their Pell Grants or other financial aid should they need to remain at home or not attend school.
Schumer's office told Newsweek that House Democrats would like to vote "on something" Thursday.
President Donald Trump's administration has reportedly suggested cutting the payroll tax rate for the remainder of the calendar year, which would temporarily remove a funding source for Medicare and Social Security.
In a joint statement released Monday, Schumer and House Speaker Nancy Pelosi claimed Trump should place the needs of the American people over those of corporations.
"In light of reports that the Trump administration is considering new tax cuts for major corporations impacted by the coronavirus," the statement said, 'we are demanding that the administration prioritize the health and safety of American workers and their families over corporate interests."
Trump implied in a Wednesday tweet that the economic relief plans proposed by the Democrats would not help everyone affected by coronavirus.
"Someone needs to tell the Democrats in Congress that CoronaVirus doesn't care what party you are in," Trump wrote. "We need to protect ALL Americans!"
Trump also reiterated his willingness to "use the full power of the Federal Government to deal with our current challenge of the CoronaVirus!"
According to recent statistics, there have been 1,109 cases of coronavirus reported in the U.S. with 10 cases listed as serious or critical. While 31 individuals have died as a result of coronavirus, 15 have completely recovered.
Worldwide, 125,623 positive cases of coronavirus have been reported with a death toll of 4,607, However, 67,051 people have reportedly recovered from coronavirus on a global scale.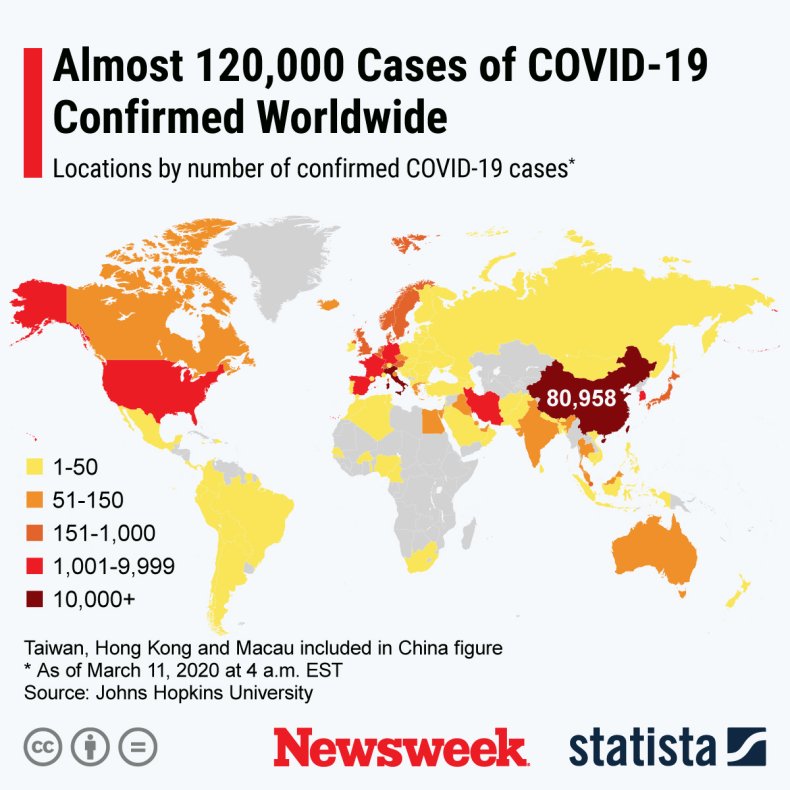 World Health Organization advice for avoiding spread of coronavirus disease (COVID-19)
Hygiene advice
Clean hands frequently with soap and water, or alcohol-based hand rub.
Wash hands after coughing or sneezing; when caring for the sick; before; during and after food preparation; before eating; after using the toilet; when hands are visibly dirty; and after handling animals or waste.
Maintain at least 1 meter (3 feet) distance from anyone who is coughing or sneezing.
Avoid touching your hands, nose and mouth. Do not spit in public.
Cover your mouth and nose with a tissue or bent elbow when coughing or sneezing. Discard the tissue immediately and clean your hands.
Medical advice
If you feel unwell (fever, cough, difficulty breathing) seek medical care early and call local health authorities in advance.
Stay up to date on COVID-19 developments issued by health authorities and follow their guidance.
Mask usage
Healthy individuals only need to wear a mask if taking care of a sick person.
Wear a mask if you are coughing or sneezing.
Masks are effective when used in combination with frequent hand cleaning.
Do not touch the mask while wearing it. Clean hands if you touch the mask.
Learn how to properly put on, remove and dispose of masks. Clean hands after disposing of mask.
Do not reuse single-use masks.