Donald Trump Slams Joe Biden for 'Putting America Last,' Says He's 'Worse Than I Ever Was'
Former President Donald Trump on Saturday condemned President Joe Biden for "putting America last" and insisted that he's "worse than I ever was."
Speaking at the North Carolina GOP State Convention, Trump criticized the Democratic president for reversing a slew of his immigration policies, allegedly tanking the economy, and pushing ahead with his "radical socialist" agenda.
"Our border is wide open, illegal immigration is skyrocketing at a level that we've never seen before, and this is over the period of a few months," Trump said. "Drugs are pouring in, gas prices are soaring, our industries are being pillaged by foreign cyber attacks."
"They're bowing down to China, America's being demeaned and humiliated on the world stage, our freedom is being overtaken by left-wing cancel culture, and the Biden administration is pushing toxic critical race theory and illegal discrimination into our children's schools," he continued. "The Biden administration seems to be putting America last."
"He is worse than I ever was."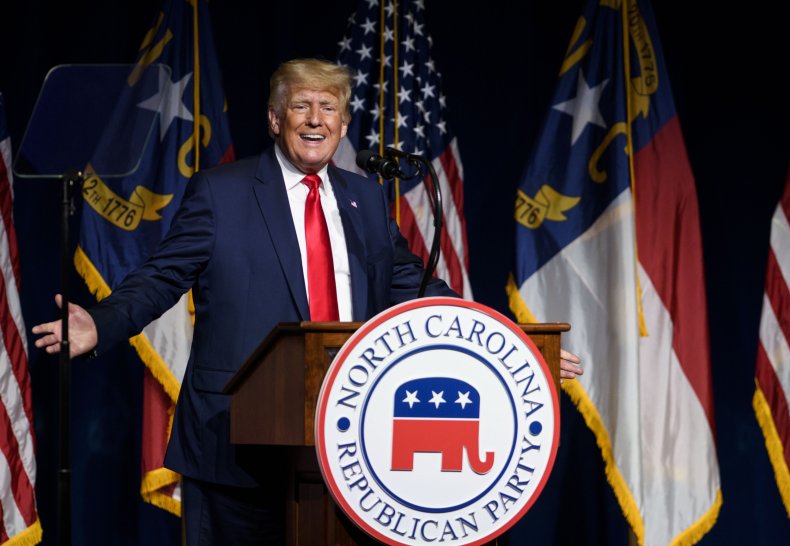 Since the 2020 election, Trump has repeatedly claimed without evidence that widespread voter fraud caused his defeat to Biden. He used the event to push the claims on Saturday, calling the 2020 presidential election "the crime of the century" and "by far the most corrupt election in the history of our country."
"They used the mail-in ballots to steal an election," he said. "It was a third-world country election like we've never seen before."
Though he left the White House in January, Trump has remained one of the most powerful and influential figure in the Republican Party. For months, the ex-president has hinted at a potential 2024 run. In May, he said his supporters will be "very happy" when he announces his decision. Tonight, Trump told attendees that he's looking forward to that year.
Trump also vowed that the GOP would force out House Speaker Nancy Pelosi and take over Congress in 2022. He said he would be an active politician on the campaign trail for his Republican allies over the next year. "The survival of America depends upon our ability to elect Republicans at every level, starting with the midterms next year," he said.
Trump's daughter-in-law, Lara Trump, appeared onstage and announced that she will not be running for the Senate to represent North Carolina. "No for now, not no forever. At the right time, I would absolutely love to come back and run for something here in my home state," she said.
Newsweek reached out to the White House for comment. This story will be updated with any response.