Donald Trump Slams 'Weak and Pathetic' Bill Barr as Dispute Ramps Up
Donald Trump has hit back at his former Attorney General Bill Barr, branding him a "a weak and pathetic RINO [Republican in name only]" on his Truth Social website.
The attack followed Barr's Fox News appearance on Friday, during which he said the FBI's Mar-a-Lago raid was likely "reasonable" based on the available evidence.
Barr also said if Trump mass-declassified secret documents, as he has claimed, that would be "almost worse than taking the documents."
FBI investigators searched Mar-a-Lago, Trump's Florida private members club, on August 8 and removed 20 boxes of documents.
The former president is being investigated for potentially breaking several federal laws, including the Espionage Act, which carries a sentence of up to 10 years in jail.
Posting on Truth Social Trump said: "Bill Barr had 'no guts,' and got 'no glory.'
"He was a weak and pathetic RINO, who was so afraid of being Impeached that he became a captive to the Radical Left Democrats - 'Please, please, please don't impeach me,' he supposedly said. Barr never fought the way he should have for Election Integrity, and so much else.
"He started off OK as A.G., but faded fast - Didn't have courage or stamina. People like that will never Make America Great Again!"
Barr had two spells as Attorney General, between November 1991 and January 1993 under George H. W. Bush, and from February 2019 to December 2020 under Trump.
On Friday Barr was asked on Fox News whether the FBI's raid on Mar-a-Lago could have been avoided.
He replied: "People say this was unprecedented, but it's also unprecedented for a president to take all this classified information and put them in a country club.
"How long is the government going to try to get that back?
"They were deceived on the voluntary actions taken. They then went and got a subpoena, they were deceived on that.
"The facts are starting to show that they were being jerked around and so how long do they wait?"
On Truth Social Trump claimed Barr was "fired long before I left the White House on January 20th".
Barr resigned as Attorney General on December 14 2021, the same day Trump said he would be leaving his post.
At the time a White House insider told the New York Times that the decision to quit had been made by Barr, not the president.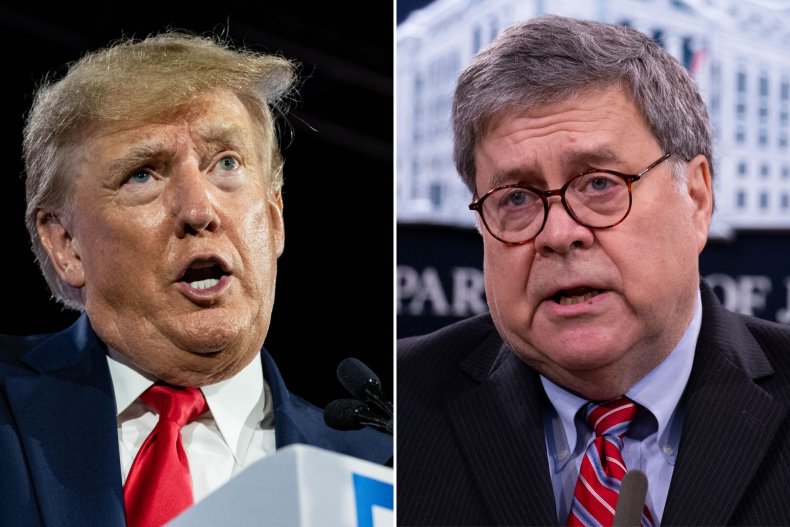 Following the FBI raid Trump insisted that, as president, he had declassified all the confidential documents found at Mar-a-Lago.
Barr told Fox News this is "highly improbable", adding: "If in fact he sort of stood over scores of boxes, not really knowing what was in them and said, 'I hereby declassify everything in here,' that would be such an abuse and shows such recklessness that it's almost worse than taking the documents."
Neither Trump nor anyone else has been charged with any crimes relating to the August 8 Mar-a-Lago raid, with the investigation ongoing.
The former president has labelled the FBI raid a political attack.
Newsweek has contacted Trump for comment.