Former President of Mexico Vicente Fox Mocks Donald Trump's Small Hands in Cartoon T-Shirt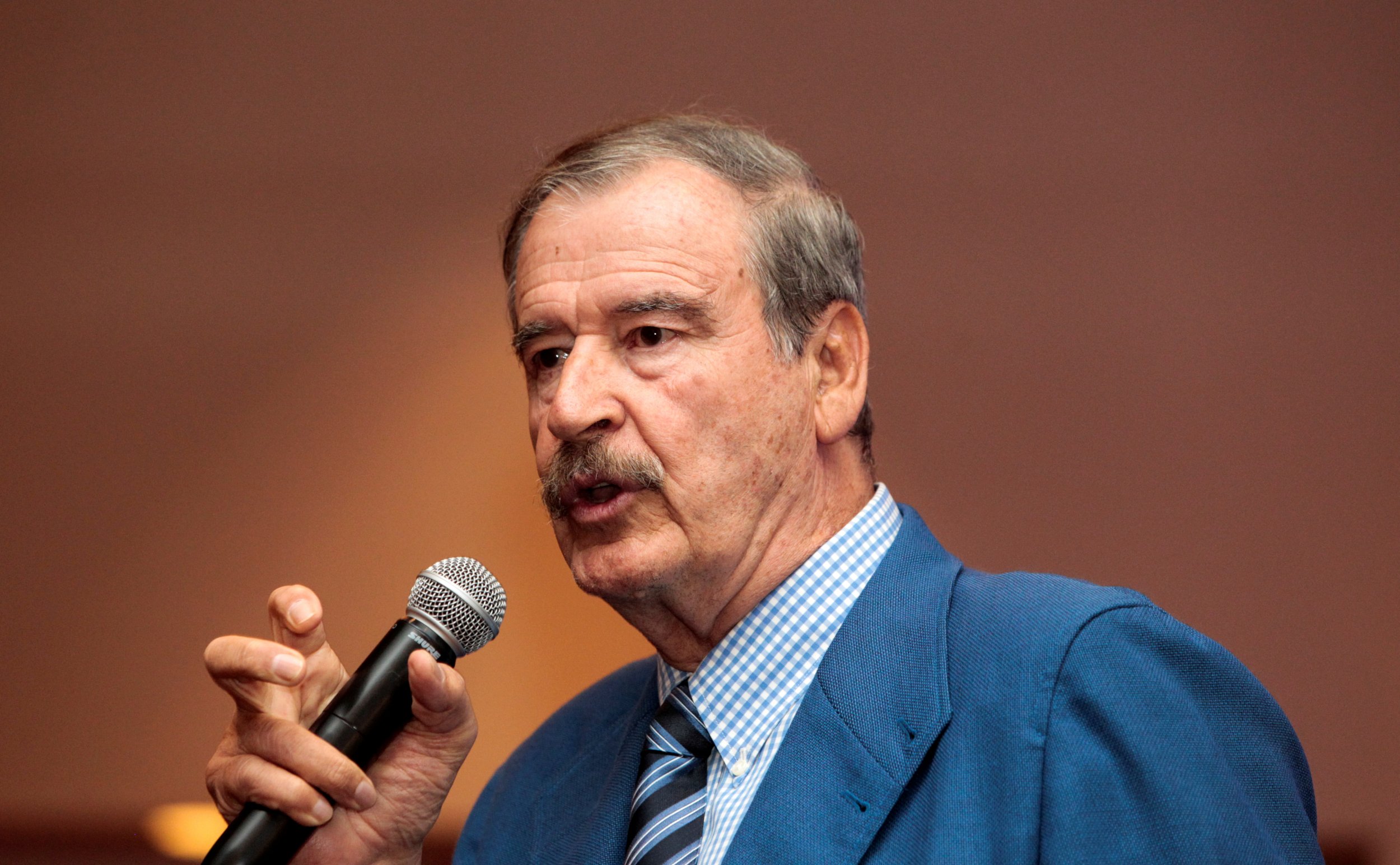 Former President of Mexico Vicente Fox trolled President Donald Trump on Friday by wearing a black t-shirt that read, "Can't Build a Wall If Your Hands Are Too Small." Underneath the phrase, the T-shirt featured a cartoonish rendering of Donald Trump as a baby who has soiled a diaper styled to look like the American Flag.
Fox, who served as president from 2000 to 2006, is selling the shirts to raise money for Centro Fox Foundation, a leadership fund. "This isn't just about the wall, it's about ACCEPTANCE, EQUALITY and INCLUSION of all people! Stand up for what you believe in!" Fox said in the promotional materials for the shirt, which retail for $24 online.
The southern border wall, a centerpiece of Trump's presidential campaign, has led to a rancorous debate about immigration and roiled tensions between the U.S. and Mexico. So far, attempts to approve funding for the massive project have proved futile.
Trump, who swore Mexico would pay for the wall during his campaign, has asked Congress to approve $25 billion for construction and other defenses at the southern border, but the omnibus bill that passed last March included only $1.6 billion for the undertaking. Last week, the president ordered the deployment of the national guard to the southern border.
To wit, the T-shirt shows baby Trump struggling to build a wall with building blocks.
Trump's "small hands" became a running gag during the 2016 presidential campaign. The description originated from Graydon Carter, a prominent journalist who wrote more than three decades ago that Trump had "small and neatly groomed" hands and later described him as a "short-fingered vulgarian" in Spy magazine. After that, Trump apparently thought it necessary to send Carter occasional photos of himself.
"On all of them, he has circled his hand in gold Sharpie in a valiant effort to highlight the length of his fingers," Carter recalled in Vanity Fair, where he served as editor. "I almost feel sorry for the poor fellow because, to me, the fingers still look abnormally stubby."
While campaigning against Trump, Florida Sen. Marco Rubio riffed on the anecdote, jokingly telling a crowd of supporters that you can't "trust" a man with "small hands." Trump responded on the debate stage in what many interpreted as a statement about, shall we say, the size of other body parts.
Vicente, who ran on the right-wing National Action Party ticket for his election, has never been shy about expressing his disdain for the former business mogul. The acrimony notably began when Trump kicked off his campaign by saying Mexico was sending its "drug dealers" and "rapists" to the U.S.