President Donald Trump once again used his Sunday morning to rail against "no talent" Saturday Night Live, but this time called on the FCC to investigate the skit comedy program for "collusion" despite the episode being a rerun.
Trump's early Sunday morning tweets took aim at SNL as he complained the NBC late night show spends all of its energy making fun of him and his presidency. Last month, Trump called for "retribution" against the networks for "Republican hit jobs," but now took that a step further, calling on the federal government to "look into" its comedic criticism.
However, the SNL episode aired last night was a rerun, with the comedy show not slated to air a first-run episode until March 30.
"It's truly incredible that shows like Saturday Night Live, not funny/no talent, can spend all of their time knocking the same person (me), over & over, without so much of a mention of "the other side." Like an advertisement without consequences. Same with Late Night Shows," Trump tweeted Sunday.
"Should Federal Election Commission and/or FCC look into this? There must be Collusion with the Democrats and, of course, Russia! Such one sided media coverage, most of it Fake News. Hard to believe I won and am winning. Approval Rating 52%, 93% with Republicans. Sorry! #MAGA," he continued.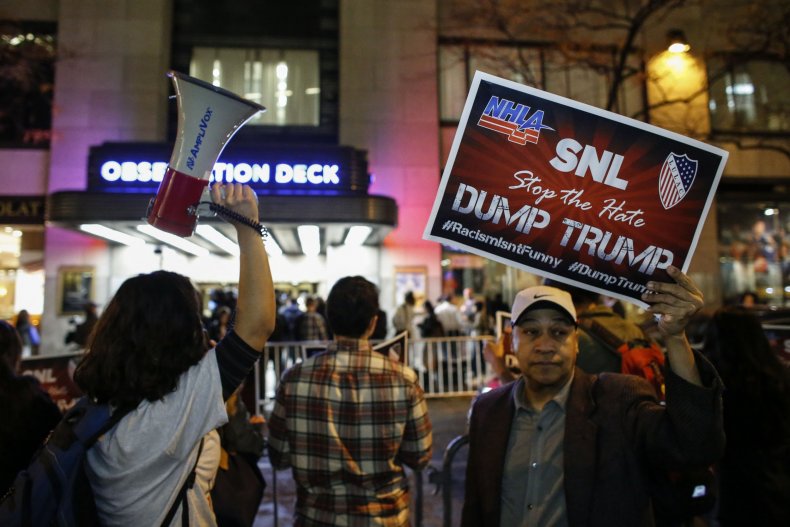 The very political Season 44 of Saturday Night Live will air a new episode on March 30 when it will be hosted by Sandra Oh with Tame Impala as the musical guest.
Trump's call for the Federal Elections Commission (FEC) and the Federal Communications Commission (FCC) to investigate the show is not a new criticism from the current head of the executive branch. Trump designated the current chairman of the FCC, Ajit Pai, to lead the federal agency in 2017.
Last month, Trump used his Sunday morning Twitter time to voice a similar complaint: "Nothing funny about tired Saturday Night Live on Fake News NBC! Question is, how do the Networks get away with these total Republican hit jobs without retribution? Likewise for many other shows? Very unfair and should be looked into. This is the real Collusion!"
He then followed that comment up with a line from Soviet dictator Josef Stalin's 1930s show trials of his political rivals. "THE RIGGED AND CORRUPT MEDIA IS THE ENEMY OF THE PEOPLE!:"
Trump himself hosted an episode of Saturday Night Live in November 2015, during the early stage of Trump's presidential candicacy, that drew wide criticism and even protest rallies outside NBC Studio's famed Rainbow Room in New York City.