Donald Trump Is Talking About Everything but the Alleged Russian SolarWinds Hack
As authorities probe a suspected Russia-led hack of government networks, President Donald Trump has been publicly silent on the matter.
Even as a slew of federal agencies acknowledged their computer systems appeared to have been affected by malware spread via Texas-based software company SolarWinds, Trump continued to tweet about a presidential election he had already lost.
With roughly a month left of his first and presumably only term in the White House, Trump claimed on Thursday, without evidence, that the outcome of the November vote was "rigged," and suggested that the Democratic Party had somehow stolen the election.
The same day, a warning emerged from the Cybersecurity and Infrastructure Security Agency (CISA), saying that the SolarWinds hack posed a "grave risk" to all levels of the U.S. government, alongside critical infrastructure entities and businesses.
CISA, which operates under Homeland Security, said evidence suggested agencies had been compromised by an advanced persistent threat (APT) actor—another term given to a nation state-level cybersecurity adversary—since at least March 2020.
Trump remained silent as multiple administration officials alluded to the evidence that pointed in the direction of Russia. Secretary of State Mike Pompeo noted there had been a "consistent effort of the Russians to try and get into American servers."
Trump remained publicly silent as the Department of Energy, which includes a division overseeing the nuclear weapons stockpile, confirmed it found malware linked to the hackers on its business networks as part of a probe happening in real-time.
And Trump did not respond publicly as his former homeland security adviser Thomas P. Bossert said the "magnitude of this ongoing attack is hard to overstate" and noted that Trump was "on the verge of leaving behind a federal government, and perhaps a large number of major industries, compromised by the Russian government."
On December 13, then Reuters first reported about the vast breach, Trump published an all-caps tweet that read: "MOST CORRUPT ELECTION IN U.S. HISTORY!"
Trump spent at least some of December 13 at the Trump National Golf Club in Sterling, Virginia, according to a photo uploaded to the image repository Getty Images.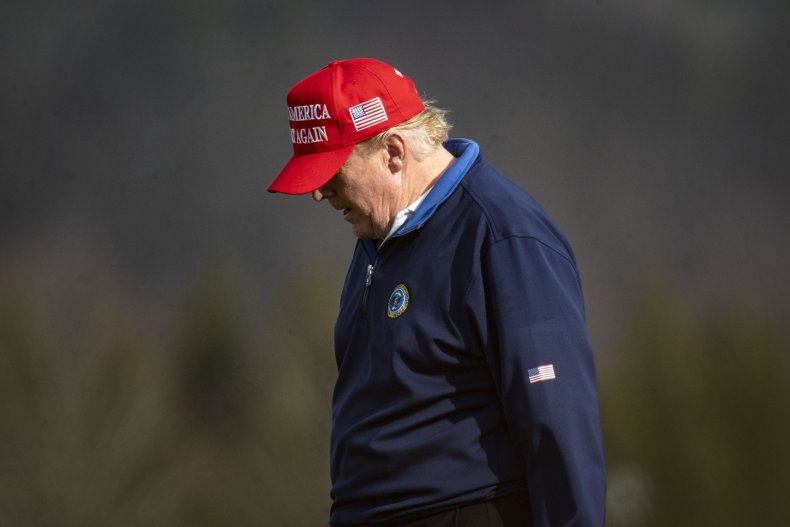 The president spent most of the next day—as the broad scope of the cyberattack was still coming to light—claiming to have found an "election changing" news article and re-tweeting his own previous posts containing baseless claims about fraud.
The White House news page has not been updated since December 17 and does not have a statement about the alleged Russian cyberattack at the time of writing.
On Friday, Trump sent a series of tweets about the election result, urging Republicans to "get tougher, or you won't have a Republican Party anymore." He falsely added: "We won the Presidential Election, by a lot. FIGHT FOR IT. Don't let them take it away!"
The White House has been contacted for comment by Newsweek.
The fallout of the compromise continues to grow, and it still remains unclear how many agencies were infiltrated by the hackers. CISA noted it had been the work of a "patient, well-resourced and focused adversary" that gained persistent access.
Analysis by Microsoft, which said it found traces of the malicious software on its own systems this week, uncovered more than 40 victims that had seemingly been targeted "more precisely and compromised through... sophisticated measures."
Throughout his term in office, Trump has repeatedly downplayed the threat of Russian hacking, despite an intelligence community report concluding Russia's Vladimir Putin ordered the meddling campaign targeting the 2016 presidential election.
Trump said during a news conference in Helsinki in 2018: "I have President Putin; he just said it's not Russia. I will say this: I don't see any reason why it would be."
In the past, presidents have not always released statements about espionage breaches immediately. In June 2015, when China was suspected of infiltrating the U.S. Office of Personnel Management and plundering millions of Americans' records, the Obama administration decided against making a public accusation.
In part, this was partially because doing so could potentially require officials to disclose intelligence-gathering methods or cyber warfare capabilities used by the U.S.
Obama did eventually acknowledge the hack, saying ahead of a meeting with China's leader in September that such hacks were "not acceptable."
But that wasn't always the case. In 2014, Obama released a statement within hours of the FBI's announcement that it believed North Korea to be responsible for a cyberattack against Sony Pictures, saying that the U.S. would respond "proportionally."
As the current president was quiet about SolarWinds hack, President-elect Biden, who is set to enter the White House in January, released a statement on Thursday that said dealing with the incident would be a top priority, and promised retaliation.
"We need to disrupt and deter adversaries from undertaking significant cyber attacks in the first place," the president-elect continued. "Our adversaries should know that, as president, I will not stand idly by in the face of cyber assaults on our nation."