Donald Trump and Son to Call 'Gamecast' of Evander Holyfield Fight Saturday
Former President Donald Trump and his son, Donald Trump Jr., have signed paperwork to provide commentary on the video-sharing service Triller for the September 11 boxing bout between four-time heavyweight champion Evander Holyfield and former UFC superstar Vitor Belfort.
ESPN boxing and MMA reporter Mike Coppinger both made the announcement on Twitter after Triller spoke to ESPN about the event.
"Donald Trump has signed a contract to call a 'gamecast' of Saturday's boxing event headlined by Evander Holyfield-Vitor Belfort, Triller tells ESPN. The former president's son, Donald Trump Jr., will join him. Both Trumps will be in person in Hollywood, Florida," Coppinger tweeted.
Trump released a statement regarding his forthcoming boxing appearance with his son on Triller.
"I love great fighters and great fights," Trump said in the release. "I look forward to seeing both this Saturday night and sharing my thoughts ringside. You won't want to miss this special event."
Trump has a long history in the world of boxing, as many history-making fights have taken place under his brokering including 1988's Mike Tyson vs. Michael Spinks event. Trump was also inducted into the New Jersey Boxing Hall of Fame in 2015 and the Atlantic City Boxing Hall of Fame in 2018.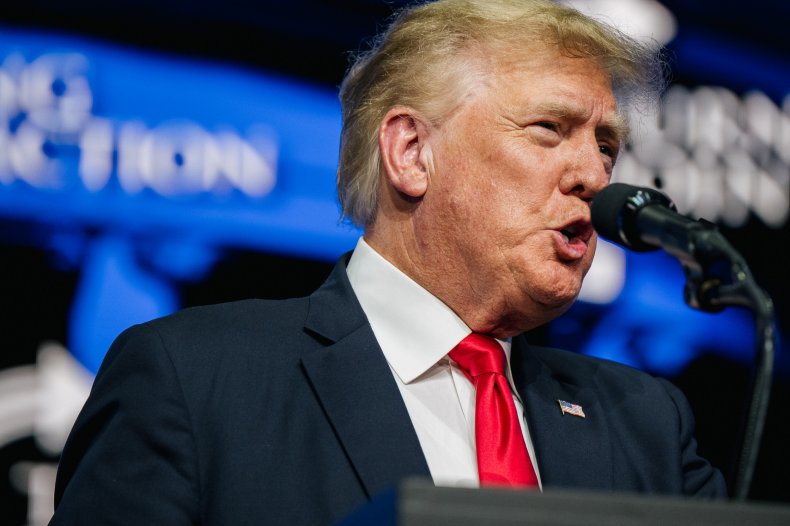 In 2017, Hall of Fame boxer Mike Tyson spoke about Trump and the magnitude of his involvement in boxing in the 1980s.
"Listen, he paid me $11 million to fight that night," Tyson said, referencing his bout against Spinks. "He was putting on the biggest events in boxing. Atlantic City wasn't the way it is now. It was a booming city then."
The September 11 bout, which will premiere via Triller Fight Club pay-per-view, is set to take place in Hollywood, Florida. The event was originally scheduled for California, but the California State Athletic Commission (CSAC) refused to sanction the fight.
In spite of the September 11 bout, there is concern surrounding the fight regarding Holyfield's age. Holyfield retired in 2011 at 48-years-old, but he's been on an indefinite suspension from the state of New York, which refused to license him to fight in 2005 due to "poor performance and diminished skills," according to a quote from the Washington Post.
Meanwhile, Belfor, who was last active in the UFC in 2018, has a history of using performance-enhancing drugs, which was revealed by the UFC in 2013.
Holyfield originally signed with Triller in late 2020 for a forthcoming bout against former heavyweight boxing champion and formidable opponent Mike Tyson. But once Triller's deal with Tyson fell apart in December 2020, the match never happened. On September 2, Holyfield filed a demand for arbitration against Triller claiming $5 million in unpaid wages from the nulled fight.
Along with Holyfield and Belfort, UFC Hall of Famer Tito Ortiz will be boxing against former UFC middleweight champion Anderson Silva in the co-main event.
The Triller Fight Club pay-per-view begins at 7 p.m. ET and is priced at $49.99.
Newsweek has reached out to Triller for further comments.