'It Is Wrong': Trump Campaign Shouldn't Sell Space Force Merchandise, Says Former White House Ethics Czar
Plans by the Trump campaign to cash in on the creation of the Space Force as a new branch of the U.S. military by selling merchandise about it were called "wrong" and a violation of the norm by a former White House ethics czar.
On the day Vice President Mike Pence unveiled the Space Force plans at the Pentagon, the Trump campaign emailed supporters encouraging them vote on their favorite logo for the new branch with a view to creating merchandise using whichever wins.
"President Trump wants a SPACE FORCE—a groundbreaking endeavour for the future of America and the final frontier," read the email from Trump 2020 campaign manager Brad Parscale. "As a way to celebrate President Trump's huge announcement, our campaign will be selling a new line of gear."
But Norman Eisen, President Obama's ethics czar and now chair of the board at the Citizens for Responsibility and Ethics in Washington campaign, told Newsweek it gives the appearance Trump is making government decisions "influenced by merchandising opportunities."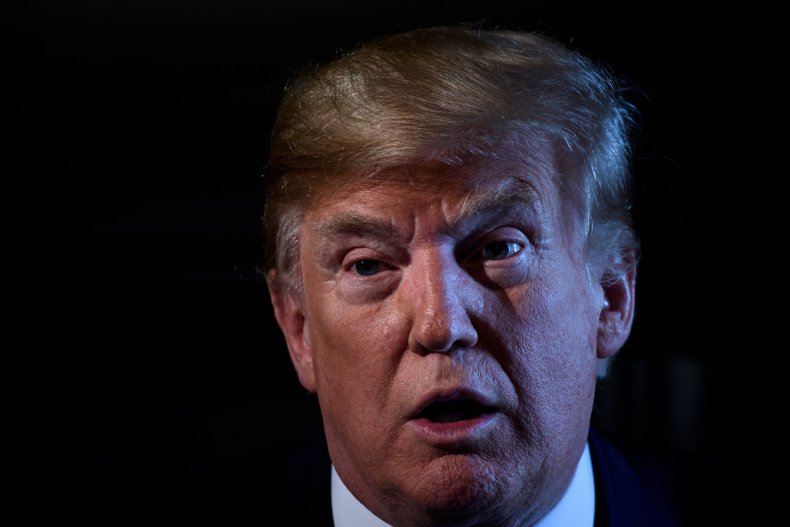 "Trump has smashed through the wall separating government affairs from his outside, non-governmental moneymaking, daily violating both the law and common decency as he milks official operations for his own private gain," said Eisen, who is also a senior fellow in governance studies at the Brookings Institution think tank.
"In this case he is violating a norm. It is wrong to do this kind of thing because it creates the impression and perhaps the reality that official government decision-making may be influenced by merchandising opportunities.
"We are left to wonder whether the primary reason for the existence of space force (at a cost of millions and perhaps eventually billions to the taxpayer) is so that Trump can profit from these kind of emails. No other president in American history has so persistently and pervasively done this kind of thing—not even close."
The Trump campaign and the White House did not respond immediately to requests for comment.
"Space Force all the way!" President Trump tweeted on the day of the announcement.
Trump is making space a higher defense priority because it has become a domain for warfare, his administration has said. The U.S. has a large number of defense and intelligence satellites in space that the White House holds are vulnerable to attack by enemies.
Under plans to establish the Space Force as the sixth branch of the U.S. military, the White House said the Department of Defense will accelerate space technology and development initiatives, establish a Space Development Agency, create a Space Operations Force, build an operating structure and accountable civilian oversight, and create a United States Space Command to oversee space warfighting.
The other five branches of the military are the army, navy, air force, marine corps, and coast guard.