What Will the Space Force Actually Do? Trump Boasts New Military Branch Will Allow U.S. to 'Control the Ultimate High Ground'
President Trump has said the newest branch of the American military, Space Force, will be used to "deter aggression and control the ultimate high ground."
Speaking at Joint Base Andrews in Maryland yesterday evening, Trump addressed officials while signing the National Defense Authorization Act 2020 into law. It provides $738 billion in defense funding, including for the new space-focused division within the U.S. Air Force.
"With my signature today, you will witness the birth of the Space Force, and that will be...the sixth branch of the United States Armed Forces," Trump said.
"That is something really incredible. It's a big moment. That's a big moment, and we're all here for it. Space. Going to be a lot of things happening in space."
The president added: "Because space is the world's newest warfighting domain. Amid grave threats to our national security, American superiority in space is absolutely vital. And we're leading, but we're not leading by enough. But very shortly, we'll be leading by a lot."
As noted by the BBC, the department's mission is not intended to blast troops into space, but will focus on protecting American assets like satellites from hostile attacks. The creation of the Space Force comes as China and Russia are increasingly focusing on the skies above, it noted.
The Space Force website says responsibilities include "developing military space professionals, acquiring military space systems, maturing the military doctrine for space power."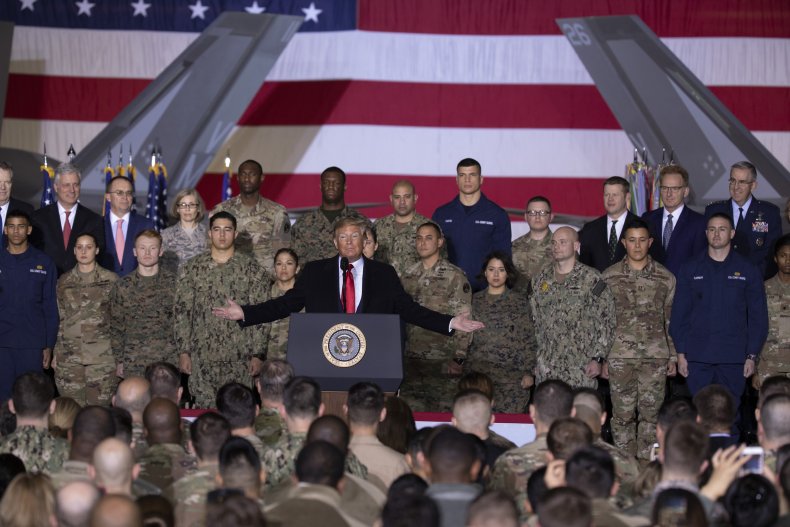 In his address, Trump said the military was "very depleted" and suffering "devastating budget cuts" before he came to office - and described the funding as a "watershed event."
"Within three years of record military investment, our country has rejected a future of American decline and embraced our destiny of American dominance. Our military is now dominant—far ahead of any of our competitors. And if you saw where we started from, not so long ago, you'd really be amazed," the president said, asserting the new funds were "an all-time record."
Secretary of the Air Force, Barbara Barrett, said yesterday that the new branch pushes the United States "into a new era dedicated to protecting U.S. national interests and security in space" A release said the division will help America to "maintain space superiority" from rivals.
Officials said the Space Force was needed as U.S. adversaries had "turned space into a warfighting domain" and troops need to be organized and trained to address future threats.
"With the establishment of the Space Force we elevate the 'organize, train and equip' function consistent with the criticality of the space domain," Gen. Jay Raymond, commander of U.S. Space Command, said in a statement published Friday. He added: "The Space Force will deliver the capabilities U.S. Space Command needs to control and exploit space for national advantage."