Donald Trump is Spending Less Time Doing His Job, More Time Tweeting and Watching TV: Report
President Donald Trump's private schedule reflects that he has an increasing amount of "Executive Time" during which he tweets and watches television, rather than scheduled work time.
Trump had nine hours of "Executive Time"—three times more than briefings, official meetings and appearances in public—last Tuesday, according to an analysis on Monday by Politico, which obtained the schedules. The unstructured time in blocks of up to 2 hours and 45 minutes dominated his schedule, while his only other commitments that day were a late morning meeting with Chief of Staff John Kelly, a briefing with military leaders, a half-hour phone conversation with CEOs and short remarks at a leadership conference.
The president has fired off dozens of tweets, often relating to TV news reports, during "Executive Time," Politico found.
During a three-hour block of such time on Friday morning, Trump complained on Twitter that the pipe bombs mailed and intended to harm CNN, former President Barack Obama and Hillary Clinton, among others, pulled focus from the critical midterm elections in which Republicans are seeking to hold on to majorities.
"Republicans are doing so well in early voting, and at the polls, and now this 'Bomb' stuff happens and the momentum greatly slows - news not talking politics," Trump tweeted at 10:19 a.m. "Very unfortunate, what is going on. Republicans, go out and vote!"
Less than 15 minutes earlier, Trump attacked Twitter itself.
"Twitter has removed many people from my account and, more importantly, they have seemingly done something that makes it much harder to join - they have stifled growth to a point where it is obvious to all," the president tweeted. "A few weeks ago it was a Rocket Ship, now it is a Blimp! Total Bias?"
Last Thursday at 6:54 a.m. during another block of unstructured time, Trump slammed a New York Times report stating that he often uses his iPhone instead of his government phone to make calls while Russians and Chinese are eavesdropping on the conversations.
"The so-called experts on Trump over at the New York Times wrote a long and boring article on my cellphone usage that is so incorrect I do not have time here to correct it. I only use Government Phones, and have only one seldom used government cell phone," Trump tweeted. "Story is soooo wrong!"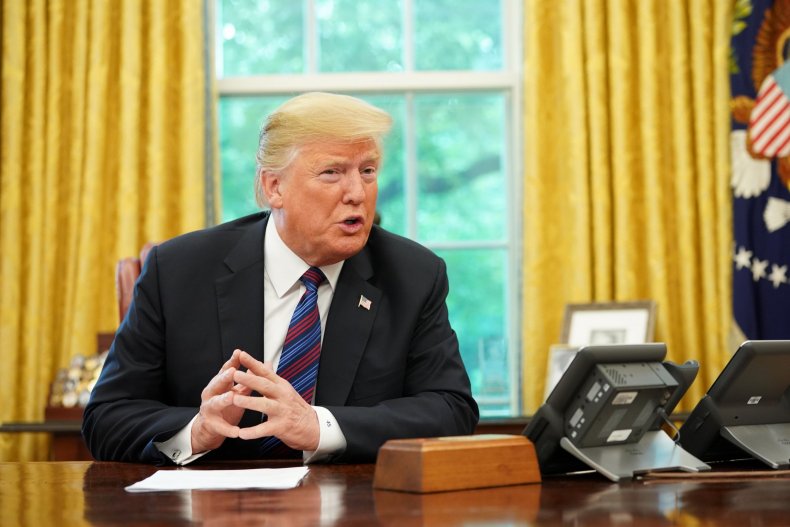 Besides having less official commitments, Trump also got a later start on the week—none began before 11 a.m. Obama's deputy chief of staff for policy Mona Sutphen said he was usually booked the whole day with official commitments, and her successor Nancy-Ann DeParle said he had six to seven hours of policy meetings daily.
"The lack of structure yields a lack of orderly decision-making and discipline that can be a huge problem given the demands of the job," Yuval Levin, who was former President George W. Bush's domestic policy aide, told Politico. "'Executive' is the last thing I would call unstructured time."
The White House did not immediately respond to a request for comment from Newsweek on Monday.