Donald Trump Starts Petition Against 'Spineless' ESPN's Anthem Policy for NFL Games
President Donald Trump, who doesn't have anything else important going on at the moment, has launched a petition against ESPN's national anthem policy, describing it as "spineless".
Earlier this week, the sports network revealed it would return to an old company policy of not televising the national anthem before NFL games.
As has been the case since 2006, ESPN will host Monday Night Football this season but it will not broadcast the anthem, which it showed three times last season.
In the petition, which was sent out by email on August 22, Trump accused the network of surrendering to pressure.
"Friend," the message reads.
"Just after we heard a sitting governor trash America, ESPN has now decided it will no longer play the National Anthem before Monday Night Football.
"If "America" is too offensive for anyone in our country, then what are they doing in America? I'm calling on you to join me in denouncing this SPINELESS surrender to the politically correct liberal mob.
"I was the first person to sign this petition. Now I need you to follow me lead and be the second."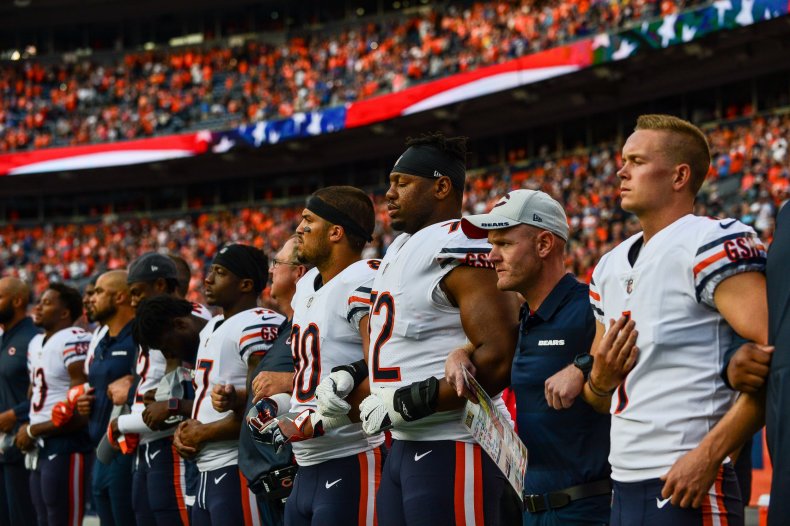 A day earlier, at a rally in Virginia, Trump had also blasted ESPN's decision, criticizing them and the NFL for not honoring the American flag.
"You're proud of our country, you're proud of our history, and unlike the NFL, you always honor and cherish our great American flag," Trump said.
"It was just announced by ESPN that rather than defending our anthem, our beautiful, beautiful national anthem and defending our flag, they've decided that they just won't broadcast when they play the national anthem. We don't like that."
While ESPN's policy has clearly irked President Trump, the network is far from alone in its stance.
Earlier this week, USA Today reported CBS Sports also has no plans to broadcast the playing of the national anthem as part of its NFL coverage, in keeping with its policy in recent years.
NBC, meanwhile, is yet to finalize its plans but in recent years the national anthem has generally not been shown live during NFL broadcasts.
Even FOX, which has often been praised by Trump for flying the flag for unbiased reporting, has rarely broadcasted the anthem. In fact, FOX Sports decision to not to show the playing of "The Star-Spangled Banner" stretches back to October last year, when it announced it would not air any live anthem coverage, except for the game between the Miami Dolphins and the New Orleans Saints, which was played in London.
The decision came a week after President Trump urged NFL owners to fire players who kneel during the national anthem to protest against police brutality and racial discrimination.
"As we have in previous broadcasts of NFL games from London, FOX will show the National Anthem as well as God Save the Queen live," the network said in a statement at the time.
"As is standard procedure, regionalized coverage of NFL game airing on FOX this Sunday will not show the National Anthem live ."
This season, FOX reportedly plans to show the anthem only on special occasions—such as Veterans Day, Thanksgiving Day and during the playoffs—according to a source quoted by USA Today.