Donald Trump Approval Rating Before Third-Year State of the Union Is Lowest of Any President—Except Ronald Reagan
Heading into his third-year State of the Union address Tuesday night, President Donald Trump had the lowest job approval rating of any president in United States history at this point in his tenure in office, with the exception of Ronald Reagan.
Trump's approval rating stood at 40 percent, up from a recent dip to 37 percent in January, amid the longest government shutdown in the country's history, and up slightly from 39 percent before the shutdown, according to a CNN poll released Monday.
Only Reagan had a lower approval rating than Trump, at 35 percent, before his third-year State of the Union address in 1983. By comparison, George H.W. Bush's approval rating before his third-year address in 1991 was 83 percent, John F. Kennedy's was at 74 percent in 1963, Dwight D. Eisenhower's was at 70 percent in 1955, George W. Bush's was at 60 percent in 2003, Richard Nixon's was at 56 percent in 1971, Barack Obama's was at 50 percent in 2011, Bill Clinton's was at 47 percent in 1995 and Jimmy Carter's was at 43 percent in 1979.
CNN anchor Poppy Harlow said Monday she was "fascinated" by the recent uptick in Trump's approval rating.
"He's now coming back a little bit," CNN political director David Chalian commented. "Clearly having the shutdown over has helped him a little there, but it's all within a range."
Chalian noted that only Reagan had a lower rating than Trump. "You'll recall Reagan went on to win a resounding victory for his second term, but Trump is still at the bottom of the heap," Chalian said.
Trump has appeared to care deeply about his approval rating, and reportedly spends hours at the start of each day watching television, reading news reports and calling his advisers, aides, members of Congress and friends about the coverage. He surprisingly agreed to temporarily reopen government without any funding for his border wall, and received backlash from conservative media outlets for caving on his biggest campaign promise.
The CNN poll also found that most Americans do not want the government to shut down again on February 15, and do not think the president's demand for a border wall justifies another shutdown.
Only 39 percent supported a shutdown for the wall, while 57 percent opposed it. Nearly two-thirds, 64 percent, of Americans do not think the president and Congress are likely to reach a deal. Two-thirds, 66 percent, of Americans opined that Trump should not declare a national emergency to build the wall, overshadowing 31 percent who think he should take that option.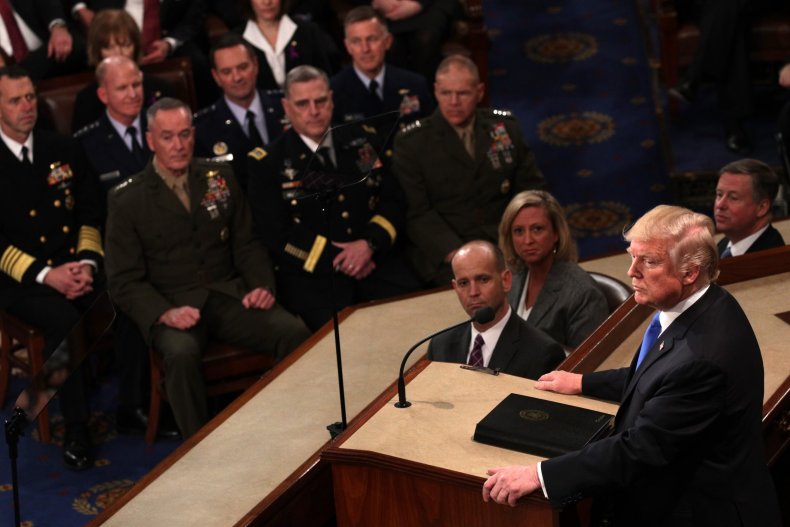 The CNN poll was conducted by SSRS from January 30 to February 2, included 1,011 American adults and had a margin of error of plus or minus 3.8 percentage points.