Donald Trump's 'Preposterous' State of the Union Is Further Evidence He Should Be Impeached, Tom Steyer Says
President Donald Trump's State of the Union address on Tuesday night was "preposterous" and another reason that Congress should begin proceedings to impeach him, billionaire Democratic donor Tom Steyer argued.
Steyer, who founded the Need to Impeach campaign that has gathered more than 7.2 million signatures to impeach Trump since October 2017, questioned the integrity of Trump's speech on Wednesday.
"I thought the thing was preposterous," Steyer told Newsweek. "You have a guy who is the most divisive president in American history, who has done nothing but attack and vilify, has done everything he can to separate the country, talking about being the great unifier."
Steyer continued that Trump's address was "honestly laughable," and "there was nothing in there" of substance. The Democrat based in California cited a Washington Post fact-check last November that found that Trump made more than 6,000 false or misleading claims in about 650 days in office.
"So if you do the math, that's an amazing thing to accomplish. Why am I listening to him?" Steyer said. "Everyone takes his statements as if they're meaningful. I don't think they're meaningful."
Steyer concluded: "He lies all the time. We should get rid of him."
In his address, Trump said his administration sent Congress a "common-sense proposal to end the crisis on our southern border" that includes "drug detection at our ports, closing loopholes that enable child smuggling, and plans for a new physical barrier, or wall." But the Department of Justice has indicated that a wall would not be the most effective means to end drug smuggling, because most drugs are brought into the United States through legal points of entry.
At another point during Tuesday's address, the president asked Congress to pass legislation to ban late-term abortions, citing an ongoing controversy about legislation in Virginia. "We had the case of the governor of Virginia, where he basically stated he would execute a baby after birth." In fact, Governor Ralph Northam said that if a baby was born and "nonviable," meaning it would not live long, the baby would be kept comfortable and the parents and doctor would discuss what to do next. Northam did not suggest "executing" the baby.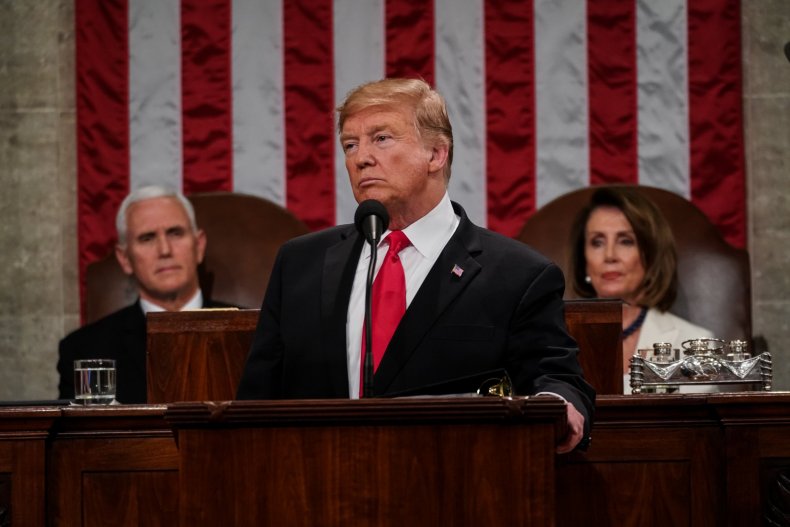 Steyer said in a statement Tuesday night the Oval Office is "mired in a culture of corruption unseen in modern political history" thanks to Trump and that "no amount of showmanship or false promises from tonight's speech will change that."
"The only way to save our Democracy from this lawless president is for Congress to step up, listen to the 7.2 million Americans who are calling for impeachment," Steyer stated, referring to his campaign, "And start the process to remove Donald Trump immediately."