Life-Size Statue of Donald Trump Eating 'Tweeties' Turns Heads in New York City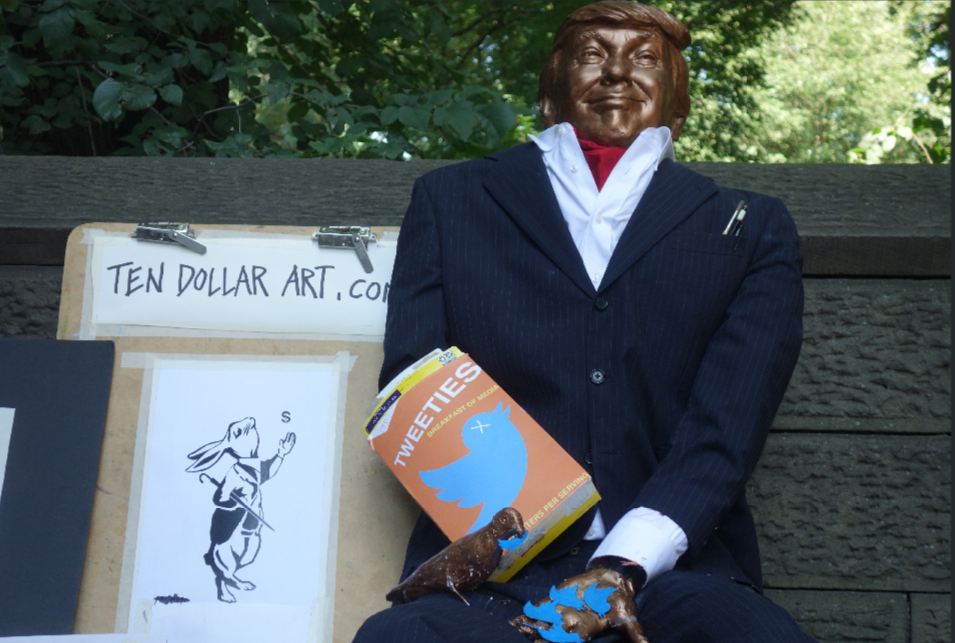 Donald Trump is sitting on a park bench on Fifth Avenue, grinning smugly and clutching a box of "Tweeties" cereal.
Well, a life-size sculpture of Trump, carved from clay and other materials and installed by the defiant artist behind the infamous Pissing Pug—the urinating dog statue that was placed strategically next to Manhattan's bronze Fearless Girl sculpture in May. (The real flesh-and-blood President Trump is leaving New York City for his golf club in Bedminster, New Jersey.)
"It's not really a pro-Trump [or] anti-Trump thing," the artist, Alex Gardega, told Newsweek Wednesday morning while working quickly to set up the sculpture before police could get in the way. "I find it fascinating, the power of his tweets. His communication is almost an art form, the way it drives people crazy. Then I was like, What if he was a street artist?"
Gardega, 48, affectionately refers to his creation as Trumpsy. "I have Trumpsy, the street artist." he said. "He's taking a break from his art, feeding the pigeons."
The Trump sculpture sits (for now, at least) on a park bench at the intersection of Fifth Avenue and East 76th Street, on the Upper East Side of Manhattan. (Despite Trump's rumored "pee tape," this work, thankfully, depicts no urinary activities.)
In Gardega's garish rendering, a bronze-faced Trump is seated with a bird perched on his knee. The president is depicted reaching into a box of "Tweeties" cereal—a parody of Wheaties designed to mock Trump's Twitter obsession—and feeding small blue "tweets" to the bird. The cereal box includes the words "breakfast of media." "The fact that it makes the media apoplectic when he tweets—that's really what the gist is," Gardega explained.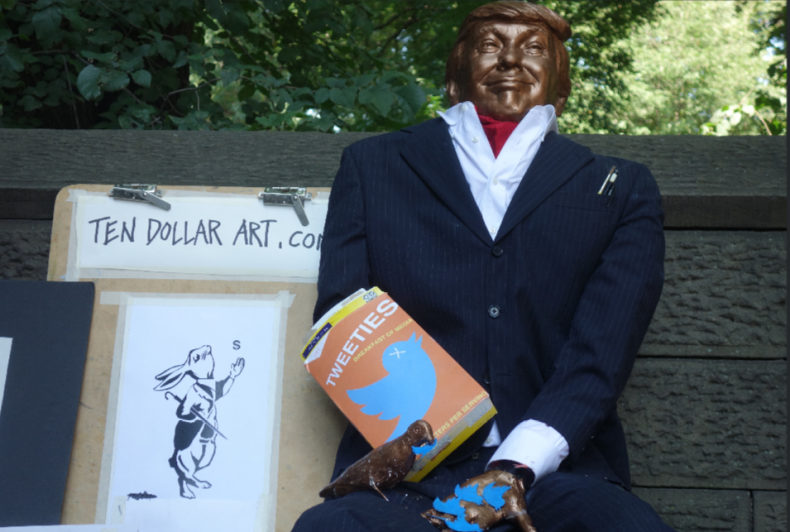 On display next to Trump are sketches of Vladimir Putin, Joe Scarborough and Mika Brzezinski, among other notable figures.
It's not the first unflattering Trump likeness to materialize in Manhattan this week. On Monday, a giant inflatable rat resembling Trump delighted and shocked tourists in Midtown.
If the Trump sculpture gets hauled away, it won't be the first controversial statue to come down this week. Protesters in Durham, North Carolina, recently toppled a statue of a Confederate soldier, in response to the debate raging over a Robert E. Lee monument in Charlottesville, Virginia. (One day, perhaps, protesters will topple an officially sanctioned statue of the 45th president.)
Related: Fearless Girl had a pug statue pissing on her in NYC because the patriarchy is bitter
Gardega, a full-time artist, describes himself as an "equal-opportunity offender." He spent two months working on the Trump sculpture in his studio. "I kind of like the mixture of the fake bronze and the real suit," he said, admiring his handiwork.
His Pissing Pug statue infuriated fans of Fearless Girl and made Gardega some enemies, but he doesn't care. "Somebody sent me hate mail from Denmark," he boasted. "I was like, Hey, at least I'm known in Denmark!"
A small crowd of tourists and bystanders gathered Wednesday morning to peer at Trumpsy. Joggers running along Central Park slowed to catch a glimpse.
"I quite like it," said a bystander named Bela, who declined to give his last name and said he was visiting from Sweden. His view of the president is not so complimentary. "I do not like the real Trump. I have a more powerful visceral hatred for the real Trump than any politician I have ever experienced in my lifetime."
Bela said he interprets the sculpture as an image of Trump's post-presidency.
"I would like to think of it as this is Trump after the fall that I hope is coming. [He's] sitting on a park bench, still smug, because he has zero introspection [and] is completely unaware of the reality of his circumstances."