President Donald Trump talked up his achievements, whether factual or not, and assailed his critics in a fiery, wide-ranging rally in South Carolina Monday. Trump was ostensibly appearing at a high school gymnasium in West Columbia to stump for incumbent South Carolina Governor Henry McMaster. However, his backing of the Republican took a backseat for much of his 45-minute speech.
Among the targets of his attacks Monday were late night talk-show hosts, Jimmy Fallon and Stephen Colbert.
Continuing his war of words with Fallon, Trump said the host of The Tonight Show looks like "a lost soul." Fallon last week had discussed an interview he did with Trump prior to the 2016 election when he was widely criticized for his softball approach and, in particular, his playful ruffling of the then-candidate's hair.
"Did you see Jimmy Fallon? Trump asked during the rally to loud boos from those in attendance. "The guy screws up my hair, going back and forth," the president continued. "He was disappointed to find out it was real. he couldn't believe it. Well that's one of the great things I got."
Trump added: "Jimmy Fallon apologized for humanizing me, the poor guy because now he's going to lose all of us."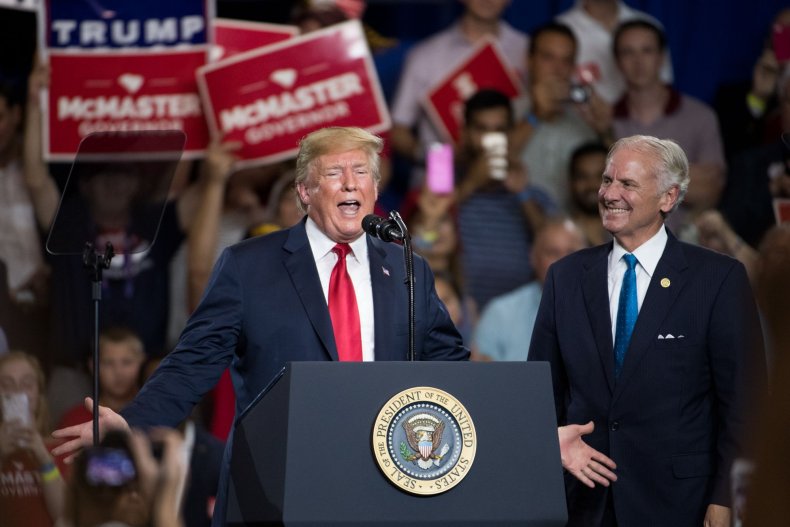 But at least Trump ended his comments about Fallon by calling him "a nice guy." The same compliment was not afforded Fallon's fellow late-night host Colbert.
"The guy on CBS, what a lowlife," Trump said in apparent reference to Colbert, who hosts The Late Show on CBS. "I mean honestly are these people funny? They're not talented people. I can laugh at myself, frankly if I couldn't I'd be in big trouble. Johnny Carson was talented. This guy on CBS has no talent."
As well as Fallon and Colbert, Trump also criticized ABC host Jimmy Kimmel, saying "that guy's terrible," before doing a mocking impression and adding that he "always got higher ratings than other people." Both Colbert and Kimmel have both been highly critical of the current president.
Trump also returned to familiar themes during the speech, deriding the "fake news media" as well as Hillary Clinton, who was defeated more than 19 months ago.
"Did you ever see somebody so protected in your life," he said of Clinton as chants of "lock her up" rang around the gymnasium. "How many reasons did she give for losing the election. She blamed everybody got losing the election except for one person: herself.