Steve Bannon Attacked on Breitbart After Betraying Trump Family in New Book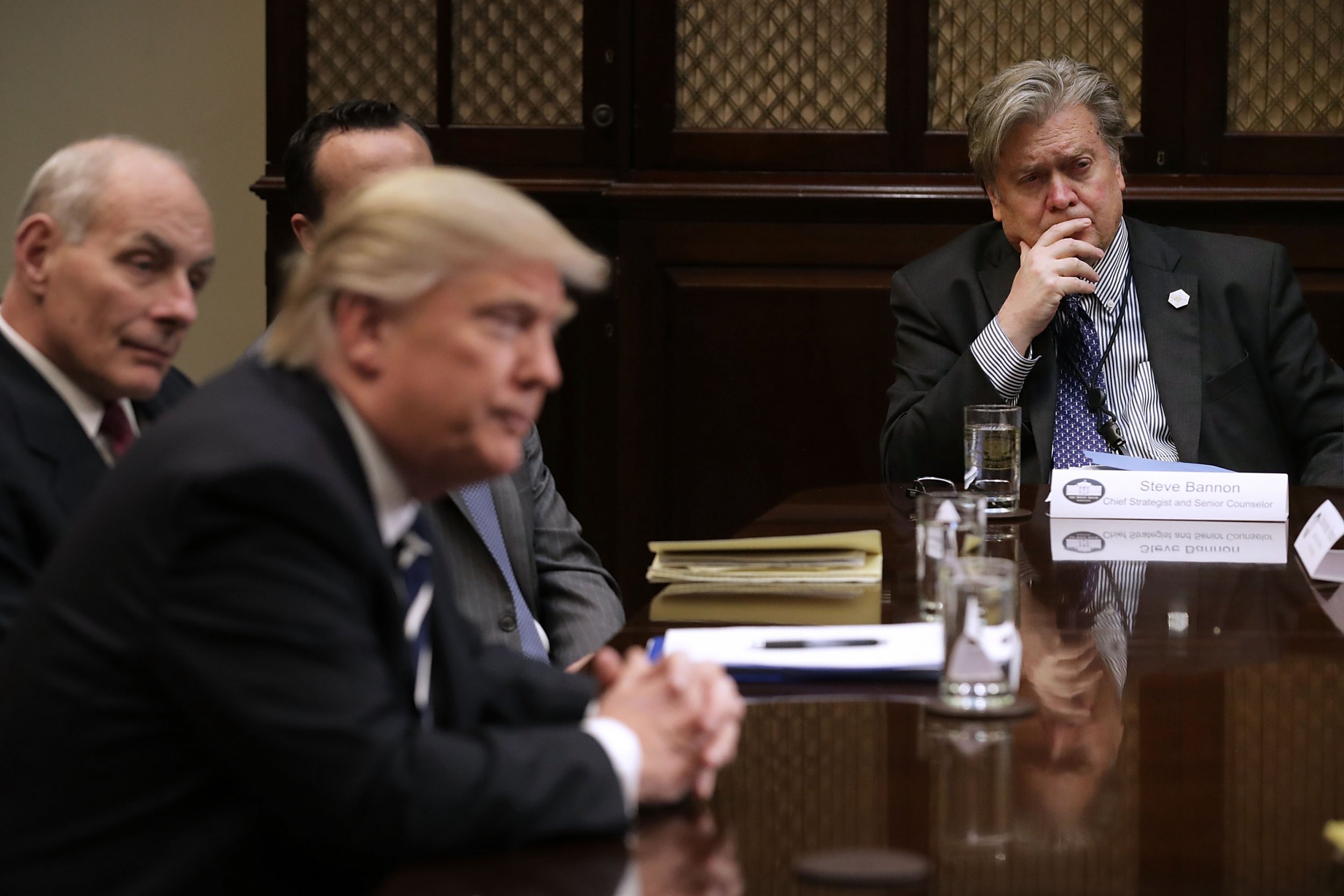 Supporters of President Donald Trump are turning on Steve Bannon after excerpts from a new book quote him disparaging the president's son and son-in-law as "treasonous" and "unpatriotic" and predicting Donald Trump Jr. will "crack like an egg."
People hammered Bannon on Wednesday in the comments section about the book on Breitbart.com—the website Bannon himself runs.
"Leave Breitbart now Bannon," a user who gave the name CG462 wrote. "This is a complete betrayal, not to mention idiotic."
Donald Trump Jr. also got in on the backlash. "Wow, just looked at the comments section on Breitbart. Wow. When Bannon has lost Breitbart, he's left with...umm, nothing," he tweeted.
Bannon's quotes appear in the new book Fire and Fury: Inside the Trump White House by Michael Wolff, which details the first year of the Trump presidency. In the book, parts of which were published Wednesday by New York magazine, Wolff quotes Bannon candidly and disparagingly talking about the 2016 meeting involving Trump Jr., Jared Kushner, Trump campaign manager Paul Manafort—who has since been indicted on multiple federal charges—and a Kremlin-linked Russian lawyer.
"Even if you thought that this was not treasonous, or unpatriotic, or bad shit, and I happen to think it's all of that, you should have called the FBI immediately," Bannon said. "That's the brain trust they had. The three senior guys in the campaign thought it was a good idea to meet a foreign agent inside Trump Tower in the conference room on the 25th floor—with no lawyers. They didn't have any lawyers."
Bannon also said it was highly unlikely the group didn't go one flight up to Trump's campaign headquarters afterward to report on the meeting. "The chance that Don Jr. did not walk these jumos up to his father's office on the twenty-sixth floor is zero," Bannon said.
Many Trump supporters and Bannon supporters defended the former White House chief strategist, chalking up the quotes to fake news.
"Now instead of fake news we have fake quotes with named sources," attorneyriffic wrote on The_Donald Reddit thread.
"This is hilariously positioned right in front of Trump's Monday Fake News Awards!" WheeliesForJesus wrote, referencing the president's announcement that he'll be giving a news outlet a Fake News award next week. "The Guardian will certainly rank high!"
Those who suspect Wolff may have fabricated the quote aren't the first to accuse him of such behavior. In 1998, the now defunct Bill's Content reported that some of the people quoted in Wolff's book Burn Rate: How I Survived the Gold Rush Years on the Internet said the author "invented or changed quotes." And on Wednesday, The New York Times's Maggie Haberman said another person quoted in Wolff's most recent book has made similar claims.
In Fire and Fury, Wolff quotes Thomas Barrack, a friend and adviser to the president, as saying about Trump, "He's not only crazy, he's stupid."
"Barrack said he spoke to Wolffe [sic] once, says he never said the quote attributed to him to Wolffe or anyone," Haberman tweeted. "'Totally false,' Barrack said by phone just now."
Wolff says he conducted over 200 interviews and was able to write the book after being deeply embedded at the White House with "something like a semi-permanent seat on a couch in the West Wing," according to New York, where he worked for years as a columnist.