Donald Trump Fails to Condemn Steve King's White Nationalist Comments: 'I Haven't Been Following It'
President Donald Trump said Monday morning that he had not been following the controversy surrounding Iowa Representative Steve King's comments about white supremacy, declining to condemn the Republican's assertion that white nationalism and white supremacy should not be offensive.
"I haven't been following it, I really haven't been following it," the president told reporters, dismissing King's comments before departing on Marine One for a conference in New Orleans.
But the Republican leadership has been closely following the story. House Minority Leader Kevin McCarthy said last week that "action will be taken" against King for his comments. It would be strange if Trump, who appears to be up to date on the details of Amazon founder Jeff Bezos's divorce, is unaware of one of the largest stories roiling the Republican Party over which he presides.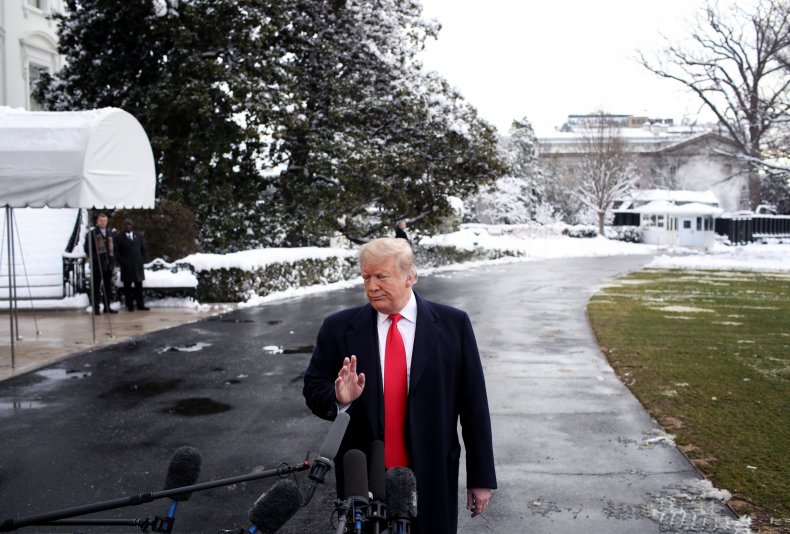 In an interview with The New York Times last week, King defended white nationalism. "White nationalist, white supremacist, Western civilization—how did that language become offensive?" King asked. "You could look over there and think the Democratic Party is no country for white men."
This is not the first time the congressman, who has been linked to various white nationalist organizations and displays a Confederate flag on his office desk, has created controversy with his remarks. King has made at least six trips to Austria while in Congress and gave an interview to a far-right newspaper there where he decried the country's "Nazi guilt." He implored the paper's readers to "bring pride back to Austria! And bring pride back into Germany again."
Still, Trump sees King as a key ally in his fight to limit immigration to the U.S. and build a wall along the southern border. King met privately with the president for an hour this October, and the president has endorsed the nine-term congressman for re-election.
In the past, Trump has found himself in hot water for not condemning white nationalists and neo-Nazis. Trump remarked that there were "very fine people, on both sides" during an August 2017 rally in Charlottesville, Virginia, where white men marched with tiki torches and yelled that "Jews will not replace" them. The marches ended with a white supremacist killing one counterprotester and injuring 35 other people after plowing his car into a crowd.
In 2016, the president refused to immediately disavow the Ku Klux Klan and an endorsement from former Klan leader David Duke. "Well, just so you understand, I don't know anything about David Duke, OK? I don't know anything about what you're even talking about with white supremacy or white supremacists," Trump told Jake Tapper on CNN's State of the Union.
"I know nothing about David Duke. I know nothing about white supremacists," the president said.