Trump's First 2024 Challenger Targets His Greatest Asset
Former President Donald Trump gained traction for his campaign by promoting himself as a successful entrepreneur, but now, his status as a businessman is being challenged by Steve Laffey, who's tossed his hat into the ring for the 2024 Republican nomination.
Laffey, a former mayor of Cranston, Rhode Island, announced his presidential bid on February 3, becoming the first Republican to challenge Trump for the nomination since the former president made his announcement in November.
Laffey is a long shot to win the nomination, potentially going up against Republican powerhouses such as former U.N. Ambassador Nikki Haley and former Vice President Mike Pence, but he's confident he's the best person for the job.
"I have a skill set that Donald Trump doesn't have," Laffey told Newsweek in a Thursday interview. "I know how to hire people and I know how to put people in the right jobs. I'm not just a businessman, I'm a financial expert."
Trump spent decades building a reputation as a real estate mogul and reality TV personality on his hit show, The Apprentice. He embraced his business experience in his successful 2016 campaign, casting himself as a political outsider ready to "drain the swamp" of Washington's establishment.
Citing his background as a former business leader and chief operating officer at a Tennessee-based financial firm and as a former finance lecturer at the University of Rhode Island, Laffey said he's more than just the businessman that Trump is.
"Former President Trump, in all due deference, is a real estate builder of large buildings," Laffey said. "If we need to build some buildings, we'll call him. But we actually need to fix financial problems."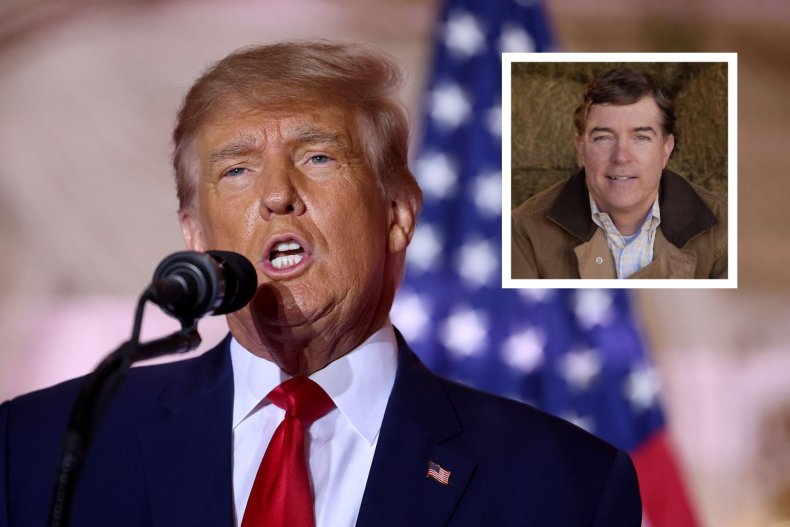 Laffey's platform is largely centered around Social Security reform—a topic so politically incendiary that many Republicans, including Trump, have avoided touching it. Just this week, GOP lawmakers were cornered into renewing their commitment to Social Security after President Joe Biden publicly called them out in his State of the Union address.
Laffey knows that Social Security is a controversial foundation to build his campaign on, but he believes at least a quarter of Republican voters are looking for someone to give them a solution to what he sees as the nation's "financial disaster."
"I know it's a third rail thing," he told Newsweek. "I know George Bush lasted six days on Social Security in 2005. I know [Alan] Greenspan said he fixed it. But the truth is it's a $61 trillion unfunded liability."
In many ways, Laffey mirrors the candidate Trump was in 2016. Aside from also having dabbled in national politics in the past (Laffey unsuccessfully ran for Senate in 2006 and the House in 2014), much of Laffey's rhetoric echoes the reason why voters liked Trump in the first place. Laffey plans to "tell people the truth" about controversial topics, and Americans repeatedly told pollsters that they liked that Trump "tells it like it is."
However, Laffey doesn't see the former president as being a candidate who exhibits that transparency, especially when it comes to the economy.
"We, as Republicans, went after former President Obama for $8 trillion of debt in eight years. And you said nothing about a trillion dollars of debt in four years [under Trump]?" he said. "You said everything about corruption that you could have when Obama was president. You didn't say the [Paycheck Protection Program] was a disaster? All Republican senators voted for it. Donald Trump signed off on it."
Laffey said he thinks that most of the Republicans holding office are just waiting around and "doing the least worst thing" in hopes that someone else will step forward and be the "adult" for the GOP. Laffey thinks that's him.
Since November's midterms, the GOP has descended into what many political observers have described as a civil war. After several megadonors and conservative news outlets abandoned Trump in the wake of his 2024 announcement, the former president has gone all out against Florida Governor Ron DeSantis, whose name has emerged as a 2024 frontrunner even though he hasn't made an official bid.
Laffey criticized politicians who have not only attacked those on the other end of the political spectrum but have begun targeting members of their own party, telling Newsweek that attacking other Republicans is "just not in me."
"I really don't care. I don't have time to keep attacking people," he said.
"I don't have any problems with these people, except that they either don't know how to fix the country or are unwilling to," he added. "I think all of them fall into both categories."
At the same time, the former mayor also said he doesn't think going after Democrats is a successful strategy either. Instead, he wants to take a page out of Biden's handbook and call for unity.
"They all start off by vilifying Democrats. Is there really a point to that anymore?" Laffey said. "Listen, I am a Republican, don't get me wrong, but we need to find some way to unite people...and I think we're going to unite people over fixing Social Security."
Despite Laffey's ambitions to be the breakout GOP candidate for 2024, Republican strategist Matt Klink told Newsweek that unless Laffey sees a huge fundraising effort, his campaign would likely be short-lived.
"While I'm sure he is a good, traditional conservative Republican candidate, he stands little to any chance of winning the Republican nomination in 2024," Klink said.
"In spite of some recent publicity, he has zero to insignificant name identification and, unless he plans to spend a hundred million dollars to boost his name identification and become known among better-known politicians, he has no hope of becoming relevant in what will become a crowded Republican field in the next couple of weeks," the strategist added.
Nonetheless, Laffey remains hopeful that he'll win enough votes on the margins to make it through the primaries.
And if he doesn't? "If I change the very nature of the debate, but I lose and we fix Social Security, I'm totally OK," Laffey said.