Donald Trump Still Believes Coronavirus Will 'Disappear' at Some Point
President Donald Trump on Wednesday again expressed his belief that the coronavirus will disappear at some point as U.S. states recorded single-day highs in new COVID-19 cases.
Despite surging domestic cases and deaths, Trump continued to downplay the pandemic threat during an interview with Fox Business' Blake Burman as numerous states continued to roll back their reopening process amid struggles with containment. "I think we're gonna be very good with the coronavirus. I think that at some point that's going to sort of just disappear, I hope," he said.
When asked whether he truly believed what he was saying, the president responded: "Yeah. Sure. At some point."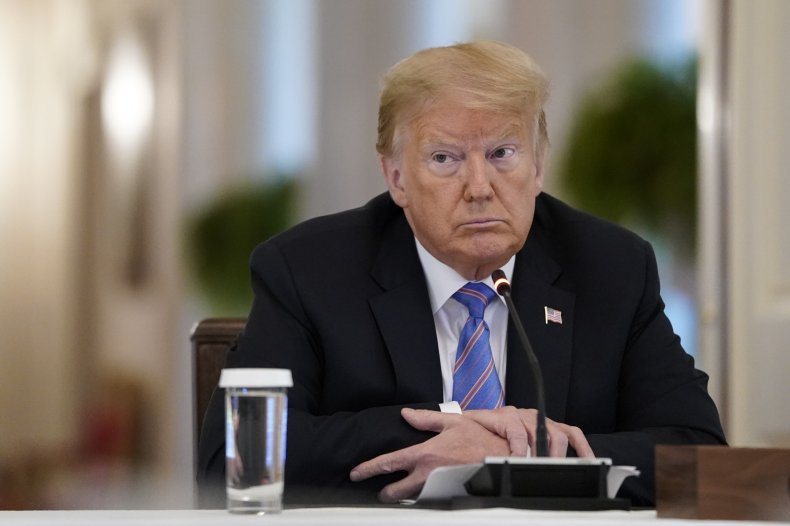 It was not the first time Trump has publicly indicated such thoughts about the new disease that has taken more than 130,000 lives in the U.S. since the first case was detected in the state of Washington on January 20. He has said it at least 18 times before.
"It's going to disappear. One day, it's like a miracle, it will disappear," the president said at the White House on February 27. Around two weeks later, he told reporters after a meeting with Republican Senators that America had been "doing a great job with [the coronavirus]. And it will go away."
"Just stay calm. It will go away," he urged.
As the president spoke to Fox Business Wednesday, California reported 9,740 new cases, smashing its previous record of 7,149 from June 23. Meanwhile, Georgia also set a new daily record of COVID-19 cases with 2,946 reported.
The president's approval rating for his handling of the pandemic dropped to its lowest level late last month. In a recent Reuters-Ipsos poll, only 37 percent of Americans approved of Trump's response to the profound health crisis, while 58 percent disapproved.
Dr. Anthony Fauci, the nation's top infectious disease expert, told a Senate committee on Monday that he wouldn't be surprised if the states started recording 100,000 new cases per day if America doesn't impose stricter mitigation measures to contain the novel virus.
"We are now having 40-plus thousand new cases a day. I would not be surprised if we go up to 100,000 a day if this does not turn around and so I am very concerned," he said.
Fauci's warning came on the same day that saw eight states—Alaska, Arizona, California, Georgia, Idaho, Oklahoma, South Carolina and Texas— recording new single-day highs in coronavirus infections. The U.S. reported over 47,000 new cases overall on Tuesday, June 30, the largest increase to date, according to the New York Times. It marked the fourth time in the past week that America saw over 40,000 new infections in one day.
Newsweek reached out to the White House and Trump's reelection campaign for comment. This story will be updated with any response.