Donald Trump Still Falsely Claims Obama 'Had the Same Law' Separating Migrant Families
President Donald Trump again attacked his predecessor, Barack Obama, while discussing whether he would shut down the government over immigration policy before the midterm elections. But Trump's claim about the Obama administration's immigration policy on family separations, which he has repeated before, was false.
"You know, Obama had the same policy on separation.… People don't say it, but Obama had the same law that I did, and they separated parents from their children," Trump told the conservative website The Daily Caller in a story posted Wednesday. "I think you guys understand that."
Trump had tried to downplay the fallout from his administration's "zero tolerance" immigration policy his administration implemented in April that required that adults found crossing the border illegally face criminal, instead of civil, prosecution, which resulted in adults being detained and separated from their children, who were taken into custody by the government or sent to foster care.
"This has been going on for 50 years—longer," Trump said in June, hours before he signed an executive order halting the policy amid widespread outrage. "This has been going on under President Obama, under President Bush, this has been going on for many, many years."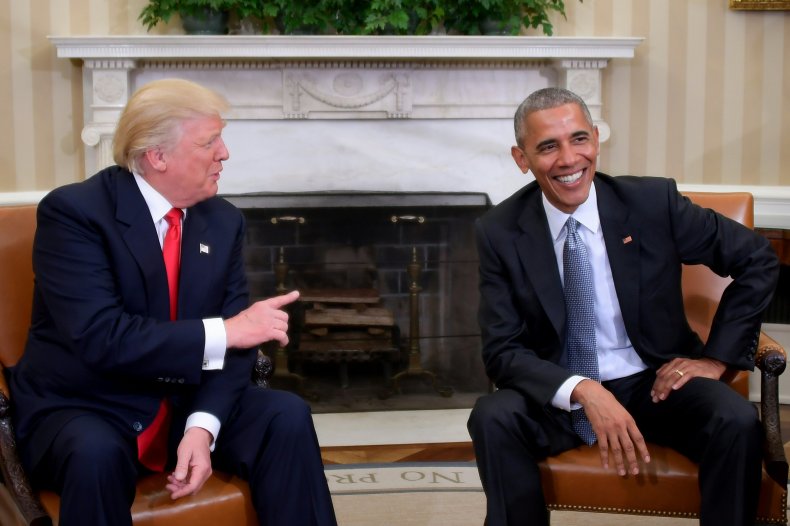 Department of Homeland Security Secretary Kirstjen Nielsen in June also said: "The Obama administration, the Bush administration all separated families.… They did—their rate was less than ours, but they absolutely did do this. This is not new."
While it's true that some migrant families were separated under Obama and previous administrations, these administrations did not institute a blanket policy or law, as Trump said they had on Wednesday, that prosecuted parents and separated them from their children.
Trump told The Daily Caller, "I don't like the idea of shutdowns," when asked if he would shut down the government over immigration.
"I don't see even myself or anybody else closing down the country right now," Trump said.
The president then moved to the topic of the border wall: "Ultimately, I can do it all in one year. I'd like to get the funding—the full funding—but we have done a lot of work. People don't realize that. I've done it very quietly."
Whether Trump would consider shutting down the government over immigration after the midterm elections is a different story.
"I think that after midterms, we're going to have a very serious discussion because we want border security," Trump said. "We have to have it."