Donald Trump Still Follows Michael Cohen on Twitter, Even After His Former Lawyer Flipped
While President Donald Trump has more than 54.4 million followers on Twitter, the U.S. leader only follows a select few accounts himself–47, to be exact.
Among the 47, Michael Cohen, Trump's former personal attorney, still retains the follow.
It is unclear whether the follow is a conscious decision or an oversight. It may come as a surprise to some, especially after Cohen, once a key confidant to Trump, appeared to flip on the president.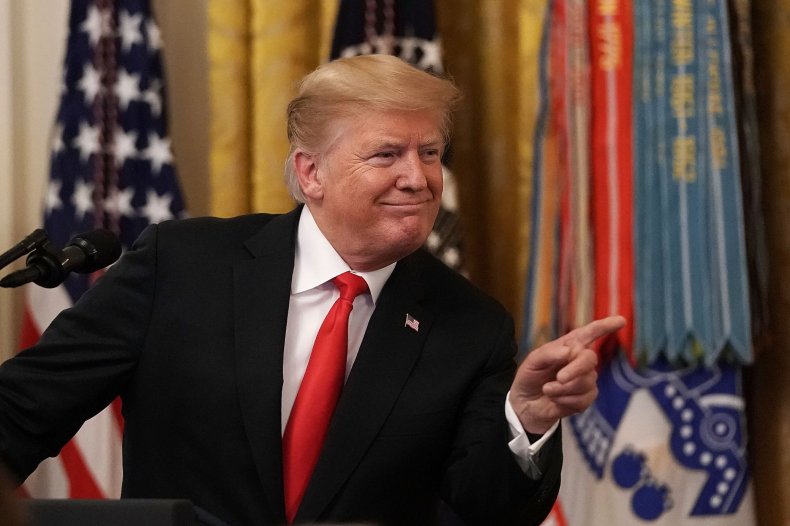 While pleading guilty to two felony campaign finance violations, Cohen implicated Trump in his federal crimes, claiming to have acted under the then-presidential candidate's "direction" when he made hush-money payments to adult film star Stormy Daniels (real name Stephanie Clifford) and former Playboy model Karen McDougal to ensure their silence over their alleged affairs with Trump.
It was a move that shocked many, given that Cohen once said he would be willing to take a bullet for Trump.
After the lawyer entered his guilty plea, his own lawyer, Lanny Davis, said Cohen would be prepared to tell special counsel Robert Mueller "all he knows" about President Donald Trump and the "conspiracy to collude and corrupt the 2016 election."
A day after Cohen's guilty plea on August 28, the president took to Twitter to lambast him, writing, "If anyone is looking for a good lawyer, I would strongly suggest that you don't retain the services of Michael Cohen!"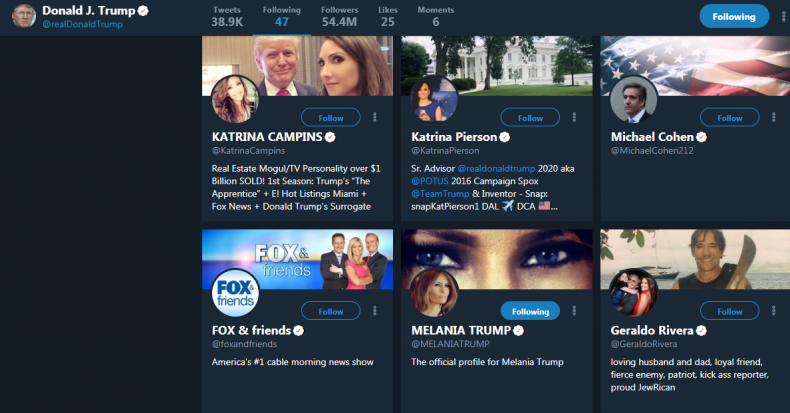 While the president does not appear to have made it onto Cohen's "following" list, the lawyer does follow two members of the Trump family.
Tiffany Trump, the president's 24-year-old daughter, and Lara Trump, the wife of Eric Trump, still hold spots on the attorney's follow list, which includes just 131 people, compared to the 386,000 currently following him.
Of Trump's 47 followees, many are members of the president's family, his government and his campaign.
The president also follows a number of Fox News personalities, including Laura Ingraham, Tucker Carlson and Jesse Watters, as well as South African golfer Gary Player and Vince McMahon, the CEO of World Wrestling Entertainment (WWE).
Trump also follows a number of social media accounts for his hotels.