Donald Trump Still Likely to Stay Out of 1/6 Crosshairs Even as Oath Keepers Face Charges
A major development was made Thursday in the Department of Justice's ongoing investigation of the U.S. Capitol riot on January 6, 2021.
Oath Keepers founder Stewart Rhodes and ten other people associated with the far-right group have been charged with seditious conspiracy. Authorities allege Rhodes and others conspired to "oppose by force the lawful transfer of presidential power" between Donald Trump and Joe Biden.
Their plot included coordinating travel to Washington D.C. and equipping themselves with "a variety of weapons, donned combat and tactical gear," prosecutors said, and the alleged co-conspirators were "prepared to answer Rhodes's call to take up arms."
"Some co-conspirators also amassed firearms on the outskirts of Washington, D.C., distributed them among 'quick reaction force' teams, and planned to use the firearms in support of their plot to stop the lawful transfer of presidential power," the indictment stated. Rhodes himself never entered the Capitol.
These are the first sedition charges brought by the Department of Justice in the more than 700 cases brought by the agency in relation to the attack. A conviction on a seditious conspiracy charge carries a maximum sentence of 20 years in prison.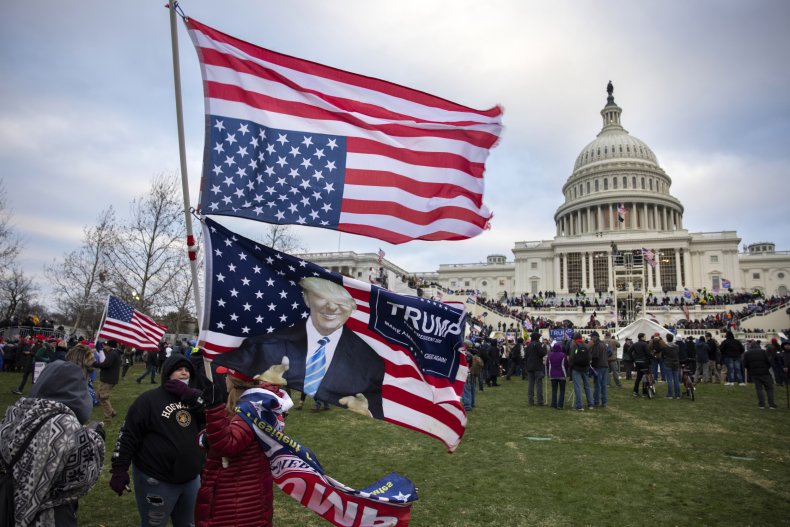 "The door has been blown wide open," Neama Rahmani, a former federal prosecutor and co-founder of West Coast Trial Lawyers, told Newsweek. "I expect that this is just the beginning. Obviously, we're dealing with the Oath Keepers but there are other extremist organizations: the Proud Boys, Three Percenters. The Department of Justice just created a special task force for domestic terrorism and extremist groups like this, so this is going to be a high priority for the Attorney General [Merrick] Garland."
Michael McAuliffe, a former federal prosecutor and former elected state attorney described the charges Thursday as the "most expansive set of allegations regarding the Capitol riot."
"The government is now alleging it was more than a riot, it was an insurrection fueled with a seditious conspiracy by members of an organization," McAuliffe told Newsweek.
While some are now questioning how high the conspiracy goes, experts said this latest development may not mean bad news for Trump or his allies.
"The new charges don't necessarily lead to Trump or Trump's inner circle, but they are an example of the more organized criminal conduct resulting in prosecutions, not just investigative interest," McAuliffe said.
Rahmani said it would still be extremely difficult to build a case against a former president, and noted that both Biden and Garland have been generally hesitant to prosecute political opponents.
"Unless there's a clear smoking gun that we haven't certainly haven't seen yet, I just don't think that's going to happen," Rahmani said.