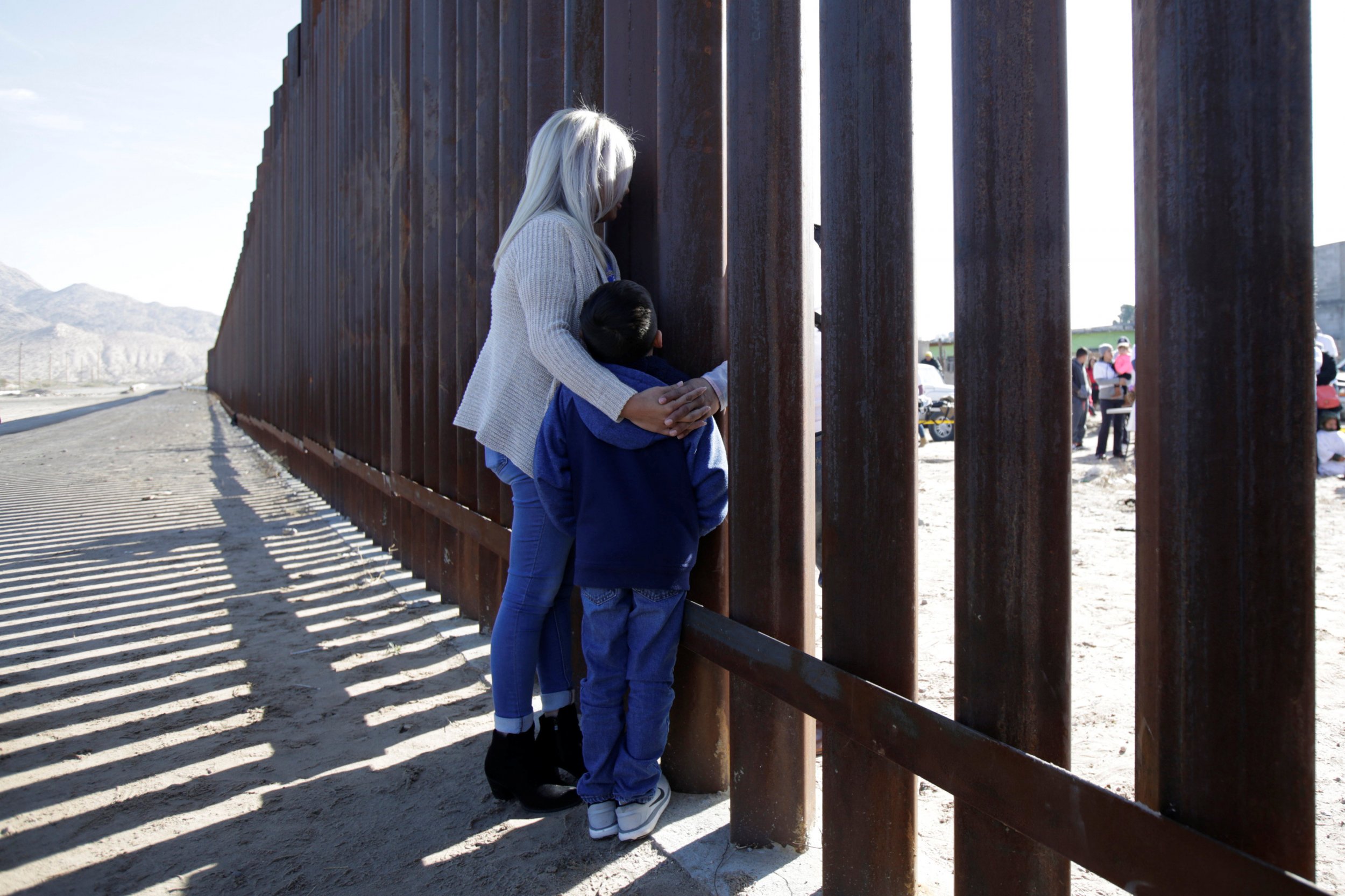 President Donald Trump still insists he'll get Mexico to pay the $18 billion proposed cost for his "big and beautiful wall" along the U.S. southern border by renegotiating the North American Free Trade Agreement in favor of the United States, despite resistance from Mexico and, apparently, his own chief of staff.
Trump reiterated his declaration Thursday on Twitter, after The Washington Post reported that Chief of Staff John Kelly said Trump's immigration policies during the campaign were "uninformed" and that Mexico will never pay for the wall.
"The Wall will be paid for, directly or indirectly, or through longer term reimbursement, by Mexico, which has a ridiculous $71 billion dollar trade surplus with the U.S. The $20 billion dollar Wall is "peanuts" compared to what Mexico makes from the U.S. NAFTA is a bad joke!" Trump tweeted.
That early morning post on Thursday doubled down on Trump's comments last week that Mexico "will pay" for the wall "indirectly through NAFTA, okay?"
"You know, if we make a good deal on NAFTA, I'll say I'm going to take a small percentage of that money and it's going to go toward the wall. Guess what? Mexico is paying," Trump told The Wall Street Journal, according to a transcript of the interview provided this week to Newsweek by the White House.
"Now, Mexico may not want to make the NAFTA deal, which is okay, and then I'll terminate NAFTA—which I think, frankly, [is] a positive for our country. I don't think it's a positive for Mexico, I don't think it's a positive for the world. But it's a positive for our country, because I'd make a much better deal," Trump added.
Trump has repeatedly threatened to terminate the U.S.-Mexico-Canada trade pact if the terms aren't renegotiated to alter what he says is unfair treatment of the U.S.
Trade among the three countries increased dramatically over the treaty's first two decades, from $290 billion in 1993 to more than $1.1 trillion in 2016, according to the Council on Foreign Relations, a nonpartisan think tank. Economists estimate the deal had a positive, albeit modest, impact on U.S. gross domestic product of less than 0.5 percent, or $80 billion. Trump believes he can renegotiate the deal to generate more revenue for the U.S.
Economists, however, dispute Trump's claim that a better deal will yield money directly from the Mexican government to pay for the wall. Collecting higher tariffs on imports—if that's Trump's strategy—will only drive up the cost of goods and make production more expensive. Consumers and businesses, not the Mexican government, will pay more, Joshua Meltzer, a senior fellow for Global Economy and Development at The Brookings Institute, told Newsweek.
"There's no sort of obvious relationship where this is an indirect way of Mexico paying for the wall through renegotiating NAFTA," Meltzer said.
Trump's NAFTA plan comes after he requested $18 billion from Congress for more than 700 miles of new and reinforced barrier along the border, according to cost estimates sent to senators earlier this month by Customs and Border Protection. More than half of the U.S.-Mexico border would have a wall or fencing if the work is completed. Trump asked for an extra $15 billion to fund technology at the border, 5,000 new Border Patrol agents and roads.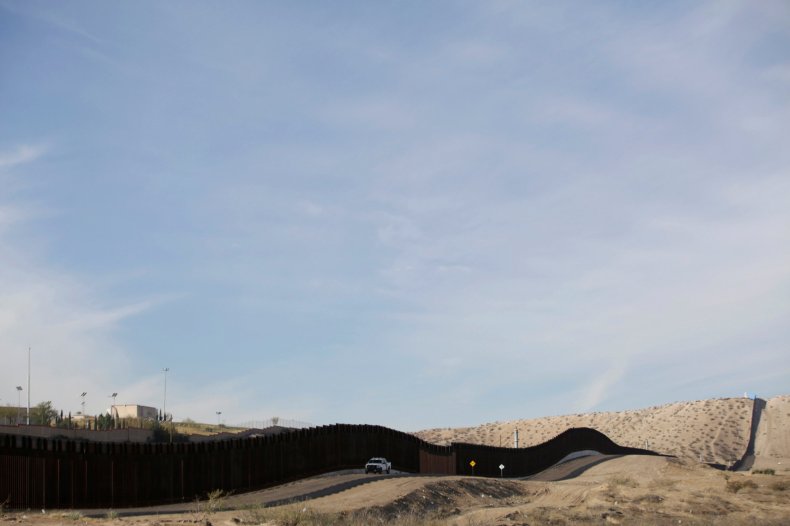 Mexican officials haven't commented since Trump told The Journal that his bid for NAFTA renegotiation was partly to fund the wall, but in the past, officials south of the border have said they will not pay for the wall in any way.
"We have some differences with the new government of the United States, like the topic of the wall, that Mexico, of course, will not pay," Mexican President Enrique Peña Nieto said after meeting with Trump at the G20 summit in Germany last year.
Former Mexican President Vicente Fox was less diplomatic.
"We'll never pay for that fucking wall," Fox told CNN last year.
During The Wall Street Journal interview, Trump said he could name 10 examples of how Mexico will eventually pay up, but he only disclosed the one regarding NAFTA. The White House did not respond to repeated requests by Newsweek for more information.
As a candidate, Trump offered many proposals for getting Mexico to pay for the wall. In a widely overlooked fact sheet on his campaign website, he suggested getting the money by jacking up the cost of U.S. visas for Mexican citizens.
"Mexico is totally dependent on the United States as a release valve for its own poverty–our approvals of hundreds of thousands of visas to their nationals every year is one of our greatest leverage points," Trump's plan states.
The cost for a student, tourist or business visa is $160, while a visa for religious workers is $190. About 4.5 million Mexicans in 2016 were entered the U.S. with a common I-94 nonimmigrant visa, according to the Department of Homeland Security.
Trump also proposed raising tariffs on Mexican imports, again citing America's "leverage."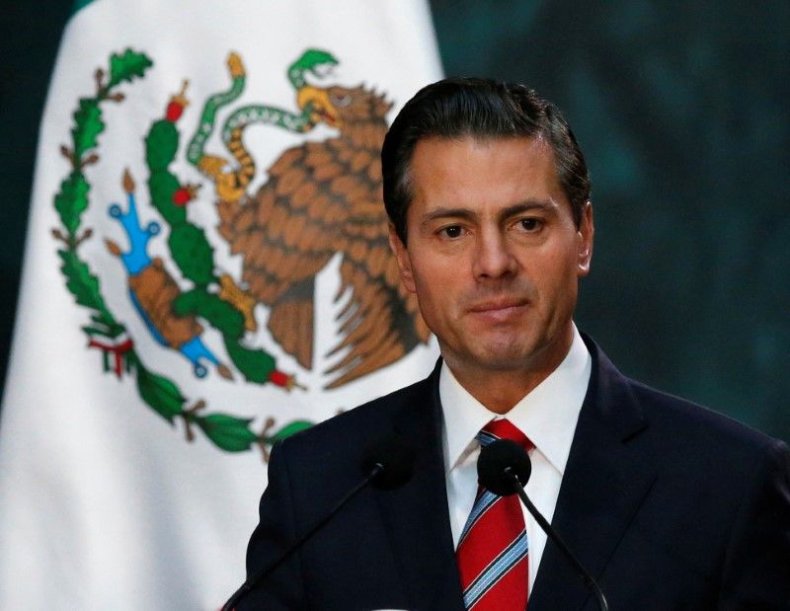 "Mexico needs access to our markets much more than the reverse, so we have all the leverage and will win the negotiation," according to Trump's plan.
He also suggested that America could wrest the money from Mexico by punishing undocumented workers here who try to send money back to their homeland. Under this convoluted scenario, Trump would bar the estimated 5.6 million undocumented workers from wiring the money back home. When Mexico protested the loss of the estimated $24 billion to its economy, Trump would relent—in exchange for money for the wall, the campaign document said.
The only evidence of Trump's border wall sits in eight prototype segments in the desert near San Diego. The prototypes are currently undergoing physical tests.