Trump Supports McConnell's Cut Down Stimulus, Despite Wanting to 'Go Big' Before Election
President Donald Trump's apparent support for a roughly $500 billion stimulus plan from Senate Majority Leader Mitch McConnell (R-KY) marks a stark contrast to his pre-election stance when he suggested lawmakers "go big or go home."
A fresh bipartisan proposal worth around $908 billion has gained traction in Congress, opening the prospect of breaching the impasse over relief, but McConnell has suggested the pitch is a waste of time.
He said focus needs to be placed on what sort of proposal the president will actually sign and alluded to his plans being something palatable to the commander-in-chief. Treasury Secretary Steve Mnuchin on Wednesday said the president would sign off McConnell's proposals.
This apparent support from the president for a reduced package comes after he suggested prior to Election Day that he would back higher spending than that pitched by Democrats in their updated HEROES Act, which was worth around $2.2 trillion.
In October, he told Fox News that he wanted to "do it even bigger than the Democrats," adding: "Now, not every Republican agrees with me, but they will."
On why he would support this, he said the government would "get the money back" due to the benefits of such action.
"I would be willing to go more, because I think the government, we get the money back. It gets the money back anyway, and it's better than unemployment and all the costs associated with the alternative."
Prior to that he tweeted: "STIMULUS! Go big or go home!!!"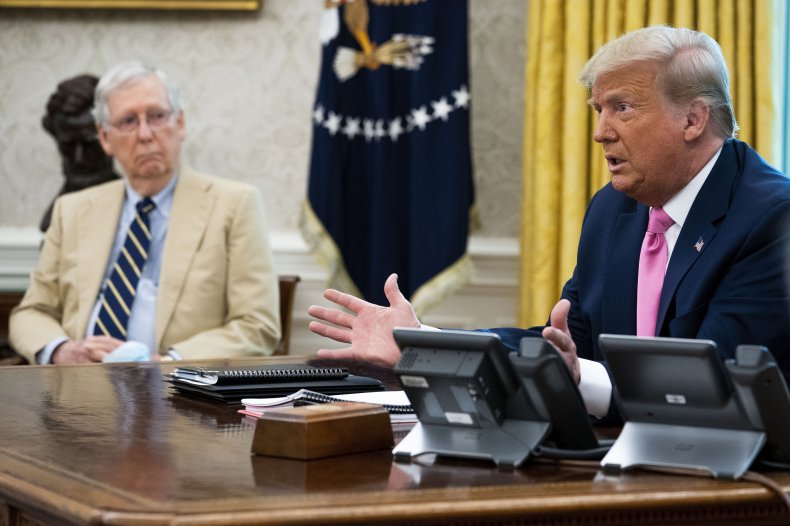 These comments came after the revised HEROES Act, worth $2.2 trillion, passed the House at the start of October.
Trump also offered to sign a standalone stimulus check bill, a measure not included in the latest bipartisan proposal or McConnell's, though offers to enact relief in a piecemeal fashion were rejected by Democrats—who continued to press for a comprehensive package.
At the time, Trump suggested Democrats did not want to see a stimulus deal passed before Election Day as they thought it might boost his chances.
While backing has grown for the fresh bipartisan offering, in itself a marked decrease on the $1.8 trillion offered by the White House before Election Day, McConnell has suggested that any plan will also ultimately need the president's signature.
"This government is in place for sure for the next month. I think the place to start is are we actually making a law or are we just making a point," he said. "And I think the way you make a law for sure is you know you got a presidential signature."
His comments drew ire from Democrats in Congress. Many Democrat lawmakers have long been frustrated by his stances on stimulus.
McConnell's plan was circulated to Republicans and leaked to the press earlier this week.
The draft includes an estimated $332 billion in small business relief and $105 billion for education to "help get students back."
There is also $31 billion for the development of vaccines and testing strategies, as well as $16 billion taken into account for contact tracing, testing and surveillance in states. A further $20 billion for farm relief is also included.
The proposal does not include further stimulus checks or continue boosts to unemployment benefits.
Newsweek has contacted the White House to ask about Trump's support of McConnell's stimulus plans following his previous calls for higher spending.
While there is bipartisan support for stimulus in some form, it has been more than eight months since the last stimulus package, the CARES Act, was signed.
Polling indicates the public does not believe further relief is likely to be signed off imminently.
The debate over stimulus comes with current COVID-19 hospitalizations surpassing 100,000 in the United States, according to figures on December 2.
The below graphic, from Statista, highlights this figure and other previous spikes.