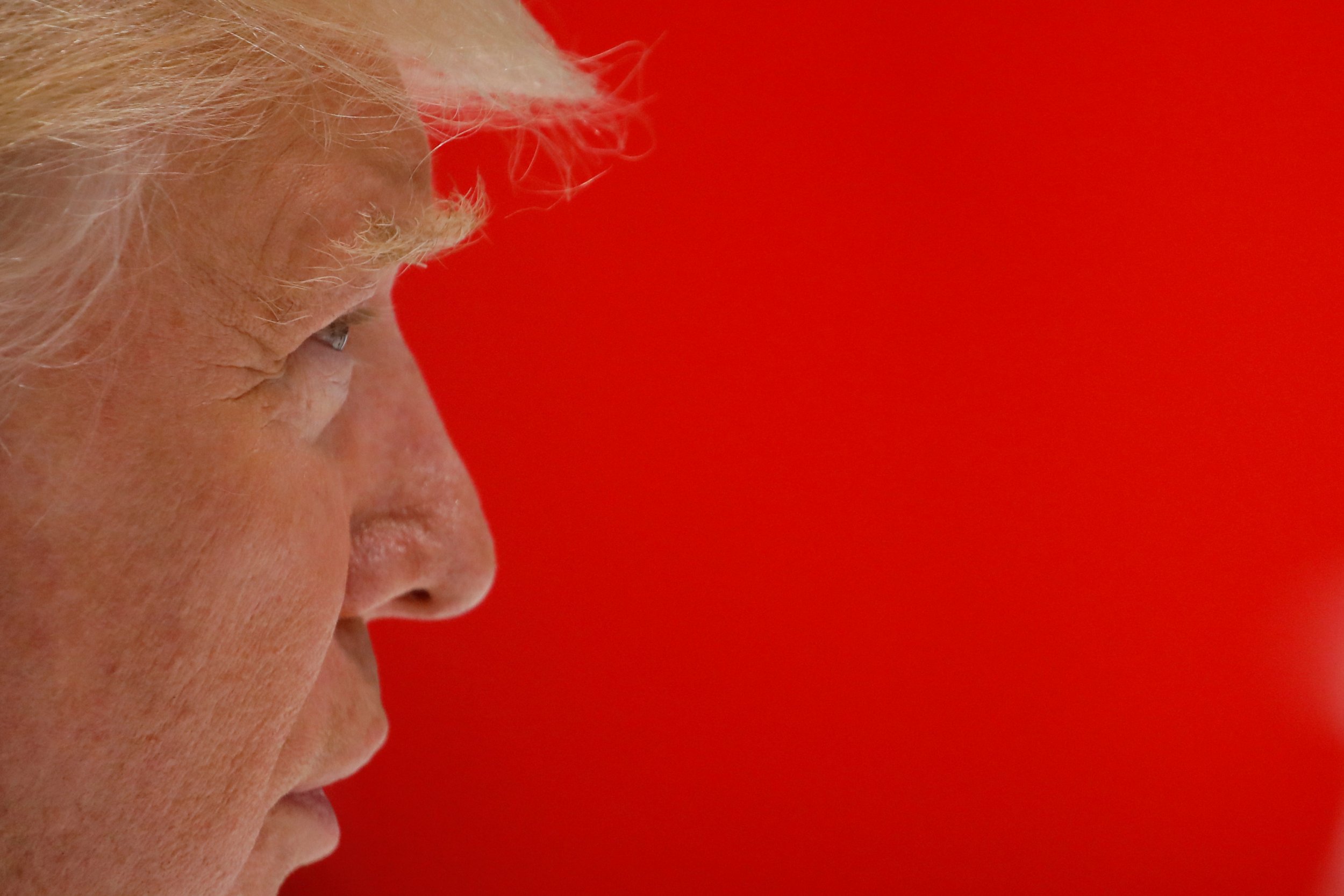 A First Amendment group has filed suit against President Donald Trump on behalf of seven people who were recently blocked by the president's Twitter account, @RealDonaldTrump.
The Knight First Amendment Institute's argument is pretty simple: The president's Twitter is a public forum, and Trump is squashing his critics' free speech rights by blocking them on the basis of their political views.
There is no legal or constitutional precedent for a commander-in-chief who uses Twitter as a freewheeling venue to escalate feuds and block those who disagree with or mock him. (Full disclosure: I have also been blocked by President Trump, though I'm not involved with this lawsuit.)
"The idea that a public official could block citizens from hearing their official speech just because they don't agree with what that person thinks is contrary to basic ideas of the First Amendment," Katie Fallow, a senior fellow at the Knight Institute, told Newsweek in June. "It's analogous to the public participation component of a town hall. Allowing people to get up and speak and discuss the issues with each other is such an important part of civic discourse. To block certain speakers just because they're critical is dangerous and unconstitutional."
Related: Donald Trump blocked me on Twitter
The organization sent a letter to the president in early June demanding that he unblock several users and setting the legal basis for a potential suit. The White House didn't respond to that letter, according to a spokesperson for the Knight Institute, so the group formally filed suit in the Southern District of New York on Tuesday.
It's not clear whether the president's personal Twitter account will legally be considered a public forum, though White House officials have said that the president's tweets should be regarded as "official statements."
When asked about the lawsuit by email, White House deputy press secretary Sarah Huckabee Sanders replied from her iPhone: "We don't comment on ongoing litigation." I asked if the president would unblock Twitter users who were blocked for expressing their political views. Sanders didn't reply.
The seven plaintiffs who have joined the Knight Institute's lawsuit are all American Twitter users who were blocked by @RealDonaldTrump. Most of them are verified users with a substantial number of Twitter followers. The list includes Brandon Neely, a police officer in Texas, Philip Cohen, a professor of sociology at the University of Maryland and Joseph Papp, a former cyclist-turned-anti-doping advocate from Pittsburgh—who was a registered Republican for 10 years.
"This is, for me, not about just Donald Trump," Papp, 42, tells Newsweek. "I think he's a detestable, vile man and a terrible leader, [but] the potential for this to set a precedent that affects government all the way down at the local level is way more of a motivating factor than just trying to stick it to the president."
Papp was blocked in early June after calling Trump a "#fakeleader" and criticizing the president's speech about withdrawing from the Paris climate accord. He believes he was targeted because he frequently responded to Trump's tweets. "I was really effective at replying to him and getting those replies noticed not just on Twitter, but by media off the site," Papp says. "I'm sure that contributed to their decision. The first wave of people who were blocked were all people who were regularly quoted outside of Twitter."
Papp is joined as a plaintiff by Eugene Gu, a surgeon at Vanderbilt University Medical Center. Gu became politically active on Twitter after his research in fetal surgery—which involves human fetal tissue—became a tense congressional issue.
"Then President Trump blocked me," Gu writes in a statement provided to the Knight Institute. "It felt like I was being silenced and suppressed. Now I have extremely limited access to the public forum where I once could be heard. I feel cut off and as though I'm being treated like an outsider in my own country."
Comics creator Joe Harris was also blocked by Trump, but says he never heard back when he asked to join the lawsuit. "It's one thing for a private citizen to block as they wish," Harris says, "but I've been blocked for literally exercising my First Amendment right to petition the government."
If the lawsuit is successful—which is a big "if"—the seven plaintiffs will be able to read and reply to the president's tweets as they wish. Until then, they'll have to express dissent the old-fashioned way: by printing out their angry tweets and mailing them to the White House.