Speaking From His Winter White House, President Trump Addresses the Nation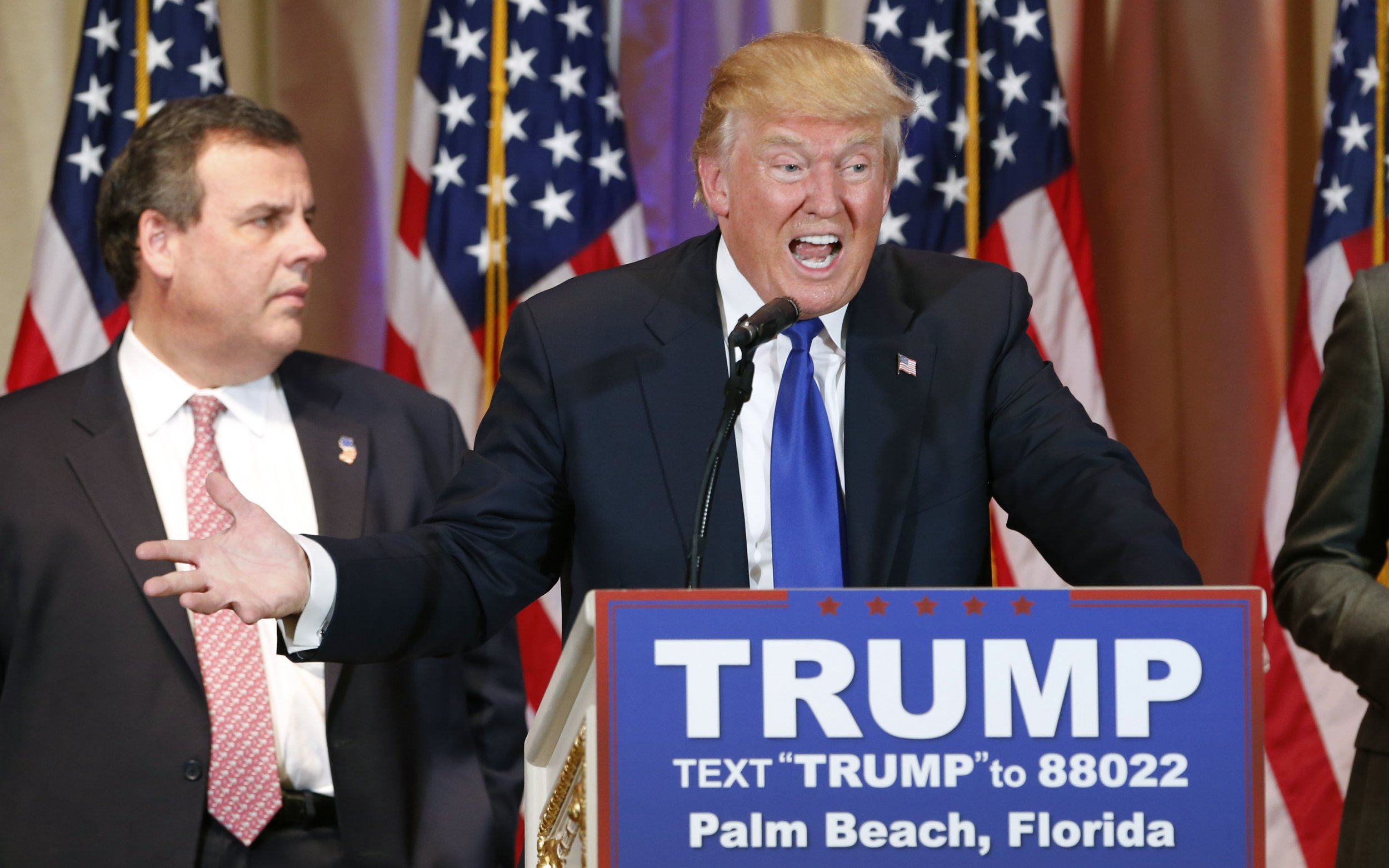 On Tuesday night, the Republican establishment's hopes evaporated in a day-glo mushroom cloud. Meanwhile, the party's very own Judas Iscariot, Chris Christie, stepped onstage at Mar-a-Lago, Donald Trump's vacation home in Palm Beach, a 126-room Hispano-Moresque palace built in the 1920s by Marjorie Merriweather Post, heiress of the Post cereal fortune. She intended it to be a wintertime White House. Christie was there to introduce his party's front-runner. He did not smile.
"Tonight, Donald Trump is the clear winner," Christie said tonelessly. Earlier in the day, the New Hampshire Union Leader had apologized to its readers for endorsing Christie in the New Hampshire primary. "Tonight is the beginning of Donald Trump bringing the Republican party together for a big victory. Our message is to begin to get ready for the fight that is coming this fall," Christie said.
Then came Trump. Beneath a crystal chandelier, and backed by 10 American flags, the scion of the new Republican party addressed the crowd.
He had come to say what was obvious to all but a few holdout movement conservatives and Republican party lifers: that he will be his party's nominee for president of the United States. Ted Cruz had won only Texas and Oklahoma, losing the crucial evangelical-rich southern states to Trump, and Marco Rubio hadn't won anything at all (though Rubio went on to win Minnesota). Though it might drag for a few weeks more, it was, for all intents and purposes and barring some seismic shift, over. Trump had won.
As usual, Trump had no prepared remarks. Like a prophet, his words come from the heart: the GOP's Jeremiah.
"It's so great to be at Mar-a-Lago with friends and the press and media," Trump began. The crowd was a mix of Trump supporters and reporters, Trump's preferred punching bags.
The New York real estate mogul rambled for about half an hour, alternating between taking shots at Hillary Clinton ("Our country is going to hell and Hillary Clinton doesn't have a clue,"), Marco Rubio ("I know it was a very tough night for Marco Rubio. He's a lightweight, as I've said many times before,") and even newly-minted Speaker of the House Paul Ryan ("I don't know Paul Ryan but I'm sure I'm going to get along with him...if I don't, he's going to have to pay a big price.") If this was Trump's chance to make nice and unify the party, he didn't take it.
Like irritating insects, the candidate flicked away reporters' questions. On his proposed plan to ban all Muslim immigration: "We got a big problem. We gotta figure it out. I tell it like it is." On his failure to repudiate the support of onetime Klu Klux Klansman David Duke: "I disavow. How many times do I have to continue to disavow people?" And on the possibility that his party will reject him: "They can always try to do that and then they'll lose everything. That's the work of a loser."
"When we unify, there's nobody, nobody that's going to beat us," a tired-looking Trump concluded, shuffling offstage. Chris Christie bit his lip.