Trump Supporter Awkwardly Silenced After Blaming Jan 6 on Antifa
A video of a Donald Trump supporter claiming that Antifa was responsible for the January 6 riots on the Capitol has gone viral on social media.
One of the members of comedy duo The Good Liars, Jason Selvig, spoke to the man at a Trump rally in Michigan and posted the video to his personal Twitter as well as The Good Liars, Twitter page. The video so far has over 1.9 million views.
Referring to the riots, Selvig asked the man why Antifa would want to prevent Joe Biden, a candidate they supported, from becoming president.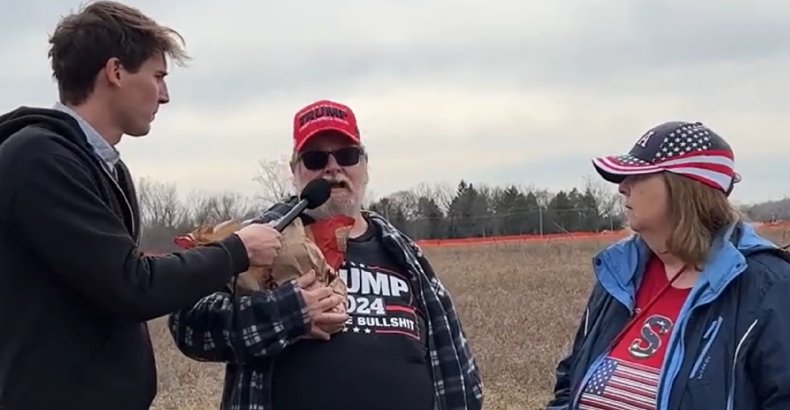 "How do you all feel about the events of January 6? Selvig asked.
The unnamed man answered: "A lot of that was Antifa."
Selvig replied: "Why would Antifa interrupt the certification of an election in which their candidate won? Wouldn't they want him to be certified?"
"Uh, they just want to disrupt in any way possible," the man answered while stuttering.
Selvig rephrased his question and asked the man if he believed Antifa wanted Joe Biden to become president, to which he replied yes.
Selvig then repeated his original question which resulted in the man mumbling to himself and turning away from the microphone to face a woman beside him who said she held different views.
Newsweek has contacted The Good Liars for comment and more information.
On March 28 a judge ruled that former President Donald Trump "more likely than not" committed a felony in trying to obstruct Congress on January 6, 2021.
U.S. District Judge David Carter attributed the ruling to evidence and said that the congressional committee investigating the Capitol attack could obtain emails by John Eastman, a lawyer for Trump, Reuters reported.
Carter's ruling is a sign of progress for the Jan. 6 Select Committee, which has been trying to gain access to emails that Eastman has so far withheld while citing attorney-client privilege.
Carter wrote in his ruling that the illegality of Trump's plan, described earlier in the document as a "plan to disrupt the electoral count," was "obvious."
"Our nation was founded on the peaceful transition of power, epitomized by George Washington laying down his sword to make way for democratic elections," the ruling read.
"Ignoring this history, President Trump vigorously campaigned for the Vice President [Mike Pence] to single-handedly determine the results of the 2020 election…Every American—and certainly the President of the United States—knows that in a democracy, leaders are elected, not installed.
"Based on the evidence, the Court finds it more likely than not that President Trump corruptly attempted to obstruct the Joint Session of Congress on January 6, 2021," the ruling added.