Who Is Mayra Joli? Nodding Woman Behind Trump at Town Hall
A woman seen at an NBC News town hall event with President Donald Trump, held at the Perez Art Museum in Miami, Florida, has been dubbed the "Nodding Lady" across social media.
The Trump supporter, who was later identified as Mayra Joli by the Miami Herald, was captured in a video of the event frequently nodding her head throughout Trump's interview with NBC's Today show anchor Savannah Guthrie.
Wearing a red face mask, Joli was seated behind Trump, pictured to the right of the president.
Joli is an immigration attorney in south Florida who ran for Congress back in 2018.
She practices "exclusively in the field of immigration law, specializing in detention and removal proceedings," according to the website of the Joli Law Firm.
During her 2018 congressional race, Joli was reported to have gained 2.5 percent of the vote as an independent in Florida's 27th Congressional District, losing the race to Democrat Donna Shalala.
In an interview with the Miami Herald back in 2017, Joli compared herself to Trump, noting: "I am not looking to run [for Congress] because I need a paycheck, like Donald Trump. I'm not looking to run because I need fame, like Donald Trump.
"I'm running because I need this country to succeed.
"Like Donald Trump, I don't drink," she said at the time.
After the town hall event, Joli spoke to Trump in a video posted on her Facebook page.
"We have your back! You see, you see you are the best," Joli told Trump.
"Where are you from?" the president replied.
"I'm from the Dominican Republic, but I'm American, I'm an American," Joli said.
She is also "a regular featured expert on immigration issues" on various Spanish-language shows, according to the Joli Law Firm website.
Joli's appearance sparked several comments from Twitter users, including former Today show anchor Katie Couric.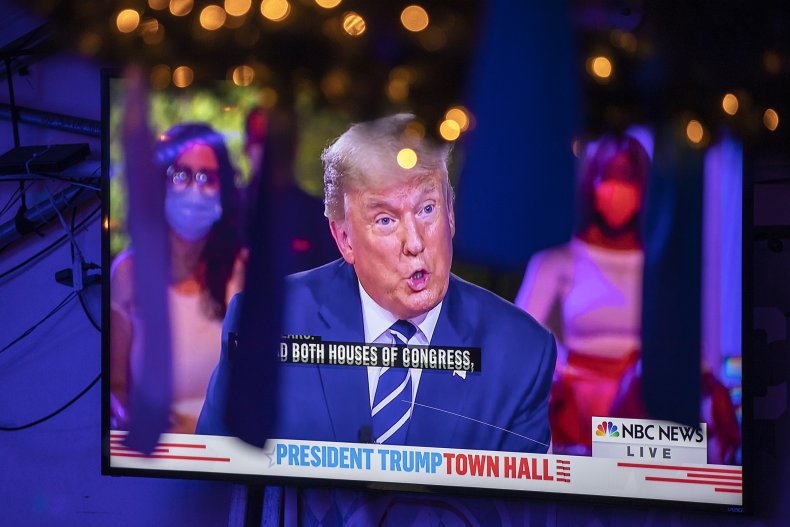 "I'm channel surfing. The woman to @realDonaldTrump 's right keeps nodding her head which I find very distracting. #NBCTrumptownhall," Couric tweeted.
Author and comedian Sara Cooper also tweeted: "Same. This woman is nodding at things before he's even finished his thought. It's a psychological trick and I cannot believe no producer, no camera person, NO ONE is stopping it."
Philip Lewis, the frontpage editor of The Huffington Post, tweeted: "Get somebody to support you like how this Black woman behind Trump was supporting him during the town hall."