Donald Trump Accidentally Tweets Praise At Parody Account Mocking Former ICE Chief Tom Homan
Seeking to praise former U.S. Immigration and Customs Enforcement Acting Director Thomas Homan in a tweet on Sunday, President Donald Trump accidentally ended up drawing attention to a pro-immigration parody account mocking the former ICE chief instead.
"'The Democrats hate this President so much, they're forgetting about their duty to secure our Border,'" The U.S. leader wrote, appearing to quote from an interview between the real-life Homan and Fox News' Steve Hilton.
"Sad but true!" Trump said in agreement, as he tagged Hilton and the account: "@ThomasHomanICE."
What the president didn't realize, however, was that the account, which he tweeted out to his 62.4 million followers, was actually a parody account run by pro-immigration advocate Domenic Powell, who was quick to point out the mistake.
"If you realize Trump tweeted a parody account and you actually want to follow me, you can find me at @_vectorist," Powell wrote in a tweet, sharing his personal account, where the pro-immigration advocate took the opportunity to joke about the president's blunder.
"Years from now, when my grandchildren ask how we defeated fascism in the United States: '...and then kids, I looked down at my cracked iPhone and saw the President had tweeted at my old parody account," he said.
In the hours after Trump's tweet tagging the parody account, Powell also used the page, which has just over 3,250 followers, to share criticism of the U.S. leader, as well as tips on "how to abolish ICE."
He also weighed in on Trump's attacks on Elijah Cummings, the Democratic chair of the House oversight committee, after the U.S. leader called Cummings a "brutal bully" and branded his congressional district a "disgusting, rat and rodent-infested mess," as well as the "worst-run and most dangerous [district] anywhere in the United States."
"Rep. Cummings is an advocate for justice, freedom, and the rule of law," Powell wrote from his Homan parody account.
"He's done more for the working people of Baltimore—and this entire country—than Trump could ever do," he said.
The account also praised Democratic Minnesota Rep. Ilhan Omar, who has also been the subject of Trump's racist attacks, calling Omar "an American hero."
Catching Trump's apparent blunder, many Twitter users rushed to follow the parody account mocking Homan, with many offering words of praise for Powell.
"After getting such a good laugh over this tonight, how could I *not* follow you?" one social media user wrote.
"I needed this tonight," another said. "Thank you and here's a follow!"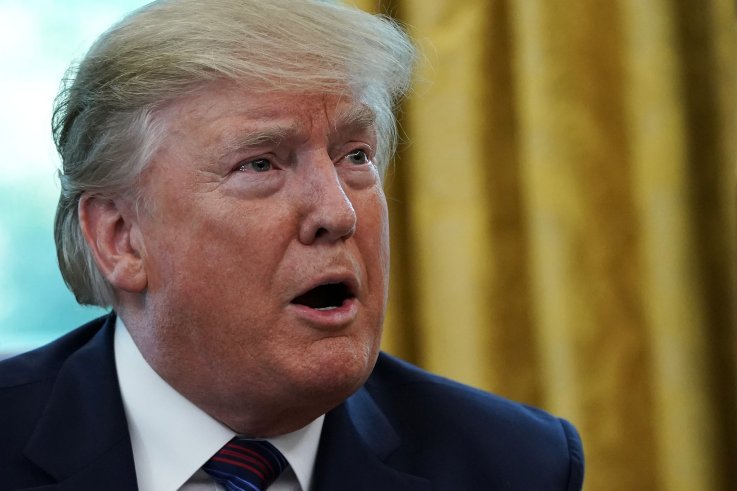 Donald Trump Accidentally Tweets Praise At Parody Account Mocking Former ICE Chief Tom Homan | U.S.