Donald Trump Talks About High Contagiousness of COVID, Condemns Shutdowns
President Donald Trump lambasted Democratic presidential candidate Joe Biden's handling of the H1N1 outbreak during the Obama administration during a speech Thursday night in Pennsylvania. Trump also said that states who were still closed down because of the coronavirus only remained so for "political reasons."
Biden has made a point of criticizing Trump's response to the coronavirus pandemic, implying that his experience with the U.S. H1N1 outbreak in 2009 provided him with the knowhow to lead the U.S. response to COVID-19. Trump has claimed that a Biden administration would shut down the country again leading to a host of negative effects. On Thursday, Trump said the coronavirus differed from H1N1 because it was easier to transmit and contract.
"[H1N1 is] not contagious like [coronavirus]," Trump said. "This is a tough one. I could look at that guy, he'll catch it right there, and he's very far away from me. This is a tough one because it's so contagious."
"But the swine flu is a different thing but also nothing's easy about that, pandemics or epidemics," Trump added.
Trump has spoken in the past about how the coronavirus is difficult to transmit, especially for children. In July, the president said that children don't catch the virus easily and if they do contract the virus, they "get better fast."
In February, President Trump said the coronavirus would no longer be a problem when the weather got warmer and would be gone by April.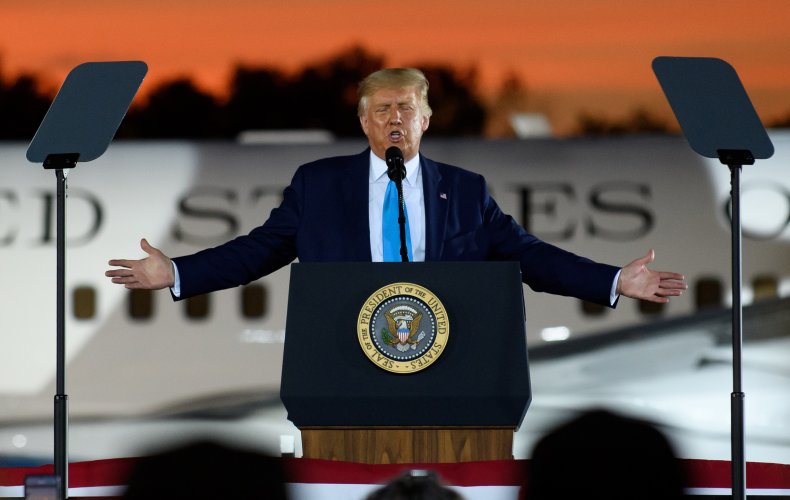 Trump referenced a Gallup Poll which gave his administration high marks for handling the coronavirus, whereas a similar poll concerning Biden's response to H1N1 produced a result "so low, it wasn't recordable. And then he's coming along and telling us how to solve this very difficult problem." According to the president, Biden's performance was referred to by an Obama administration "top guy" as "incompetent."
In June, former Biden adviser Ron Klain told the National Press Club that there were "a bunch of really great and really talented people" working on the H1N1 outbreak in the Obama administration who "did every possible thing wrong."
A resurgence in some states caused some local leadership to pause their reopening strategies and enforce stricter coronavirus mitigation measures. Trump pointed out that all the states that are still closed down due to the coronavirus were not run by Republicans.
"New York is closed, [Pennsylvania is] closed, North Carolina's closed, Michigan—all Democrats," Trump said. "Let me tell you what's going to happen on November 4. They're going to announce they're opening. They're doing this for political reasons."
"They're doing it for political reasons because they want our numbers to look as bad as possible going into November 3, election day," Trump continued. "And then as soon as the election's over, win, lose or draw for them, they're gonna open. They got nothing and you know what it's a shame what they're doing."
New York Governor Mario Cuomo said Tuesday during a news conference that Trump was the "cause of COVID in New York."
"It was his negligence that allowed the virus to ambush New York and that's not rhetorical," Cuomo said. "He missed it."
All regions of the state of New York are in the fourth stage of reopening. Shopping malls in the city will be allowed to reopen Wednesday with strict safety measures in place. Nonetheless, many restaurants and bars in New York City have closed permanently due to the coronavirus pandemic.
Newsweek reached out to the Biden campaign for comment.