Donald Trump Talks North Korea and Military Build Up 'Like No One Has Ever Seen'
President Donald Trump has renewed his commitment to confront the North Korean nuclear threat in an interview with Fox News' Sean Hannity aired on Wednesday.
The TV host asked the president about the cryptic "Calm before the storm" remarks he uttered ahead of a dinner with military officials and their wives on October 5.
"It seems related to Rocket Man" Hannity said, using Trump's own words in referring to North Korean leader Kim Jong Un. "At this point this is going to come to a head," he added, referring to Pyongyang's growing nuclear capability which, according to Pentagon officials, have advanced to the point it could strike the U.S. mainland with an intercontinental ballistic missile (ICBM).
"We can't let this to go on. We just can't," Trump blurted out, blaming his Democrat predecessors Barack Obama and Bill Clinton for not doing enough to handle the situation, disregarding the times, between 1993–1998 and again between 1999–2005, when North Korea did not test any missiles and when U.S. was engaging in intense diplomatic efforts.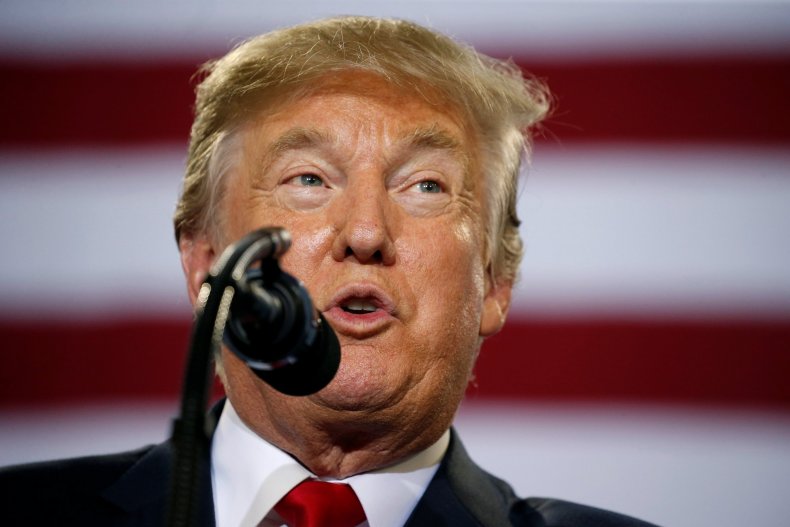 Trump, who recently tweeted that Secretary of State Rex Tillerson was "wasting his time" in talking to North Korea, praised U.S. military capabilities. "I'm building up the military like no one has ever seen," he said.
"We build the greatest military equipment in the world, we have missiles that can knock out a missile in the air 97% of the time. If you send two of them, it's going to get knocked out" he added, although current and former military officials and experts are less confident of the U.S. missile defense capabilities, Politico reported in July.
Hannity pushed the president to discuss his strategy in confronting North Korea, but Trump once again refused to explain his plan. "I'm not saying I'm doing anything and I'm not saying I'm not, but we shouldn't be talking about it," Trump said, holding on to his belief that unpredictability is a virtue.
The president has issued several threats to Pyongyang, such as the "totally destroy North Korea" line in his speech to the U.N. General Assembly in September, or declaring that "only one thing will work" against the regime.
North Korean foreign minister Ri Yong Ho, who Kim recently promoted to a high-power position within the country's ruling Korean Workers' Party politburo, said Wednesday Trump "has lit the wick of a war" with his U.N. speech. "We need to settle the final score, only with a hail of fire, not words," Ri said.