Donald Trump Taunts Stacey Abrams Over Georgia Run: 'I'll Beat Her Again'
Former President Donald Trump has taunted Stacey Abrams, the Georgia Democrat who narrowly lost in the governor's race in 2018, after she announced her intention on Wednesday to run in the 2022 gubernatorial elections.
In a statement issued later on Wednesday evening, Trump said: "Stacey 'The Hoax' Abrams has just announced that she's running for Governor of Georgia. I beat her single-handedly, without much of a candidate, in 2018. I'll beat her again, but it will be hard to do with Brian Kemp, because the MAGA [Make America Great Again] base will just not vote for him what he did with respect to Election Integrity and two horribly run elections, for President and then two Senate seats."
Kemp certified the state's 2020 presidential election results in November 2020, after a state recount, which reiterated that Democrat Joe Biden beat Trump. This move was to Trump's chagrin, as he has consistently said the election result was a fraud, without providing evidence, and has convinced other Republicans to support this claim.
Further discussing the 2022 gubernatorial election in Georgia, Trump added in his statement: "But some good Republican will run, and some good Republican will get my endorsement, and some good Republican will WIN!"
In 2018, Abrams lost to Kemp by around 55,000 votes, but if she is successful in 2022, she will become the first Black governor of Georgia and the first Black woman to serve as a governor in the United States. Abrams was previously the Georgia House Democratic leader.
"I'm running for Governor because opportunity in our state shouldn't be determined by zip code, background or access to power," Abrams tweeted Wednesday, posting an announcement video with the slogan "We are One Georgia."
Georgia, historically a Republican state, backed a Democrat in the presidential election in 2020 for the first time since 1992. The southern state also saw two runoff elections won by the Democrats in January 2021, giving them control of the Senate.
Since losing to Kemp in 2018, Abrams' profile has raised as a voting rights advocate and she has been widely credited as influencing the Democrats' wins in the state in 2020 and 2021 by boosting voter turnout.
However, the situation today is very different to what it was at the start of the year. The Democrats are now in a difficult position as the COVID-19 pandemic continues to exact a significant toll in the U.S.
President Joe Biden's poll numbers have steadily gone down after the tumultuous withdrawal from Afghanistan and weeks of drama around the legislative agenda.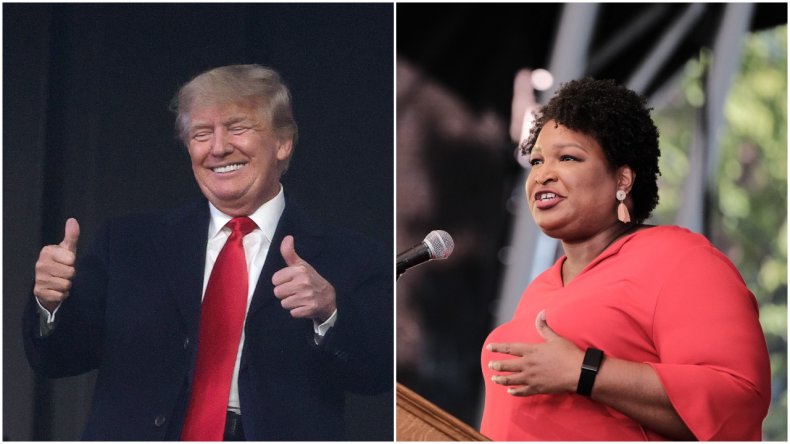 UPDATE 12/02/21 9:13 a.m. ET: This article was updated to include a new picture.