Amid Trump Tax Controversy, One Thing Is Clear: Americans Want the Details
President Donald Trump's rejection of claims regarding his tax returns adds another level of complexity to the discussion surrounding their release.
But amid this long-running furor surrounding his payments, one thing has appeared consistently clear in polling: Americans want the details made public.
Trump forewent the usual precedent of presidential candidates releasing such details as he ran for the White House, stating this was due to details being under audit by the Internal Revenue Service.
Reporting from The New York Times claims to have uncovered the amounts he has paid in recent years, though Trump has dismissed this as "totally fake," while similarly reverting to his audit defense for not releasing the details to the public.
Trump has regularly defended not releasing the returns, having previously said people "don't care" about them.
"I don't think they care at all," he said, when responding to a question on whether he would release the returns when asked in 2017.
Political adversaries have urged the president to hand over the information, while there have also been court challenges pushing for documents to be shared.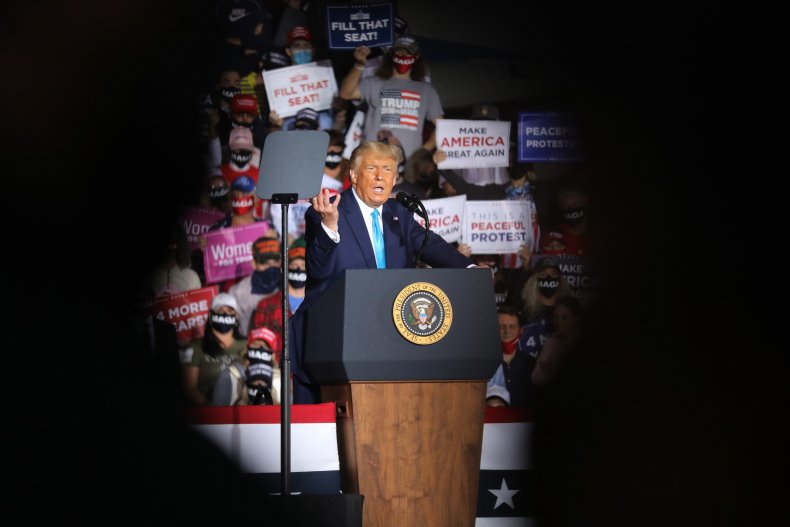 Throughout such arguments, polling has been conducted several times as to whether Trump should share his tax returns, with respondents generally believing doing so would be the right course of action.
In a Reuters/Ipsos poll from July, 66 percent of those asked said Trump should release returns from earlier years and 68 percent said Americans have "a right to see each presidential candidate's financial records before the election."
The questions were put to 1,115 American adults July 13 to 14.
The Economist/YouGov polling from July also showed most registered voters asked want the president to release his tax returns.
Overall, 57 percent said he should do so, of 1,500 asked July 5 to 7. The polling showed a partisan split in this, with 84 percent of Democrats saying yes to Trump releasing the details, compared to 16 percent of Republicans. Amid this split, independent identifying voters mostly said he should, at 53 percent.
Although still a majority, compared to similar polling in 2016 there had been a decline in the percentage who think the details should be shared. A survey conducted July 30 to August 1, 2016, found 69 percent of those asked felt the returns should be released.
Polling from YouGov taken at points since 2016 has shown consistently more than half of those asked want the details released.
With Democrat lawmakers having pushed to try and obtain the tax returns, previous polling has also shown such moves we supported by the public.
A Morning Consult/Politico poll, among 1,992 registered voters April 5 to 7, 2019, found 51 percent supported prior efforts by the House Democrats to get the records.
Newsweek has contacted the White House and the Trump campaign for comment.