New York Passes Law To Release President Trump's State Tax Returns to Congress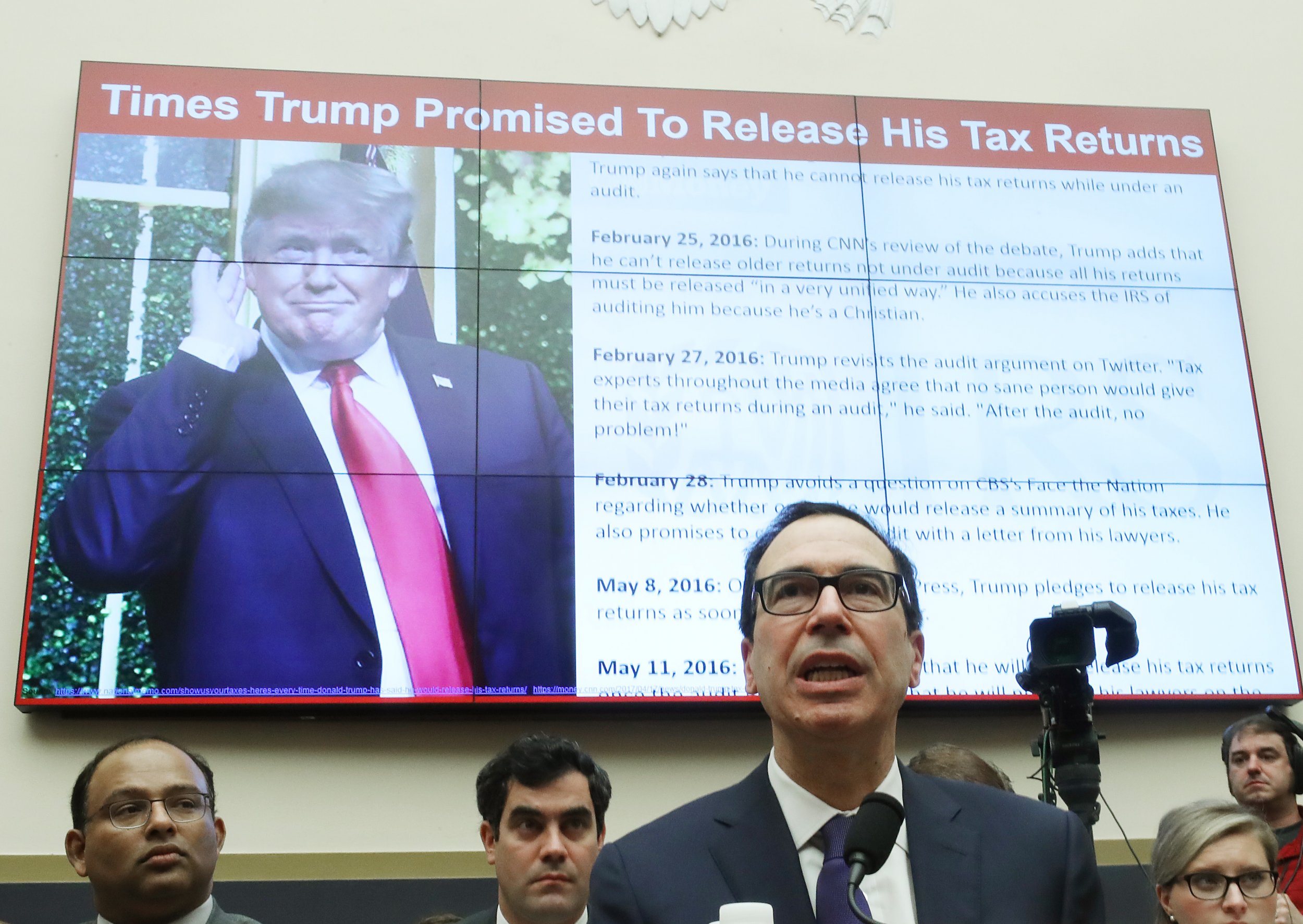 The New York State Assembly passed a bill on Wednesday to make six years of President Donald Trump's state tax records available to Congress.
The TRUST Act, which passed the State Senate earlier this month and now makes its way to Governor Andrew Cuomo's desk, would allow the commissioner of the New York Department of Taxation and Finance to release Trump's state tax returns to the chair of the federal House Ways and Means Committee, the Senate Finance Committee and the Joint Committee on Taxation for any "specified and legitimate legislative purpose."
"Donald Trump and his administration are doing everything they can to conceal the truth about his finances and massive conflicts of interest by illegally blocking Congress from obtaining his tax returns," wrote progressive advocacy group Stand Up America in a statement. "In order to circumvent this stonewalling, New York lawmakers are providing a new avenue for the House Ways and Means Committee to obtain these crucial financial documents. As soon as this bill becomes law, all Chairman [Richard]Neal will have to do is ask."
The president's tax filings in New York state, where his business and campaign are headquartered, will likely reveal similar information towhat is in his federal returns. Last month, Neal requested six years of the president's tax returns and other business filings under a law that requires the Treasury secretary toturn over returns requested by the heads' of the Congressional tax committees.
Newsweek subscription offers >
Treasury Secretary Steven Mnuchin claims that Congress does not have a "legitimate" reason for making the request. Neal has said he wants to see the returns to review how the IRS audits sitting presidents but Mnuchin rejected a subpoena from Neal last week. The matter will now likely go to court.
On Wednesday, The Washington Post reported on an internal IRS memo which concluded that it was "mandatory" for the federal agency to turn over President Donald Trump's taxes to Congress unless the president invoked executive privilege. Mnuchin dismissed the findings as inconsequential.
"I actually don't believe that's the case," he told the House Financial Services Committee at a hearing. "That memo, I understand, is addressing a different issue, and is not addressing the issue that we and the Department of Justice looked at."
Later in the hearing, Mnuchin admitted that he had "not yet" reviewed the confidential memo and that he first looked at it "literally on the way up here."
Newsweek subscription offers >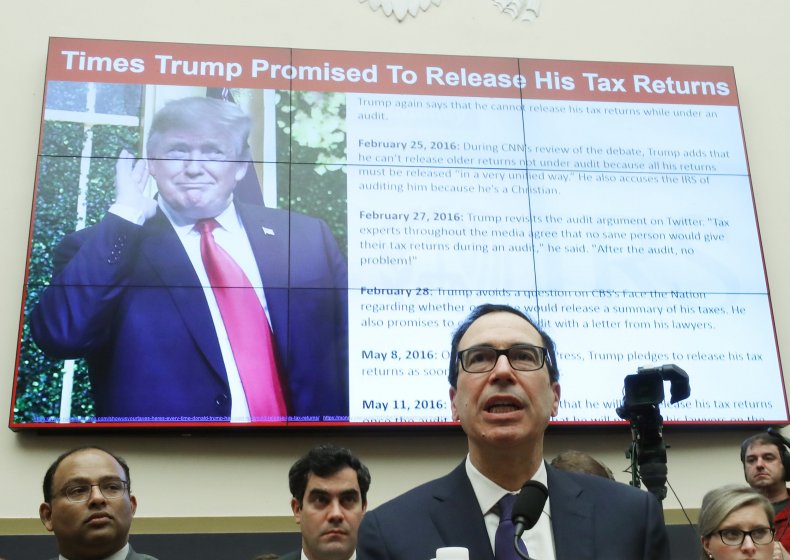 The memo stated that disclosing the president's tax returns "is mandatory, requiring the Secretary to disclose returns, and return information, requested by the tax-writing Chairs." The memo also concluded that Mnuchin could not exercise his own discretion over whether or not to disclose the returns. The rule "does not allow the Secretary to exercise discretion in disclosing the information provided the statutory conditions are met," it reads.
The New York State Assembly has also had a busy week. On Tuesday, the legislative body passed another bill that could be problematic for loyal associates of Trump who have legal woes. The law will allow state prosecutors to indict any person who has received a federal pardon from the president.
This clears the path for New York Attorney General Letitia James who has made it clear she plans to launch new investigations into the Trump family and Trump's real estate dealings in New York. "As the next attorney general of [Trump's] home state, I will be shining a bright light into every dark corner of his real estate dealings, and every dealing, demanding truthfulness at every turn," James said when she was elected last November.
James is also overseeing several existing investigations related to the president, including a probe into the Trump Foundation as well as dealings withDeutsche Bank and Investors Bank for information on business projects and an investigation of Trump's attempt to buy the Buffalo Bills in 2014.
The bill would end a loophole that prohibits the state from using the same evidence against someone who has been pardoned by the president. Currently, it's considered double-jeopardy to do so. Under current law, former New York Attorney General Eric Schneiderman said "a defendant pardoned by the President for a serious federal crime could be freed from all accountability under federal and state criminal law, even though the President has no authority under the U.S. Constitution to pardon state crimes."
"This loophole must be closed to ensure that these politically motivated, self-serving actions are not sanctioned under law," Cuomo said in a statement last year. "New York must have the ability to stand up against the abuse of power."
The bill is not retroactive, so Trump associates Paul Manafort and Michael Cohen are not affected, but a number of open investigations into the president's tax dealings and businesses could impact members of his own family.
New York Passes Law To Release President Trump's State Tax Returns to Congress | U.S.