Donald Trump Teases 2024 Run at CPAC: 'I May Decide to Beat Them for a Third Time'
In a fiery speech at the Conservative Political Action Conference (CPAC) on Sunday afternoon, former President Donald Trump excoriated President Joe Biden's immigration policies and hinted to supporters that he may run again in 2024.
"Joe Biden has had the most disastrous first month of any president in modern history. Already the Biden administration has proven that they are anti-jobs, anti-family, anti-borders, anti-energy, anti-women and anti-science. In just one short month, we have gone from America First to America Last," the ex-president said.
"There's no better example than the new and horrible crisis on our southern border, we did such a good job. Now he wants it all to go to hell. When I left office just six weeks ago, we had created the most secure border in U.S. history," he continued. "The wall's been amazing, it's incredible and they don't want to complete it."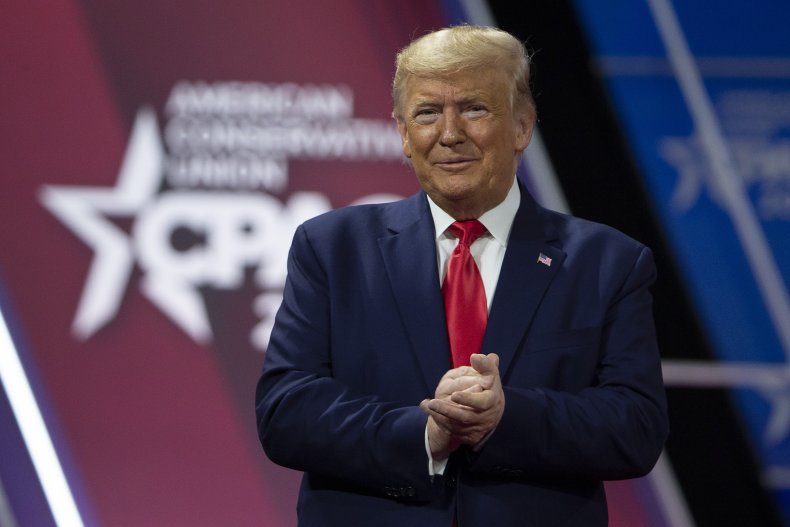 Trump alleged that Biden has "triggered a massive flood of illegal immigration into our country, the likes of which we have never seen before" after he "recklessly eliminated" the border and security measures that the former administration had put in place.
"Biden has failed in his number one duty as chief executive: enforcing America's laws. This alone should be reason enough for Democrats to suffer withering losses in the midterms, and to lose the White House decisively four years from now," he added, prompting loud cheers and a standing ovation from the crowd.
Trump then claimed that Biden did lose the White House in 2020 and floated another run for office. "Actually you know they just lost the White House, I may even decide to beat them for a third time," he said.
Newsweek reached out to the White House for comment.
In recent months, the GOP has devolved into a civil war between the Trump wing and the establishment wing impatient to end his grip on the party. The ex-president's loyal supporters and congressional allies have threatened to retaliate against Republicans who supported Democratic efforts to impeach him for a second time, as well as politicians who oppose his Make American Great Again movement.
Despite his election loss to Biden, recent polling shows that Trump has managed to hold onto his base of supporters. In a recent USA Today/Suffolk poll, 46 percent of Trump voters said they would leave the GOP to join the former president's new party if he creates one, while just 27 percent would remain.
Trump assured the CPAC audience on Sunday that he will remain a Republican as he continues to fight for his America First agenda. "We will win. We will not be starting new parties. We have the Republican Party. I am not starting a new party. That was fake news," he said.