Donald Trump Meets With Facebook, Google, Amazon Chiefs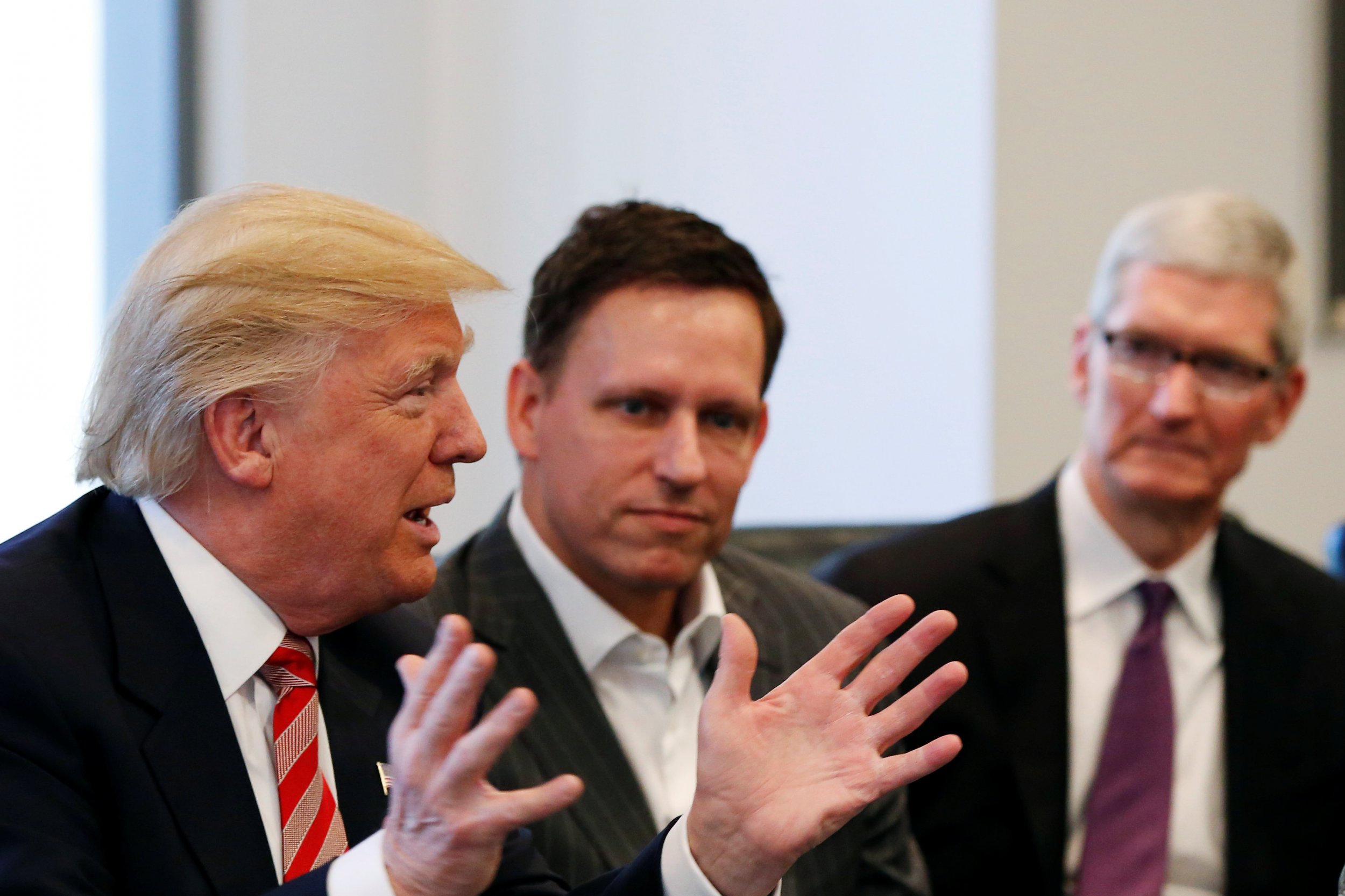 President-elect Donald Trump on Wednesday met with the leaders of an industry that has criticized him and overwhelmingly supported his election opponent. He invited executives from at least 10 technology companies, including Google, Apple and Facebook, to a sit-down at Trump Tower in New York City to discuss jobs and the economy.
The list of those scheduled to attend included Jeff Bezos of Amazon, Safra Katz of Oracle, Tim Cook of Apple, Alex Carp of Palantir, Elon Musk of Tesla, Satya Nadella of Microsoft, Larry Page and Eric Schmidt of Google, Jeff Robbins of Cisco, Ginni Rometty of IBM and Sheryl Sandberg of Facebook. Jason Miller, a spokesman for Trump's presidential transition team, told reporters during a phone call Wednesday morning that the discussion would focus on how the incoming administration and technology leaders "can work together to bring tech jobs back to America" and "how we can start winning again as a country and as an economy and as a tech sector."
Related: Trump's Treasury pick Steven Mnuchin ran a bank that critics call 'a foreclosure machine'
Bezos, Musk, Rometty, Nadella, Robbins and Catz appeared in the Trump Tower lobby before the meeting was scheduled to begin. Page and Schmidt appeared too, alongside the Treasury secretary nominee, Steven Mnuchin. Intel CEO Brian Krzanich also appeared; he had organized an event with Trump in June but then canceled it when "it turned into a fundraiser," he told a reporter.
At Wednesday's meeting, Trump sat between Vice President-elect Mike Pence and Peter Thiel, an entrepreneur and venture capitalist who is on the transition team. Incoming White House Chief of Staff Reince Priebus also attended, as did Trump's three oldest children. Trump praised Thiel, his most vocal supporter from Silicon Valley, for helping to organize the get-together. "I'm here to help you folks do well," Trump told those in attendance. "We want you to keep going with the incredible innovation. There's nobody like you in the world. There's nobody like the people in this room." He added: "We're going to be there for you, and you'll call my people, you'll call me. It doesn't make any difference. We have no formal chain of command around here."
Some of those at the sit-down had expressed interest in working with the president-elect. After the November election, IBM's Rometty wrote an open letter to Trump congratulating him and offering ideas on job growth and other topics. (An IBM employee later penned a letter saying she was resigning because of Rometty's "tacit endorsement" of Trump.) In addition, Trump has said Apple's Cook called him after the election, and before the meeting Oracle's Catz said in a statement, "I plan to tell the president-elect that we are with him and are here to help in any way we can." She went on to suggest that he could improve the technology sector by reforming the tax code, reducing regulation and negotiating better trade deals.
Musk recently told Andrew Ross Sorkin of The New York Times, "I'd be happy to talk to Trump," and in a December 5 column Sorkin suggested Trump call Musk to discuss how to increase manufacturing jobs. Sorkin wrote that the SpaceX and Tesla leader is "arguably the one person in the nation more responsible than anyone else for generating a vision for the re-emergence of manufacturing in the United States en masse," and that he has created almost 35,000 jobs in the past 10 years. However, Musk had previously criticized Trump, telling CNBC before the election, "Probably he's not the right guy [for president]. He doesn't seem to have the sort of character that reflects well on the United States."
Trump and Bezos have had a strained relationship. During his campaign, the president-elect repeatedly criticized The Washington Post, which Bezos owns, and for a time banned its reporters from his events. In May, Trump said to Fox News that the Post is "owned as a toy by Jeff Bezos." He continued, "Amazon is getting away with murder, taxwise. He's using The Washington Post for power so that the politicians in Washington don't tax Amazon like they should be taxed." He also said at one campaign rally, "I have respect for Jeff Bezos. But he bought The Washington Post to have political influence.… He wants political influence so that Amazon will benefit from it. That's not right. And believe me, if I become president, oh do they have problems."
Bezos responded at the time, "That's not an appropriate way for a presidential candidate to behave." However, after the election, he tweeted, "Congratulations to @realDonaldTrump. I for one give him my most open mind and wish him great success in his service to the country." At Wednesday's sit-down, the entrepreneur told the group he was "super excited" about the possibilities for innovation under the incoming administration.
Notably absent from the list of companies invited was Twitter. Gary Coby, the Trump campaign's director of digital advertising and fundraising, wrote in a blog post that the campaign had arranged a $5 million deal with Twitter for an emoji to appear on the social network when users typed in #crookedhillary. The deal apparently fell through. "While Twitter claims to be a venue that promotes the free exchange of ideas, it's clear that its leadership's left wing ideology literally trumps that," Sean Spicer, chief strategist and communications director for the Republican National Committee, later told the Washington Examiner.
Some technology industry insiders have said that those invited to Wednesday's meeting should resist working with the incoming president. "Leaders of tech should be ashamed of themselves for lining up like sheeple after all the numskull attacks Trump has made on what is pretty much the United States' most important, innovative and future-forward business sector," technology reporter Kara Swisher wrote for the website Recode. Many in technology take issue with Trump's positions on immigration and net neutrality. In July, more than 140 technology industry leaders signed an open letter opposing his candidacy. Others recently said they would not help Trump build what they call a "Muslim registry." (Priebus has said, "We're not going to have a registry based on religion.)
On Tuesday, Trump met with Microsoft co-founder Bill Gates. He also announced on Wednesday that Musk, Uber CEO and co-founder Travis Kalanick and PepsiCo Chairman and CEO Indra Nooyi are joining his President's Strategic and Policy Forum. Technology industry insiders have previously criticized the president-elect for not including enough people from that sector in the group of business advisers.
"My administration is going to work together with the private sector to improve the business climate and make it attractive for firms to create new jobs across the United States from Silicon Valley to the heartland," Trump said in a statement.
Nooyi had also been critical of the incoming administration. In November, when the Times's Sorkin asked her how she felt the morning after the election, she joked, "Do you have a box of tissues here?" She also condemned the use of anti-woman language and said it had no place in society, including "in locker rooms"—likely a reference to Trump's defending lewd comments he made in 2005 as "locker room talk." However, she also congratulated the president-elect and told Sorkin, "The process of democracy happened. We just have to let life go on."
Read more from Newsweek.com:
-Neither Hillary Clinton nor Donald Trump is tech savvy
-How Elon Musk is using Tesla to kill Big Oil
-How Jeff Bezos is hurtling toward world domination