A Timeline of Donald Trump and Ted Cruz's Roller Coaster Relationship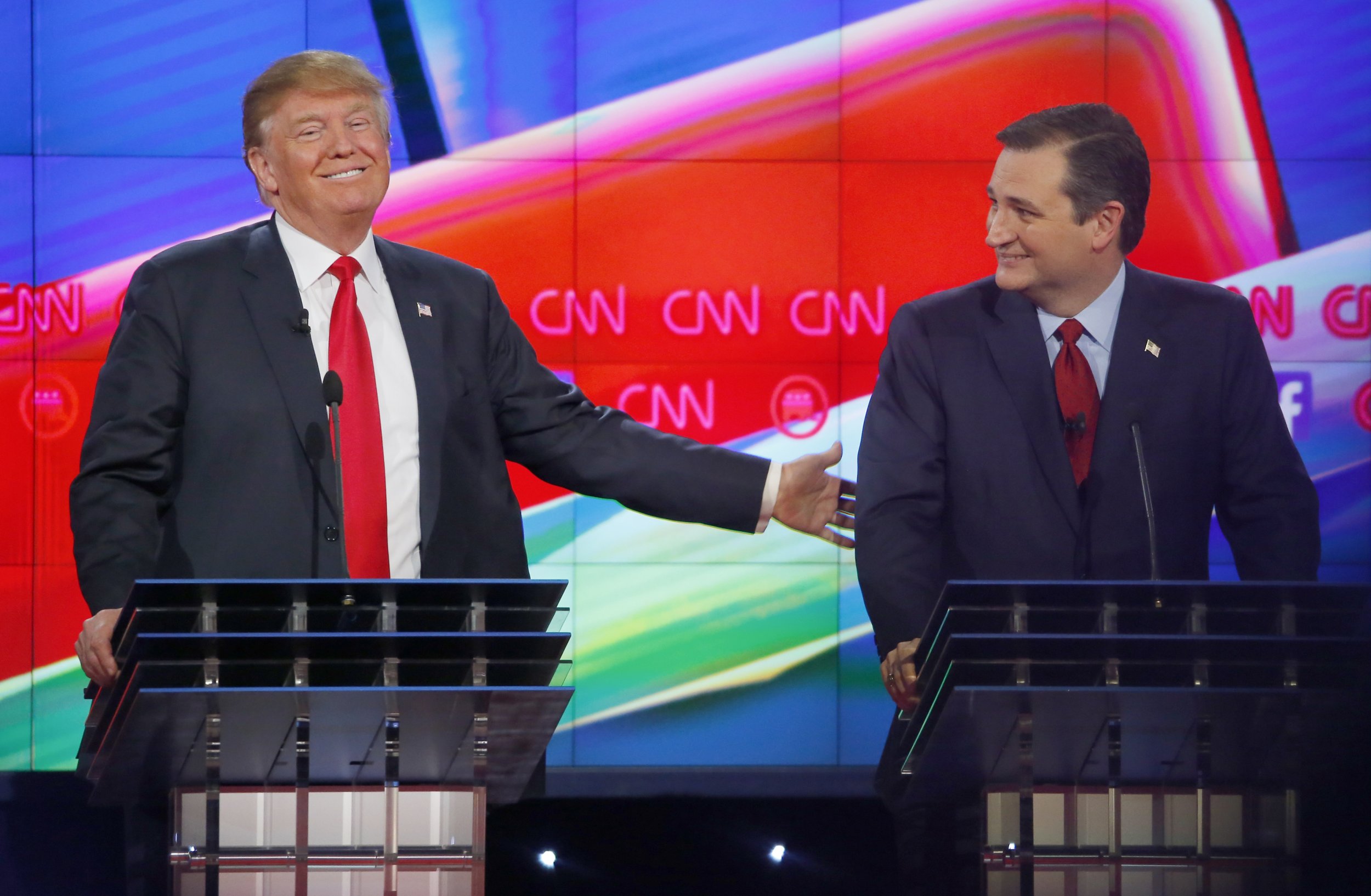 On the third night of the Republican National Convention, Ted Cruz was booed off the stage. He didn't lead a chant calling for Hillary Clinton to be jailed. He didn't lift portions of his speech from a Democrat. He didn't shake his fists with the fury of a thousand patriots forced to live under the reign of Barack Hussein Obama. Which was fine. What really set the crowd off was his failure to endorse Donald Trump at any point of his 20-minute speech.
"If you love our country, and love our children as much as you do, stand, and speak, and vote your conscience, vote for candidates up and down the ticket who you trust to defend our freedom, and to be faithful to the constitution," Cruz said after preaching conservative values without invoking the name of the man who a day earlier had been confirmed as the Republican party's nominee for president. It was at this point that the crowd in Cleveland's Quicken Loans Arena realized Cruz may not genuflect to their chosen leader. The boos started, and they didn't stop.
This was, of course, only the latest confrontation between Cruz and Trump to subsume the news cycle. The two have been exchanging attacks of escalating vitriol for the majority of the election, and it should come as no surprise that Cruz got in one last slight before the party could ship Trump off to battle Hillary Clinton one-on-one for the right to the White House.
But the past eight months of insult-hurling have made it easy to forget that for most of 2015, Cruz and Trump were allies. They praised each other. They visited each other. They even organized events together. That all changed once Cruz realized Trump was for real and Trump realized Cruz was his biggest threat, and despite Trump being named the nominee, it hasn't changed back.
In light of Cruz's non-endorsement, let's take a closer look at how he and Trump went from the election cycle's hottest bromance to, well, not that.
August 2013: After failing to prove Barack Obama was born in Kenya and thus invalidate his presidency, Trump questions whether Cruz could legally replace Obama for similar reasons. "If he was born in Canada, perhaps not," Trump told ABC's Jonathan Karl in Ames, Iowa, where he was speaking at an evangelical event. "I don't know the circumstances. I heard somebody told me he was born in Canada. That's really his thing."
November 2013: While fundraising in New York, Cruz meets with Trump at Trump Tower. The two reportedly exchanged multiple phone calls since meeting in Iowa at the event where Trump questioned Cruz's citizenship. "Mr. Trump is a friend and the senator had some down time in NYC," a Cruz spokeswoman told Politico of the meeting in New York.
February 2014: Trump praises Cruz while introducing the Texas senator at the Palm Beach County Republican Party's Lincoln Day Dinner, which was held at Trump's Mar-a-Lago Club. "What he is doing is right," Trump said in reference to Cruz's 2013 Senate-floor filibuster. "He took a stand recently, and if he had just a little bit of backing from other Republicans...you would have negotiated one hell of a deal. It might not have ended Obamacare, but you would have gotten a big chunk out of it. I watched him. I watched his motions. I watched what he was saying and I listened very carefully. I have heard him speak on numerous occasions, and you have to agree. I don't understand the controversy. It's common sense. It's good government. It's so many good things. He really is a special guy."
April 2014: Reports surface that Trump donated to Cruz's Super PAC. Many took this as an indication that Trump could support a Cruz presidential run, but Trump made clear on Fox and Friends that this was not necessarily the case. "No, it doesn't," he said when asked if the donation meant he would support Cruz in 2016.
May 2014: Cruz formally renounces his Canadian citizenship. "Nothing against Canada, but I'm an American by birth and as a U.S. senator, I believe I should be only an American," he said in August 2014 after The Dallas Morning News informed him of his dual citizenship.
December 2014: Trump praises Cruz before once again expressing concern over his being born in Canada. "I really like Ted Cruz. I have gotten to know him well," he told Breitbart News. "I do think that the one problem he could have is that he was born in Canada and openly admits to that. It does throw his candidacy into question and perhaps the courts will have to decide."
A day earlier, Trump told the Daily Mail that Cruz's being born in Canada was "a problem" and that it would be "a real obstacle for him."
March 2015: Trump continues to question Cruz's eligibility for president. "Well, he's got, you know, a hurdle that nobody else seems to have at this moment," Trump said in an interview with MyFoxNY. "It's a hurdle and somebody could certainly look at it very seriously. He was born in Canada...if you know...and when we all studied our history lessons...you're supposed to be born in this country, so I just don't know how the courts would rule on it. But it's an additional hurdle that he has that no one else seems to have."
Trump also took exception to Cruz saying, "It's going to take a new generation of courageous conservatives to help make America great again," during a speech at Liberty University in which he confirmed that he would indeed be running for president. Why did Trump take exception? "The line of 'Make America great again,' the phrase, that was mine," he said. "I came up with it about a year ago, and I kept using it, and everybody's now using it, they are all loving it. I don't know, I guess I should copyright it, maybe I have copyrighted it."
June 2015: Trump announces his candidacy for president. Comments he made about immigration led to a firestorm of controversy, which caused NBC and Univision to sever ties with the reality star.
June 2015: Cruz defends Trump's remarks. "When it comes to Donald Trump, I like Donald Trump. I think he's terrific. I think he's brash. I think he speaks the truth," he said during an interview on Fox and Friends. "And I think NBC is engaging in political correctness that is silly and that is wrong."
"Donald Trump has a way of speaking that gets attention, and I credit him for focusing on an issue that needs to be focused on," Cruz added in reference to Trump's controversial comments on immigration.
Trump was appreciative. "Thank you Ted," he tweeted.
July 2015: Cruz sets up a meeting with Trump, who is now rising in the polls. "I'm a big fan of Donald's, and we talked about the race," Cruz said after the meeting. "We talked about how we are each enjoying it and how there is a need for more truth tellers." He called their conversation "delightful" and said that they "both agreed that we started out as friends, and will end as friends."
July 2015: Cruz refuses to criticize Trump for questioning John McCain's credentials as a war hero. "You know I recognize that folks in the press love to see Republican-on-Republican violence, and so you want me to say something bad about Donald Trump, or bad about John McCain or bad about anyone else," he said. "I'm not going to do it."
August 2015: Trump and Cruz's relationship (or, their bromance) grows even stronger as they announce plans for a joint rally to protest the recently signed Iran nuclear deal. The event would be organized by Tea Party Patriots, the Center for Security Politics and the Zionist Organization of America. "We're going to have a tremendous crowd come out," Trump said.
September 2015: The anti-Iran deal rally takes place on September 9 and Trump appears to soften his stance on Cruz's Canadian birth. "I hear it was checked out by every attorney and every which way and I understand Ted is in fine shape," he told ABC before the rally took place.
Meanwhile, Cruz revealed at least one of the reasons why he decided to cozy up to Trump. "Everywhere Donald goes, he brings a hundred television cameras with him," he said. "I don't believe Donald is going to be the nominee. We are running to win this nomination, and I am hoping to win every one of Donald Trump's supporters."
October 2015: Despite Trump's lead in the polls, Cruz is still confident that he will not be the nominee. "I think that's right. I think in time I don't believe Donald is going to be the nominee and I think in time the lion's share of his supporters end up with us," he told WABC's Rita Cosby. "And I think the reason is what I was just saying, that if you look to the records of all the Republican candidates there's a big difference between my record and that of everyone else if you ask, who has stood up to Washington?"
Cruz added that he was glad Trump decided to enter the race, and that the former reality star's presence "has been tremendously helpful to my campaign."
November 2015: Cruz begins to distance himself from Trump, first coming out in opposition to Trump's proposal to force American Muslims to register into a database. "I'm a big fan of Donald Trump's," he said. "But I'm not a fan of government registries of American citizens. The First Amendment protects religious liberty, I've spent the past several decades defending religious liberty."
Then, in an interview with the Associated Press, he qualified his support of Trump's stance on immigration. "Tone matters," he said. "Are there some in the Republican Party whose rhetoric is unhelpful with regard to immigration? Yes."
As Cruz starts to rise in the polls, Trump says that despite their affinity for one another, he is prepared to "go to war" with the Texas senator.
December 2015:
But Trump wasn't impressed. He begins attacking Cruz in Iowa. "I do like Ted Cruz, but not a lot of evangelicals come out of Cuba," he said at a town hall event. "Not a lot come out."
Trump also criticized Cruz's stance on ethanol. "With the ethanol, really, he's got to come a long way, because right now he's for the oil," he said before throwing a backhanded jab: "But I understand it, oil pays him a lot of money. He's got to be for oil, right?"
A few days later, Trump questions Cruz's temperament, calling him "a bit of a maniac" for how he has dealt with the Senate.
January 2016: As the Iowa caucus draws near, Trump revives the issue of Cruz's birthplace, questioning in various ways whether the Canada-born senator is technically qualified to be president.
Cruz responds by saying that Trump has "jumped the shark," even referencing Happy Days directly to get his point across.
Trump, of course, does not relent.
February 2016: Cruz wins the Iowa caucus. Trump finishes second and, naturally, accuses Cruz of cheating and demands a new vote.
Though they had been relatively cordial to each other in previous debates, the gloves come off during the first post-caucus gathering of the candidates.
The attacks intensify, with Trump calling Cruz everything from "a little baby" to a "pussy." Cruz says that a Trump presidency would be a "grave mistake," but still vows to back the Republican nominee, regardless.
March 2016: Cruz uses one of Melania Trump's modeling photos in an ad against Donald. Trump then mysteriously threatens to "spill the beans" on Lyin' Ted Cruz's wife Heidi before tweeting an image comparing the physical appearance of the two potential first ladies.
Cruz calls Trump a "sniveling coward" and says to "leave Heidi the hell alone."
Cruz continues to defend his wife while bashing Trump, cribbing several lines from 1995 Michael Douglass movie The American President.
April 2016: With Trump running away with the nomination, Cruz and John Kasich join forces in an effort to deny Trump. "To ensure that we nominate a Republican who can unify the Republican Party and win in November, our campaign will focus its time and resources in Indiana and in turn clear the path for Gov. Kasich to compete in Oregon and New Mexico," Cruz campaign manager Jeff Roe said in a statement.
It doesn't work.
Cruz then names Carly Fiorina his running mate in a last-ditch effort to rally support.
Trump is not impressed. "He's mathematically eliminated," he said. "It's like if you're playing in the World Series and your team loses a game...He's mathematically eliminated. He has set a record, though. He is the first presidential candidate in the history of this country who's mathematically eliminated from becoming president who chose a vice presidential candidate."
May 2016: Trump accuses Cruz's father of playing a role in the assassination of John F. Kennedy.
"His father was with Lee Harvey Oswald prior to Oswald's being—you know, shot. I mean, the whole thing is ridiculous," Trump said on Fox News. "What is this, right prior to his being shot, and nobody even brings it up. They don't even talk about that. That was reported, and nobody talks about it."
"I mean, what was he doing—what was he doing with Lee Harvey Oswald shortly before the death? Before the shooting?" he continued. "It's horrible."
Cruz calls Trump a "pathological liar," "utterly amoral," a "bully," a "narcissist," a "serial philanderer" and more.
June 2016: Though he previously promised to endorse the Republican nominee for president, Cruz says he is not sure whether he will endorse Trump. "I, like many other voters am watching and listening what he says and what he does," he told MSNBC's Hallie Jackson. "That's what millions of voters are doing. That's the way the democratic process is meant to operate."
Trump, meanwhile, says he will not invite Cruz to speak at the Republican National Convention unless Cruz plans to endorse Trump.
July 2016: Cruz does indeed speak at the Republican National Convention and, well, you know the rest.
For some reason, we don't think this is over.