Donald Trump, Ted Cruz Lead Tea Party Rally Against Iran Deal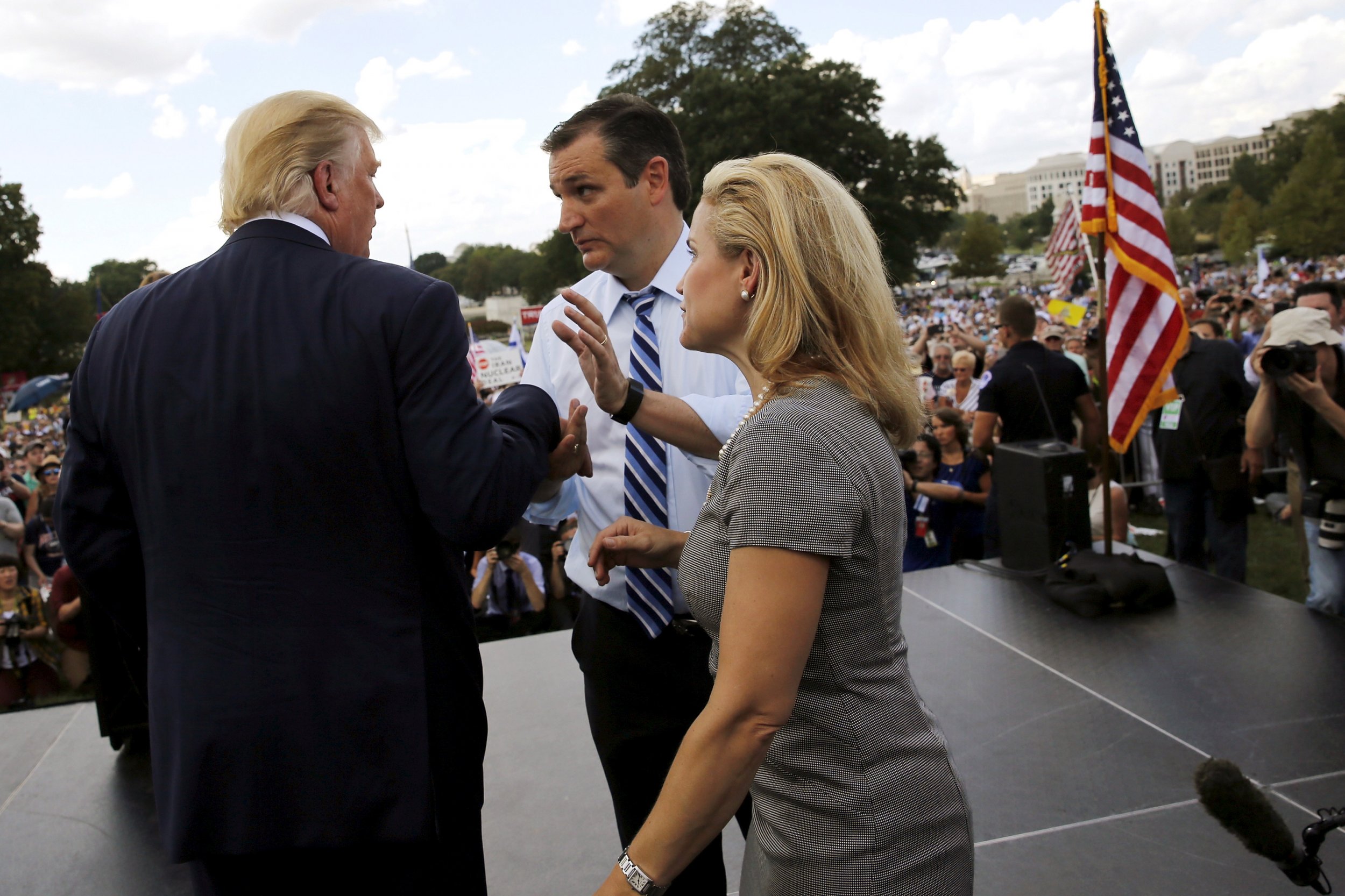 President Barack Obama lined up enough congressional support this week to save his nuclear deal with Iran, but on Wednesday Donald Trump, Texas Senator Ted Cruz and a long list of other fierce critics of the accord said there was still time to change minds. Mostly, though, they used the day's rally in front of the U.S. Capitol to slam the White House, Democrats and Republican leaders for what they said was capitulation to Iran's Supreme Leader Ayatollah Khamenei, whom some called the Hitler of our time.
That was milder rhetoric too. In front of a crowd waving signs with illustrations of bombs bearing the names of Democrat lawmakers and chanting "traitors!," Cruz and others upped the ante in what's become more of a war of words and less a policy debate on Iran. It made Obama's suggestion in August that rejection of the pact meant war—sparking opponents' outrage—seem almost conciliatory.
If the deal with Iran goes into effect, "people will die," warned Cruz, a Tea Party favorite who's stuck in the middle of a large pack of GOP presidential candidates. To those who support the deal, Cruz said, "you bear direct responsibility for the murders carried out" by Iran and Iranian-backed militias once sanctions are lifted and Tehran, he said, will have additional funding to wreak havoc. And he urged his colleagues—the 42 Democrats in the Senate who say they will support the deal in a floor vote—to reconsider.
"Those Democrats have no soul!" a woman in the crowd shouted as Cruz spoke. She was one of hundreds who braved the 90-plus heat to hear what organizers promised would be more than 50 speakers—a mix of military veterans, pro-Israel leaders, politicians and Tea Party organizers.
But the headliner was most clearly Trump, the real estate tycoon and now GOP presidential frontrunner, whom Cruz introduced as "my friend." The two shared a hug, as well.
Trump touted his career as a negotiator, saying he had forged "lots of wonderful deals, great deals" and this particular agreement was "incompetently negotiated." Then he quickly pivoted to his standard pitch, the promise of new American swagger after years of "losing."
Lamenting that Iran was making "us look like fools," Trump declared that "we will have so much winning if I get elected. You will get bored with winning."
And he offered a brash guarantee: "If I win the presidency, I guarantee you those four prisoners are back in our country before I even take office," a reference to the three Americans who remain in Iranian jails and one who was reported missing after visiting Iran. "They know that's what has to happen," Trump continued, presumably referring to Iran's leaders. "And if they don't know it, I'm telling them right now."