Donald Trump Tells Bill O'Reilly He's 90 Days Into Process of Designating Mexican Drug Cartels As a Terrorist Group
President Donald Trump told former Fox News personality Bill O'Reilly in a recent interview that he is currently 90 days into the process of designating Mexican drug cartels as terror groups.
Earlier this month, the president tweeted his desire to "wage WAR on the drug cartels and wipe them off the face of the earth." "We merely await a call from your great new president!" Trump added."
During a segment on The O'Reilly Update on Tuesday night, the host revisited Trump's intention to crack down on Mexican drug cartels, before asking the president whether he plans on declaring them terror groups.
"If another country murdered 100,000 Americans with guns, we would go to war with that country," O'Reilly said. "Yet, the Mexican drug cartels kill more than 100,000 Americans every year by the importation of dangerous narcotics. Are you going to designate those cartels in Mexico as terror groups and start hitting them with drones and things like that?"
"I don't want to say what I'm gonna do but they will be designated. I don't say what I want to do," Trump responded. "I've already offered Mexico... I like the president very much. I actually get along with this president much, much better than the previous president."
"And in theory this president has socialistic tendencies but I think he's a very good man," the president continued. "But I've actually offered him to let us go in and clean it out and he, so far, has rejected the offer. But at some point, something has to be done."
Trump then expressed regret about the number of Americans whose lives have been adversely affected by the actions of Mexican drug cartels.
"We're losing 100,000 people a year to what's happening and what's coming through on Mexico and they have unlimited money, the people, the cartels, because they have a lot of money and it's drug money and human trafficking money," Trump said.
He also told O'Reilly that expensive equipment designed to detect the presence of narcotics was nowhere near as accurate as a drug-sniffing dog.
"A dog can do it, okay, can you believe it?" Trump asked. "There's nothing like a good old-fashioned German Shepherd dog, especially from a specific area. They're unbelievable."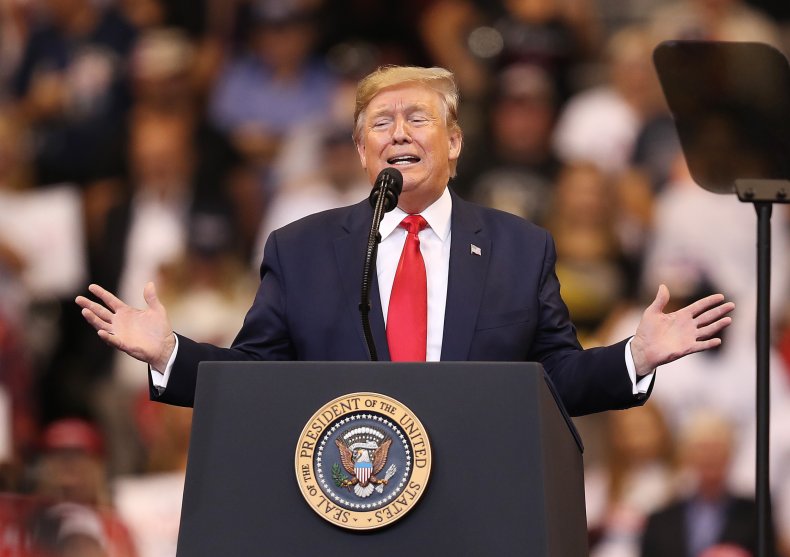 "But now, we're losing 100,000 people," he continued. "Now, multiply that times ten the families that are destroyed. You know, you have families that are absolutely destroyed. It is a very, very sad situation."
"So, you are going to designate the Mexican cartels as terror groups?" O'Reilly asked.
"Yeah, I will be," Trump replied. "I'm going to be designating the cartels, absolutely. I've been working on that for the last 90 days. You know designation is not that easy. You've got to go through a process and we're well into that process."
"And wait till you see," O'Reilly interjected, "they'll attack you for doing that."
"I don't care," Trump said. "I'm attacked on everything."
Mexican President Andres Manuel Lopez Obrador said using military force against the cartels was not feasible. Lopez Obrador spoke with Trump on the telephone earlier this month, according to Voice of America.
"I thanked him for his willingness to support us," Lopez Obrador said, "and informed him that the institutions of the government of Mexico will act to ensure justice is done."