Donald Trump Tells Fox News' Jeanine Pirro That Question About If He Worked For Russia is 'The Most Insulting Thing I've Ever Been Asked'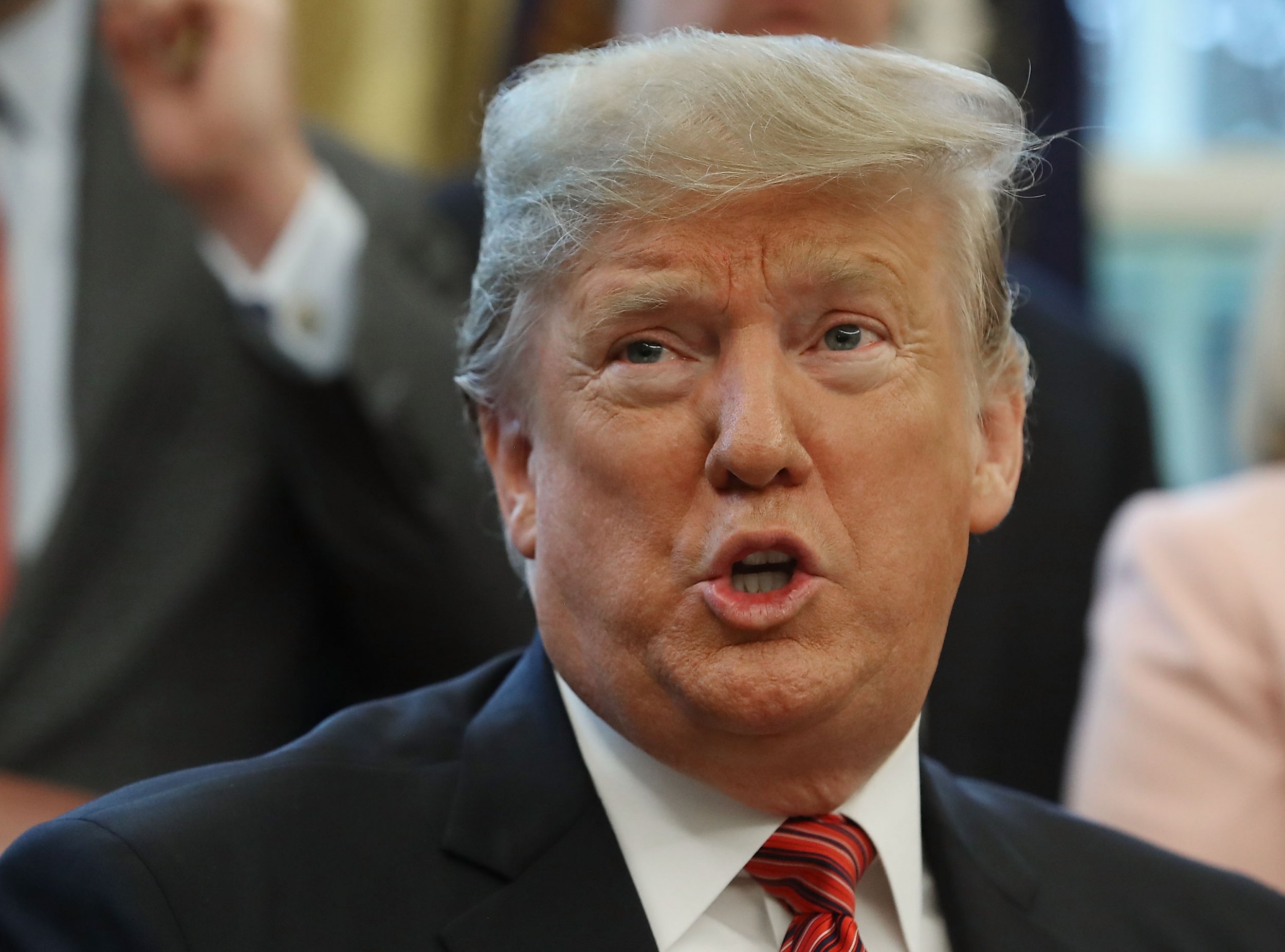 President Donald Trump didn't hold back from once again unleashing his opinion about the New York Times on Saturday.
Trump called in to Fox News' Justice with Jeanine to discuss several tropics, including the newspaper's article, which was published on Friday, that revealed the president had been the subject of an FBI counterintelligence investigation in 2017 after James Comey was fired as director of the federal agency.
Jeanine Pirro, the show's anchor, began by asking the president if he had ever worked for Russia.
"I think it's the most insulting thing I've ever been asked. I think it's the most insulting article I've ever had written. And if you read the article, you'd see that they found absolutely nothing. But the headline of that article, it's called 'The failing New York Times' for a reason, they've gotten me wrong for three years. They've actually gotten me wrong for many years before that," Trump said.
Trump went on to call Comey a liar and place the investigation at the feet of former FBI agents Andrew McCabe, Lisa Page and Peter Strzok.
"Obviously nothing was found," Trump said. "And I can tell you this, if you ask the folks in Russia, I've been tougher on Russia than anybody else, any other — probably any other president period, but certainly the last three or four presidents, modern day presidents. Nobody's been as tough as I have from any standpoint including the fact that we've done oil like we've never done it, we're setting records in exporting oil and many other things."
Trump added that the Times was a disaster as a newspaper.
Another national newspaper, The Washington Post, was also a target for Trump during the interview after Pirro asked about a report published on Saturday. The report alleges that Trump went to considerable lengths to hide conversations that he had with Russian president Vladimir Putin, including telling his interpreter not to speak about a meeting in Helsinki in 2017.
Pirro asked Trump why he would not release the conversation at the center of the Post's article.
"Well Jeanine I would, I don't care. I had a conversation like every president does. You sit with the president of various countries, I do it with all countries. We had a great conversation. We were talking about Israel and securing Israel and lots of other things. And it was a great conversation. I'm not keeping anything under wraps, I couldn't care less. I mean, it's so ridiculous," Trump said.
He added that the Post made the story up and that the newspaper is a lobbyist for Amazon. The Washington Post is owned by Amazon CEO Jeff Bezos.
"The Washington Post is almost as bad, or probably as bad as the New York Times," Trump said. "Think about it, I have a one on one meeting with Putin like I do with every other leader, I have many one on one....nobody ever says anything about it but with Putin, they say 'oh, what did they talk about?' We talked about very positive things because look, we are beating everybody. Our economy is the strongest in the world right now, Jeanine."
"Anybody could listen to that meeting, that meeting is open for grabs," Trump added. "The whole Russia thing is a hoax. It is a terrible hoax. ...Everybody knows there was no collusion whatsoever. They have found no collusion and they won't find collusion because I had nothing to do (with it.)"
Trump also discussed the need for the border wall and said another migrant caravan is forming and headed for the U.S.-Mexico border. The president reiterated that he is waiting to see if the Democrats will make a deal with the border wall before potentially declaring a national emergency in order to construct the barrier.