Donald Trump Tells 'Mini Mike' Bloomberg He'd Rather Run Against Him Than Bernie Sanders
President Donald Trump told former New York City mayor Michael Bloomberg that he would rather run against him than Vermont Senator Bernie Sanders Tuesday in the latest chapter of an ongoing war of words between the president and Democratic candidate Bloomberg.
Billionaire Bloomberg has reportedly spent over $200 billion funding his own presidential campaign, with a majority of that money going toward advertising. While he has yet to appear with the other candidates at a Democratic debate, Bloomberg is expected to be on the stage at the Nevada debate Wednesday.
Bloomberg qualified for the Nevada debate after the Democratic National Committee changed the requirements for debate entry by getting rid of the criteria that demanded each candidate reach a certain level of funding from individual donors. So far, Bloomberg has reportedly not taken any outside donations for his campaign.
Referring to Bloomberg by the diminutive nickname "Mini Mike," Trump accused Bloomberg of using his wealth to "illegally" buy his way into the presidential race.
"What Mini Mike is doing is nothing less than a large scale illegal campaign contribution," Trump wrote. "He is 'spreading' money all over the place, only to have recipients of his cash payments, many former opponents, happily joining or supporting his campaign. Isn't that called a payoff?"
"Mini is illegally buying the Democrat Nomination," Trump continued. "They are taking it away from Bernie again. Mini Mike, Major Party Nominations are not for sale! Good luck in the debate tomorrow night and remember, no standing on boxes!"
"Why do you want to run against Bernie so badly?" Bloomberg retorted.
"Mini Mike," Trump responded. "No, I would rather run against you!"
"Can't trust a word you say - and now you want us to believe you? See you in November," Bloomberg wrote.
Newsweek reached out to Bloomberg's campaign for comment but did not receive a response in time for publication.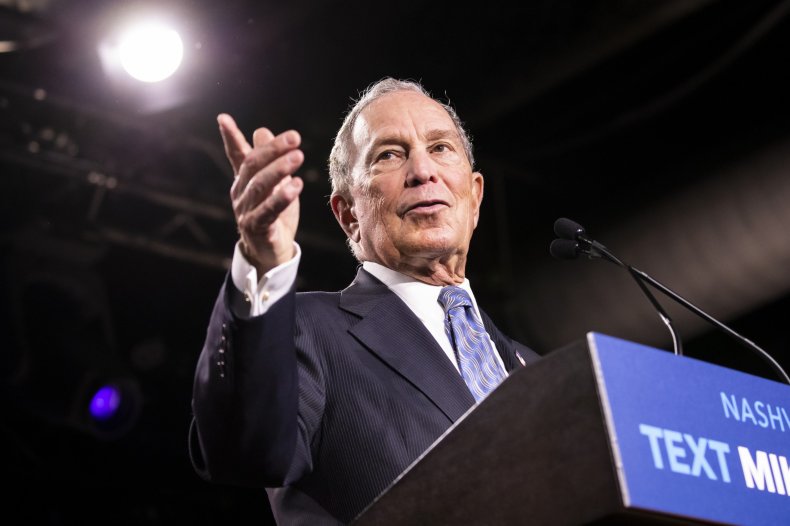 Trump has teased before that he would like to run against Sanders or former Vice President Joe Biden. "I would like [Biden] to get [the Democratic nomination]," Trump told Fox News in May 2019. "I'd be happy. I'd be happy with Bernie. I personally think it's those two."
Trump also came out in support of Sanders when he was accused of making sexist remarks by Massachusetts Senator Elizabeth Warren. Sanders allegedly told Warren he did not believe a woman could be president.
"I don't believe that he said this," Trump told a rally crowd in January. "He's a nasty guy, but I don't believe he said it. It's not his deal."
Although Trump has now voiced his preference to run against Bloomberg, some Democrats have voiced their concerns about Bloomberg's delayed entry onto the national stage.
Bloomberg's Nevada debate appearance has been criticized by entrepreneur Andrew Yang, who dropped out of the race in February, suspending his campaign the same night the results of the New Hampshire primary were announced.
"I think the DNC looked at this and said, 'We need to get Bloomberg on the debate stage.' This change is clearly tailor-made to deliver him to the debate stage," Yang told ABC's This Week in February.
Massachusetts Senator Elizabeth Warren tweeted Tuesday, "It's a shame Mike Bloomberg can buy his way into the debate. But at least now primary voters curious about how each candidate will take on Donald Trump can get a live demonstration of how we each take on an egomaniac billionaire."